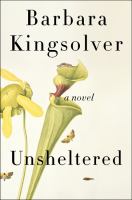 Publishers Weekly
(c) Copyright PWxyz, LLC. All rights reserved

Kingsolver's meticulously observed, elegantly structured novel unites social commentary with gripping storytelling. Its two intertwined narratives are set in Vineland, a real New Jersey town built as a utopian community in the 1860s. In the first storyline, set in the present, the magazine Willa Knox edited and the college at which her husband, Iano Tavoularis, taught both fold at the same time. They find themselves responsible for Iano's ailing father and their single son's new baby. They hope the house they have inherited in Vineland will help rebuild their finances, but-riddled with structural problems too costly to repair-it slowly collapses around them. Destitute after decades of striving and stunned by the racist presidential candidate upending America's ideals, the couple feels bewildered by the future facing them. Researching the home's past in the hopes of finding grant-worthy historical significance, Willa becomes fascinated by science teacher Thatcher Greenwood and his neighbor, naturalist Mary Treat, one of whom may have lived on the property in the 1870s. In the second story line, which alternates with Willa's, Thatcher's home is unsound and irreparable, too. His deepening bond with Mary inspires him, but his support for radical ideas like those of Mary's correspondent Charles Darwin infuriates Vineland's repressive leadership, threatening Thatcher's job and marriage. Kingsolver (Flight Behavior) artfully interweaves fictional and historical figures (notably the remarkable Mary Treat) and gives each narrative its own mood and voice without compromising their underlying unity. Containing both a rich story and a provocative depiction of times that shake the shelter of familiar beliefs, this novel shows Kingsolver at the top of her game. (Oct.) © Copyright PWxyz, LLC. All rights reserved.
---
Book list
From Booklist, Copyright © American Library Association. Used with permission.

*Starred Review* Rather than looking to a dystopian near-future to address environmental concerns, as so many fiction writers have, Kingsolver (Flight Behavior, 2012) knits them right into the familiar lives of her ensnaring characters. In this exceptionally involving and rewarding novel, Kingsolver considers how our ways of living are threatened by the changing climate and our ever-increasing pressure on the biosphere, conducting a subtle, many-stranded inquiry into the concept of shelter within two story lines in two time frames, both anchored in Vineland, New Jersey. In the present, magazine editor Willa Knox inherits a house. This should have been a lifesaver, given that her magazine has shut down; the college at which her political-scientist husband, Iano, finally earned tenure has closed; his severely ill and disabled father, Nick, is living with them; and their adult children need help. Tig (short for Antigone), an Occupy Wall Street alum, has reappeared without warning after a sojourn in Cuba. Zeke, whose Harvard degree has left him in overwhelming debt, is desperate for help with his newborn, motherless son. But the gift house is a hopelessly disintegrating wreck. With nearly no income, torturously inadequate and confounding health insurance, and bewilderment over how a hardworking middle-class family could find itself in a catastrophic economic crisis, Willa, smart and persistent, funny and loyal, visits the Vineland Historical Society with the long-shot hope that their crumbling house is of historical significance. Readers, meanwhile, meet Thatcher Greenwood, newly married and moved into a home in Vineland, a cultist, alcohol-free community recently built by Captain Charles Landis in the wake of the Civil War. There Thatcher, responsible for his pretty wife, her smart and unconventional younger sister, and their status-seeking mother, is appalled to find that their house has been so shoddily constructed it is in danger of collapse. Thatcher fears that his position as Vineland's high-school science teacher is equally precarious, given his employer's staunch opposition to Darwin's theory of natural selection, which Thatcher has every intention of teaching. And why is their neighbor, Mrs. Treat, lying on the ground? Kingsolver alternates between Willa's droll reflections on her ever-worsening predicament, and Thatcher's on his, subtly linking their equally compelling, alternating narratives with a repeated phrase or echoed thought, a lovely poetic device that gently punctuates the parallels between these two times of uncertainty. As Willa thinks about how the need to shelter her family never lifted its weight from her shoulders, she shudders in response to the alarming bombast of the brazenly unqualified Republican presidential candidate (who remains unnamed), whom Nick supports, leading to musings over how we find shelter under the rule of law and in pursuit of truth. As for Thatcher, he discovers an ally in Mary Treat (who, it turns out, was lying down in order to observe ants in her yard). She is a renowned naturalist, popular-science writer, and valued correspondent of Charles Darwin's with a house full of carnivorous plants and large glass jars in which spiders are building their homes. As Thatcher battles with the powers that be over their resistance to Darwin's findings, Kingsolver explores the ways we shelter within our beliefs, however erroneous, when we feel threatened by new knowledge and perspectives. Becoming unsheltered, Kingsolver ponders, is to be imperiled in some ways and liberated in others. There is much here to delight in and think about while reveling in Kingsolver's vital characters, quicksilver dialogue, intimate moments, dramatic showdowns, and lushly realized milieus. Her delectable portrait of the real-life Mary Treat (1830-1923) places Unsheltered on a growing list of outstanding novels about underappreciated women scientists, including Richard Bausch's Hello to the Cannibals (2002), Tracy Chevalier's Remarkable Creatures (2010), Elizabeth Gilbert's The Signature of All Things (2013), Amy Brill's The Movement of Stars (2013), Marie Benedict's The Other Einstein (2016), and Andromeda Romano-Lax's Behave (2016). Ultimately, in this enveloping, tender, witty, and awakening novel of love and trauma, family and survival, moral dilemmas and intellectual challenges, social failings and environmental disaster, Kingsolver insightfully and valiantly celebrates life's adaptability and resilience, which includes humankind's capacity for learning, courage, change, and progress.--Donna Seaman Copyright 2018 Booklist
---
Kirkus
Copyright © Kirkus Reviews, used with permission.

Alternating between two centuries, Kingsolver (Flight Behavior, 2012, etc.) examines the personal and social shocks that ensue when people's assumptions about the world and their place in it are challenged.The magazine Willa Knox worked for went broke, and so did the college where her husband, Iano, had tenure, destroying the market value of their Virginia home, which stood on college land. They should be grateful to have inherited a house in Vineland, New Jersey, just a half-hour commute from Iano's new, non-tenured one-year gig, except it's falling apart, and they have been abruptly saddled with son Zeke's infant after his girlfriend commits suicide. In the same town during Ulysses Grant's presidency, science teacher Thatcher Greenwood is also grappling with a house he can't afford to repair as well as a headmaster hostile to his wish to discuss Darwin's theory of evolution with his students and a young wife interested only in social climbing. While Willa strives to understand how her comfortable middle-class life could have vanished overnight, her 26-year-old daughter, Tig, matter-of-factly sees both her mother's disbelief and her Greek-immigrant grandfather Nick's racist diatribes and hearty approval of presidential candidate Donald Trump as symptoms of a dying culture of entitlement and unbridled consumption. Lest this all sound schematic, Kingsolver has enfolded her political themes in two dramas of family conflict with full-bodied characters, including Mary Treat, a real-life 19th-century biologist enlisted here as the fictional friend and intellectual support of beleaguered Thatcher. Sexy, mildly feckless Iano and Thatcher's feisty sister-in-law, Polly, are particularly well-drawn subsidiary figures, and Willa's doubts and confusion make her the appealing center of the 21st-century story. The paired conclusions, although hardly cheerful, see hope in the indomitable human instinct for survival. Nonetheless, the words that haunt are Tig's judgment on blinkered America: "All the rules have changed and it's hard to watch people keep carrying on just the same, like it's business as usual."As always, Kingsolver gives readers plenty to think about. Her warm humanism coupled with an unabashed point of view make her a fine 21st-century exponent of the honorable tradition of politically engaged fiction. Copyright Kirkus Reviews, used with permission.
---
Library Journal
(c) Copyright Library Journals LLC, a wholly owned subsidiary of Media Source, Inc. No redistribution permitted.

Multi-award-winning Kingsolver's eighth novel (after Flight Behavior) tells two stories in alternating chapters, both taking place on the same residential lot in Vineland, NJ, but roughly 150 years apart. In the 1870s, science teacher Thatcher struggles with meeting the expectations of his socially ambitious wife while running afoul of school and city morality for teaching Darwinism and develops a connection with his next-door neighbor, naturalist Mary Treat. In the present day, journalist Willa tries to hold her family together, four generations of which are living in a house that is literally falling down around them, as they struggle with medical bills, tragedy, and long-buried conflict. In the historical story (Thatcher and his family are fictional, but other characters and plot elements are based on real people and events), Kingsolver finds parallels to our current political climate without being heavy-handed, conveying the frustration and despair of members of the professional middle class, who "did all the right things" but feel they are losing ground. VERDICT Kingsolver fans will find everything they want and expect here: compelling characters, social awareness, and a connection to the natural world. [See Prepub Alert, 4/9/18.]-Christine -DeZelar-Tiedman, Univ. of Minnesota Libs., Minneapolis © Copyright 2018. Library Journals LLC, a wholly owned subsidiary of Media Source, Inc. No redistribution permitted.