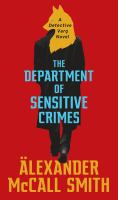 Kirkus
Copyright © Kirkus Reviews, used with permission.

The chronicler of the No. 1 Ladies' Detective Agency (The Colors of All the Cattle, 2018, etc.) and 44 Scotland Street (A Time of Love and Tartan, 2018, etc.) takes on Nordic noir. Guess who comes out on top.The staff of Malm's Sensitive Crimes Department are pretty sensitive themselves. Ulf Varg worries what sorts of life choices will be left to him once he turns 40. Anna Bengsdotter, married to an anaesthetist, is secretly in love with Ulf, and he with her. Carl Holgersson shoulders most of the squad's actual work out of a cheerful sense of duty. Clerical assistant Erik Nykvist fishes whenever he can and dreams of his retirement, when he expects to fish even more. The group is evidently assigned to investigate crimes too marginal and quirky for anyone else in law enforcement. Why would someone stab market trader Malte Gustafsson painfully but ineffectually behind his knee? Has university student Bim Sundstrm's boyfriend gone to the North Pole, as she claims, or has she actually done away with him? (Not-really-a-spoiler alert: She's made him up in response to her chums' nonstop questions about her love life.) And why has someone launched a social media attack that seems intended to put the spa run by Police Commissioner Felix Ahlstrm's cousin out of business? Tearing himself from the side of Marten, the beloved poodle mix he's taught to cope with his deafness by lip-reading, Ulf and his cohort reluctantly partner with uniformed officer Blomquist to bring the parties involved to justice.Fans of the bestselling author's long-running franchises won't be surprised by the two most distinctive features of the gravely waggish department's caseload: The mysteries seem both utterly inconsequential and quietly provocative, and they have long tails that continue to flop around even after they're nominally solved. Copyright Kirkus Reviews, used with permission.
---
Publishers Weekly
(c) Copyright PWxyz, LLC. All rights reserved

Ulf Varg, the lead detective in this appealing series launch from Smith (the No. 1 Ladies' Detective Agency series), works for the Sensitive Crimes Department of the MalmA¶, Sweden, Criminal Investigation Authority. He and his colleagues, including married Anna Bengsdotter, on whom the divorced Ulf has a guilty crush, investigate minor crimes, such as the nonfatal stabbing of a market vendor in the back of the knee. Ulf easily figures out whodunit, the focus being on why the culprit, basically a decent man, did the deed and his subsequent treatment within the justice system. Another case involves a lonely young woman, Bim SundstrA¶m, who invents an imaginary boyfriend, Sixten, to impress others. Complications ensue when Bim claims that Sixten, a medical student, has suddenly left her and gone off to a research station at the North Pole. A third case concerns a purported werewolf, whose nocturnal howls are driving away customers from a resort spa. As usual, the interpersonal relationships Smith so sensitively portrays and the ethical issues he raises matter far more than the sleuthing. Fans of gentle mysteries will look forward to the sequel. Agent: Robin Straus, Robin Straus Agency. (Mar.) © Copyright PWxyz, LLC. All rights reserved.
---
Book list
From Booklist, Copyright © American Library Association. Used with permission.

McCall Smith, famed for his No. 1 Ladies' Detective Agency series, set in Botswana, now extends his gift for comic situations and insightful commentary to a projected series set in Sweden Scandi-Lite, his publisher has dubbed it, in contrast to the bleakness of Scandinavian noir, but the hook sells McCall Smith short. While there's a great deal of humor here, this isn't as ""lite,"" say, as cozy series set in a knitting shop. It's true that the Department of Sensitive Crimes is a catchall agency for crimes that the police in Sweden's Criminal Investigation Authority consider either too minor, too weird, or too annoying to deal with. But, as in the No. 1 Ladies' series, McCall Smith uses these cases to shine a revealing light on human nature, including the foibles and heartaches of the investigators. The department is headed by Ulf Varg (both names mean wolf in Swedish), who is a bit of a lone wolf himself. Ulf and his investigators in Malmö, the third largest city in Sweden, investigate three sensitive cases over the course of the novel: the stabbing in the knee of a market vendor; the disappearance and suspected murder of an imaginary boyfriend; and various sightings (and hearings) of a werewolf at a Scandinavian spa. The second case is especially fascinating, showing how a lie can expand. Detective Varg promises to be a complex series character, and the department itself looks certain to deliver more oddball yet poignant cases.--Connie Fletcher Copyright 2010 Booklist