by Elin Hilderbrand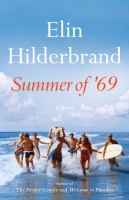 Book list
From Booklist, Copyright © American Library Association. Used with permission.

In June 1969, Tiger Foley ships off to Vietnam. His desolate mother Kate tries her best to keep things normal, so while her oldest, pregnant Blair, remains in Boston, Kate packs up her other daughters for a summer with her mother, Exalta, at All's Fair. Free-spirited Kirby quickly leaves for Martha's Vineyard for a little independence and a job at an inn in Edgartown, leaving Jessie, 13, stuck taking tennis lessons at Exalta's club and mooning after Pick Crimmins, the caretaker's son, who is unexpectedly living in the guest house. As relationships buckle under the strain of keeping up appearances, the world around Nantucket keeps interfering; civil rights, women's rights, the moon landing, Ted Kennedy and Mary Jo Kopechne, and the dark specter of the war in Vietnam all loom large. Yet Hilderbrand (Winter in Paradise, 2018) still manages to suffuse the novel with her trademark aspirational, escapist trappings (albeit with a little drinking while pregnant), and the chapter titles provide nostalgic readers with a soundtrack to this pleasing, beach-ready read. HIGH-DEMAND BACKSTORY: Hilderbrand's first foray into historical fiction will rouse curiosity in new readers as well as devotees of her annual summer smashes.--Susan Maguire Copyright 2019 Booklist
---
Kirkus
Copyright © Kirkus Reviews, used with permission.

Nantucket, not Woodstock, is the main attraction in Hilderbrand's (Winter in Paradise, 2018, etc.) bittersweet nostalgia piece about the summer of 1969.As is typical with Hilderbrand's fiction, several members of a family have their says. Here, that family is the "stitched together" Foley-Levin clan, ruled over by the appropriately named matriarch, Exalta, aka Nonny, mother of Kate Levin. Exalta's Nantucket house, All's Fair, also appropriately named, is the main setting. Kate's three older children, Blair, 24, Kirby, 20, and Tiger, 19, are products of her first marriage, to Wilder Foley, a war veteran, who shot himself. Second husband David Levin is the father of Jessie, who's just turned 13. Tiger has been drafted and sends dispatches to Jessie from Vietnam. Kirby has been arrested twice while protesting the war in Boston. (Don't tell Nonny!) Blair is married and pregnant; her MIT astrophysicist husband, Angus, is depressive, controlling, and deceitfulthe unmelodramatic way Angus' faults sneak up on both Blair and the reader is only one example of Hilderbrand's firm grasp on real life. Many plot elements are specific to the year. Kirby is further rebelling by forgoing Nantucket for rival island Martha's Vineyardand a hotel job close to Chappaquiddick. Angus will be working at Mission Control for the Apollo 11 lunar landing. Kirby has difficult romantic encounters, first with her arresting officer, then with a black Harvard student whose mother has another reason, besides Kirby's whiteness, to distrust her. Pick, grandson of Exalta's caretaker, is planning to search for his hippie mother at Woodstock. Other complications seem very up-to-date: a country club tennis coach is a predator and pedophile. Anti-Semitism lurks beneath the club's genteel veneer. Kate's drinking has accelerated since Tiger's deployment overseas. Exalta's toughness is seemingly untempered by grandmotherly love. As always, Hilderbrand's characters are utterly convincing and immediately draw us into their problems, from petty to grave. Sometimes, her densely packed tales seem to unravel toward the end. This is not one of those times.To use the parlance of the period, a highly relevant retrospective. Copyright Kirkus Reviews, used with permission.
---
Publishers Weekly
(c) Copyright PWxyz, LLC. All rights reserved

Hilderbrand (Winter in Paradise) delivers a superb novel about the goings-on of a family during the summer of 1969 in Nantucket, centered on four siblings. Mother Kate Levin has taken to drinking after her only son, Tiger, is drafted and sent to Vietnam. Kate has agreed to let her family's longtime caretaker Bill stay on their property with his grandson Pick in exchange for using Bill's army connections to keep Tiger safe and away from the front. Blair, the eldest sibling, pregnant with twins, gave up a promising career and a shot at Harvard at the behest of her astrophysicist husband, Angus, who is preoccupied with the upcoming moon landing and has deep spells of depression; Blair flees to Nantucket when Angus says he cheated on her. Middle sister Kirby is trying to clear her head on Martha's Vineyard after getting arrested for protesting and ending an affair with a married man. She finds herself judged by the family of the man she's now seeing, likely, she believes, because of their interracial relationship. Jessie, the youngest, gets a crush on Pick and hits puberty as she bears witness to how shame and propriety drive her family members, and how they suffer because of it. The sisters manage to slay their own demons while finding strength in their siblinghood. Hilderbrand hits all the right notes about life in a tightly knit family, and this crowd-pleaser is sure to satisfy both her fans and newcomers alike. (June) © Copyright PWxyz, LLC. All rights reserved.