by Quentin Tarantino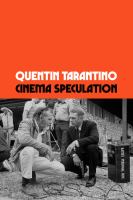 Kirkus
Copyright © Kirkus Reviews, used with permission.

The acclaimed director displays his talents as a film critic. Tarantino's collection of essays about the important movies of his formative years is packed with everything needed for a powerful review: facts about the work, context about the creative decisions, and whether or not it was successful. The Oscar-winning director of classic films like Pulp Fiction and Reservoir Dogs offers plenty of attitude with his thoughts on movies ranging from Animal House to Bullitt to The Texas Chainsaw Massacre to The Big Chill. Whether you agree with his assessments or not, he provides the original reporting and insights only a veteran director would notice, and his engaging style makes it impossible to leave an essay without learning something. The concepts he smashes together in two sentences about Taxi Driver would take a semester of film theory class to unpack. Taxi Driver isn't a "paraphrased remake" of The Searchers like Bogdanovich's What's Up, Doc? is a paraphrased remake of Hawks' Bringing Up Baby or De Palma's Dressed To Kill is a paraphrased remake of Hitchcock's Psycho. But it's about as close as you can get to a paraphrased remake without actually being one. Robert De Niro's taxi driving protagonist Travis Bickle is John Wayne's Ethan Edwards. Like any good critic, Tarantino reveals bits of himself as he discusses the films that are important to him, recalling where he was when he first saw them and what the crowd was like. Perhaps not surprisingly, the author was raised by movie-loving parents who took him along to watch whatever they were watching, even if it included violent or sexual imagery. At the age of 8, he had seen the very adult MASH three times. Suddenly the dark humor of Kill Bill makes much more sense. With this collection, Tarantino offers well-researched love letters to his favorite movies of one of Hollywood's most ambitious eras. A top-flight nonfiction debut from a unique artist. Copyright © Kirkus Reviews, used with permission.