Slaughterhouse-five
by by Kurt Vonnegut.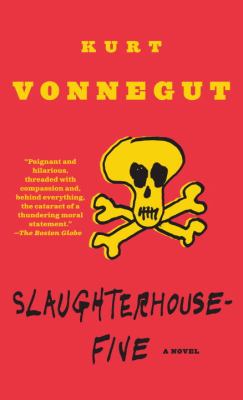 American Library Association
2010
Challenged in many communities, but burned in Drake, ND (1973). Banned in Rochester, MI because the novel "contains and makes references to religious matters" and thus fell within the ban of the establishment clause. An appellate court upheld its usage in the school in Todd v Rochester Community Schools, 41 Mich. App. 320, 200 N. W 2d 90 (1972). Banned in Levittown, NY (1975), North Jackson, OH (1979), and Lakeland, FL (1982) because of the "book's explicit sexual scenes, violence, and obscene language." Barred from purchase at the Washington Park High School in Racine, WI (1984) by the district administrative assistant for instructional services. Challenged at the Owensboro, KY High School library (1985) because of "foul language, a section depicting a picture of an act of bestiality, a reference to 'Magic Fingers' attached to the protagonist's bed to help him sleep, and the sentence: 'The gun made a ripping sound like the opening of the fly of God Almighty."'...Challenged in the Howell, MI High School (2007) because of the book's strong sexual content. In response to a request from the president of the Livingston Organization for Values in Education, or LOVE, the county's top law enforcement official reviewed the books to see whether laws against distribution of sexually explicit materials to minors had been broken. "After reading the books in question, it is clear that the explicit passages illustrated a larger literary, artistic or political message and were not included solely to appeal to the prurient interests of minors," the county prosecutor wrote. "Whether these materials are appropriate for minors is a decision to be made by the school board, but I find that they are not in violation of criminal laws."
Book Summary
2011
One of the world's great anti-war books. Centering on the infamous firebombing of Dresden, Billy Pilgrim's odyssey through time reflects the mythic journey of our own fractured lives as we search for meaning in what we are afraid to know. (Book Jacket) In telegraphic style and brief impressionistic scenes out of chronological sequence the work tells of the life and death of Billy Pilgrim, once an optometrist in Ilium, N.Y., later a "spastic in time" because he has been chosen by the inhabitants of Tralfamadore, a planet millions of light-years away, to inhabit their zoo. ("Slaughterhouse-Five; or The Children's Crusade. A Duty-Dance with Death" The Concise Oxford Companion to American Literature. James D. Hart. Oxford University Press, 1986. Oxford Reference Online. Oxford University Press. Middlesex School. 13 March 2009 )