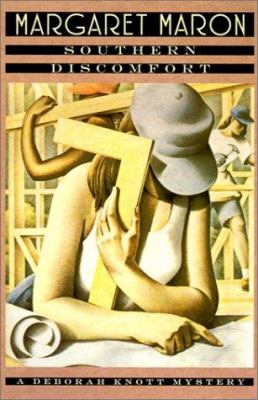 Southern Discomfort
by Maron, Margaret
Book list Deborah Knott has just become a District Court judge in Colleton County, North Carolina, and her kinfolk are mighty proud of her. But now that she's on the bench, she has to remember those campaign promises she made--like agreeing to help WomenAid, a vociferous group of local do-gooders, build a house for a needy family. Before the house is completed, though, things start to go wrong: Annie Sue, Deborah's teenage niece who's helping with the project, is viciously attacked at the building site; Carver Bannerman, a handsome, unscrupulous building inspector, seduces one of Annie Sue's best friends and is later found murdered; and Annie Sue's father is hospitalized after developing a mysterious illness. Of course, it's up to Deborah, with the help of local lawman and sometime-sweetheart Dwight Bryant, to make sense of the bizarre events. Maron's written a thriller that simply oozes southern charm and atmosphere. The clever plot is full of surprises--a good blend of menace, poignancy, and humor. But perhaps Maron's real strength is her refreshing heroine, who doesn't mind admitting she wears a size fourteen dress and who approaches life with humor, determination, and good sense. An excellent choice for all mystery collections. ~--Emily Melton
From Booklist, Copyright © American Library Association. Used with permission.
Library Journal New lady judge Deborah Knott ( Bootlegger's Daughter ) threads her way through the intricacies of district court in a small North Carolina town where familial connections abound. Murder rears its ugly head only after shared family stories and relationships establish a stylistic context. Employing her intimate knowledge of the place, Knott discovers who assaulted her teenage niece and killed a randy building inspector inside an unfinished WomenAid house. Cleverly told, with a homey atmosphere, this is ripe for a sequel.
Copyright © Reed Business Information, a division of Reed Elsevier Inc. All rights reserved.