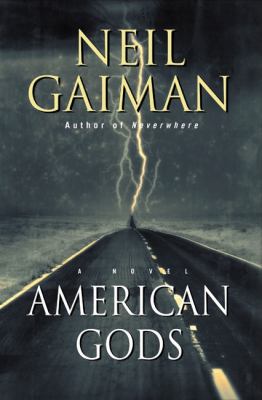 American Gods
by Neil Gaiman

Library Journal : In his latest novel, Gaiman (Neverwhere) explores the vast and bloody landscape of myths and legends where the gods of yore and the neoteric gods of now conflict in modern-day America. The antihero, a man of unusually acute intellect through whose eyes we witness the behind-the-scenes dynamics of human religion and faith, is a convict called Shadow. He is flung into the midst of a supernatural fray of gods such as Odin, Anansi, Loki One-Eye, Thor, and a multitude of other ancient divinities as they struggle for survival in an America beset by trends, fads, and constant upheaval an environment not good for gods. They are joined in this struggle by such contemporary deities as the geek-boy god Internet and the goddess Media. There's a nice plot twist in the end, and the fascinating subject matter and impressive mythic scope are handled creatively and expertly. Gaiman is an exemplary short story writer, but his ventures into novels are also compellingly imaginative. Highly recommended for all libraries. Ann Kim, "Library Journal"
Copyright 2001 Cahners Business Information, Inc. Distributed by Syndetic Solutions Inc. Terms

Publishers Weekly : Titans clash, but with more fuss than fury in this fantasy demi-epic from the author of Neverwhere. The intriguing premise of Gaiman's tale is that the gods of European yore, who came to North America with their immigrant believers, are squaring off for a rumble with new indigenous deities: "gods of credit card and freeway, of Internet and telephone, of radio and hospital and television, gods of plastic and of beeper and of neon." They all walk around in mufti, disguised as ordinary people, which causes no end of trouble for 32-year-old protagonist Shadow Moon, who can't turn around without bumping into a minor divinity. Released from prison the day after his beloved wife dies in a car accident, Shadow takes a job as emissary for Mr. Wednesday, avatar of the Norse god Grimnir, unaware that his boss's recruiting trip across the American heartland will subject him to repeat visits from the reanimated corpse of his dead wife and brutal roughing up by the goons of Wednesday's adversary, Mr. World. At last Shadow must reevaluate his own deeply held beliefs in order to determine his crucial role in the final showdown. Gaiman tries to keep the magical and the mundane evenly balanced, but he is clearly more interested in the activities of his human protagonists: Shadow's poignant personal moments and the tale's affectionate slices of smalltown life are much better developed than the aimless plot, which bounces Shadow from one episodic encounter to another in a design only the gods seem to know. Mere mortal readers will enjoy the tale's wit, but puzzle over its strained mythopoeia. (One-day laydown, June 19)Forecast: Even when he isn't in top form, Gaiman, creator of the acclaimed Sandman comics series, trumps many storytellers. Momentously titled, and allotted a dramatic one-day laydown with a 12-city author tour, his latest will appeal to fans and attract mainstream review coverage for better or for worse because of the rich possibilities of its premise.
Copyright 2001 Cahners Business Information, Inc. Distributed by Syndetic Solutions Inc. Terms