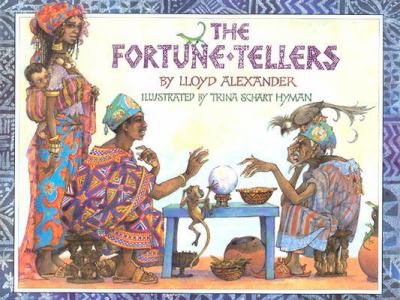 The Fortune Tellers
by Lloyd Alexander

Publishers Weekly : The hands of fate deftly propel this original folktale. A seedy fortune-teller profits from gullible and sometimes desperate villagers who seek predictions for a rosier future. One unhappy carpenter takes to heart the seer's hardly helpful advice--``Rich you will surely be, on one condition: that you earn large sums of money''--and looks forward to a prosperous life. Most surprising to the craftsman, he ends up in the right place at the right time and the prediction comes true. Alexander's chipper text has a jaunty and infectious ``just so'' tone. Amazing coincidences fuse the plot elements, but the story's logic remains intact, successfully suspending the reader's disbelief. Hyman's acrylic, ink and crayon illustrations capture the landscape and people of West Africa in vivid detail. Indigenous plants and animals--including comically placed lizards--dot each scene, and the villagers' lushly textured apparel is spectacular. Especially opulent are spreads featuring the fortune-teller's cluttered quarters and the market stalls with their baskets and pottery. Ages 5-8.
Copyright 1992 Cahners Business Information, Inc. Distributed by Syndetic Solutions Inc. Terms

School Library Journal : Gr 1-4--A master storyteller and an art maven join forces to create some marvelous, magical images. The texture of life and the colors of Cameroon are interwoven into this telling tale about a young man who wants to see what his future holds.
Copyright 1997 Cahners Business Information, Inc. Distributed by Syndetic Solutions Inc. Terms