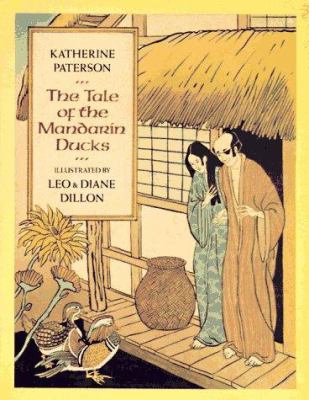 The Tale of the Mandarin Ducks
by Katherine Paterson

Publishers Weekly : In another picture book retelling of a Japanese folktale, Paterson ( The Tongue-Cut Sparrow ) recounts the story of Shozo, a one-eyed Samurai unjustly forced to be a servant, and Yasuko, a kitchen maid. They befriend a mandarin duck who pines for his mate while kept in captivity by a fearsome lord. When Yasuko releases the duck, both servants are sentenced to death, but they are subsequently saved by two mysterious imperial messengers who care for them throughout the night and disappear, leaving in their place the two mandarin ducks. Yasuko and Shozo live happily from that time on because ``as they had learned years before, trouble can always be borne when it is shared.'' Paterson's story is rich with magic, compassion and love. The Dillons' elegantly detailed watercolor and pastel drawings, in the style of 18th-century Japanese woodcuts, are exquisite. Ages 5-8.
Copyright 1990 Cahners Business Information, Inc. Distributed by Syndetic Solutions Inc. Terms

School Library Journal : There is a quiet subtlety of tone in both text and illustration that perfectly captures the spirit of this Japanese folktale. Paterson's economical use of language conveys the pure essence of a story that needs no verbal embellishment. A mandarin drake is separated from his mate by a cruel lord who covets beautiful things, only for the honor they bring him as their possessor. When the drake's magnificently colored plumage fades, he is banished to a far corner of the kitchen where Yasuko, the kitchen maid, frees him. The lord blames Shozo, the one-eyed chief steward who had once been a powerful samurai, beats him, strips him of his rank, and forces him to haul waste and scrub toilets. When Yasuko and Shozo fall in love, the lord sentences them to death; they are saved, however, by two messengers announcing that the emperor has abolished capital punishment. The Dillons' watercolor and pastel paintings have the appearance of woodcuts with a luminous quality, conveying both the gentleness and the strength of the characters and of the bond of love between the two couples, human and duck. The illustrations are simultaneously powerful and ethereal with bold lines and fine details which, nonetheless, are more suggestive than definitive. This visual understatement is seen most clearly in the depiction of nature. Each tree, flower, or blade of grass hints of more behind. There is a grace in the flowing lines of the kimonos and beauty in the muted autumn/winter palette, giving a golden, blue-gray, or mauve glow to the various scenes. Although the obvious message of this tale is that of kindness rewarded, there is a more subtle message brought home in the final words, ``trouble can always be borne when it is shared.'' --Kay E. Vandergrift, Information and Library Studies, Rutgers University, New Brunswick, NJ
Copyright 1990 Cahners Business Information, Inc. Distributed by Syndetic Solutions Inc. Terms