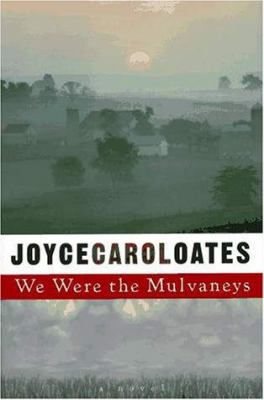 We Were the Mulvaneys
by Joyce Carol Oates

Library Journal: Everyone knows the Mulvaneys: Dad the successful businessman, Mike the football star, Marianne the cheerleader, Patrick the brain, Judd the runt, and Mom dedicated to running the family. But after what sometime narrator Judd calls the events of Valentine's Day 1976, this ideal family falls apart and is not reunited until 1993. Oates's (Will You Always Love Me, LJ 2/1/96) 26th novel explores this disintegration with an eye to the nature of changing relationships and recovering from the fractures that occur. Through vivid imagery of a calm upstate New York landscape that any moment can be transformed by a blinding blizzard into a near-death experience, Oates demonstrates how faith and hope can help us endure. At another level, the process of becoming the Mulvaneys again investigates the philosophical and spiritual aspects of a family's survival and restoration. Highly recommended.
Joshua Cohen, Mid-Hudson Lib. System, Poughkeepsie, NY Distributed by Syndetic Solutions Inc. Terms

Publisher's Weekly: Elegiac and urgent in tone, Oates's wrenching 26th novel (after Zombie) is a profound and darkly realistic chronicle of one family's hubristic heyday and its fall from grace. The wealthy, socially elite Mulvaneys live on historic High Point Farm, near the small upstate town of Mt. Ephraim, N.Y. Before the act of violence that forever destroys it, an idyllic incandescence bathes life on the farm. Hard-working and proud, Michael Mulvaney owns a successful roofing company. His wife, Corinne, who makes a halfhearted attempt at running an antique business, adores her husband and four children, feeling "privileged by God." Narrator Judd looks up to his older brothers, athletic Mike Jr. ("Mule") and intellectual Patrick ("Pinch"), and his sister, radiant Marianne, a popular cheerleader who is 17 in 1976 when she is raped by a classmate after a prom. Though the incident is hushed up, everyone in the family becomes a casualty. Guilty and shamed by his reaction to his daughter's defilement, Mike Sr. can't bear to look at Marianne, and she is banished from her home, sent to live with a distant relative. The family begins to disintegrate. Mike loses his business and, later, the homestead. The boys and Corinne register their frustration and sadness in different, destructive ways. Valiant, tainted Marianne runs from love and commitment. More than a decade later, there is a surprising denouement, in which Oates accommodates a guardedly optimistic vision of the future. Each family member is complexly rendered and seen against the background of social and cultural conditioning. As with much of Oates's work, the prose is sometimes prolix, but the very rush of narrative, in which flashbacks capture the same urgency of tone as the present, gives this moving tale its emotional power. 75,000 first printing; author tour.
Copyright 1996 Cahners Business Information, Inc. Distributed by Syndetic Solutions Inc. Terms