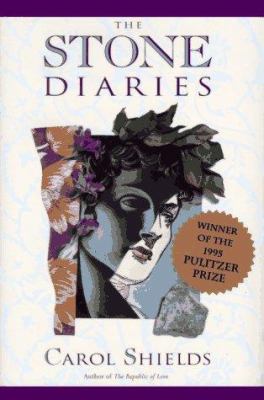 The Stone Diaries
by Carol Shields

Library Journal : Author of the ``most satisfying'' The Republic of Love ( LJ 1/92), Canadian novelist Shields here details the hard life of Daisy Stone Goodwill from her 1905 birth in Manitoba through old age.
Copyright 1994 Cahners Business Information, Inc. Distributed by Syndetic Solutions Inc. Terms

Publishers Weekly : Canadian writer Shields's novels and short stories ( Swann ; The Republic of Love , etc.) are intensely imagined, humanely generous, beautifully sustained and impeccably detailed. Despite rave reviews on both sides of the Atlantic, she has yet to achieve an audience here; one hopes this latest effort, shortlisted for the Booker Prize, will be her breakthrough. It is at once a playful sendup of the art of biography and a serious exploration of the essential mystery of human lives; the gist of this many-faceted story is that all biographies are only versions of the facts. Shields follows her heroine, Daisy Goodwill Hoad Flett, from her birth--and her mother's death--on the kitchen floor of a stonemason's cottage in a small quarry town in Manitoba through childhood in Winnipeg, adolescence and young womanhood in Bloomington, Ind. (another quarry town), two marriages, motherhood, widowhood, a brief, exhilarating career in Ottawa--and eventually to old age and death in Florida. Stone is the unifying image here: it affects the geography of Daisy's life, and ultimately her vision of herself. Wittily, ironically, touchingly, Shields gives us Daisy's version of her life and contrasting interpretations of events from her friends, children and extended family. (She even provides ostensible photographs of Daisy's family and friends.) Shields's prose is succint, clear and graceful, and she is wizardly with description, summarizing appearance, disposition and inner lives with elegant imagery. Secondary characters are equally compelling, especially Daisy's obese, phlegmatic mother; her meek, obsessive father, who transforms himself into an overbearing executive; her adoptive mother, her stubborn father-in-law. Readers who discover Shields with this book can also pick up a simultaneously published paperback version of an early first novel, Happenstance . Author tour.
Copyright 1993 Cahners Business Information, Inc. Distributed by Syndetic Solutions Inc. Terms