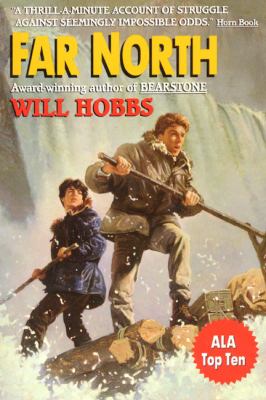 Far North
by Will Hobbs

Publisher's Weekly : Those insatiable fans of Hatchet are the likeliest audience for this winter survival tale, which weds its adventure-seeking thrills to education about Dene Indian culture. Fifteen-year-old Gabe, a Texan, enrolls in a boarding school in Canada's Northwest Territories to be near his father, whose love of the wilderness has become infectious. But Gabe gets more than he bargained for when an airplane accident leaves him and his roommate Raymond, a Dene, stranded near the fierce Nahanni River at the start of a long winter. Guided by their fellow survivor Johnny Raven, a Dene elder, Gabe and Raymond learn to hunt beavers, trap rabbits and make snowshoes and mittens from animal hide. More significantly, they learn respect for ancient Dene beliefs. When Raven dies of the cold, the two boys must struggle out of Deadmen Valley on their own. Predictably sentimental, Hobbs's (Beardance) fast-moving tale nonetheless delivers breathless action and an inspiring sense of Canada's vast landscape. Ages 10-up.
Copyright 1996 Cahners Business Information, Inc. Distributed by Syndetic Solutions Inc. Terms

School Library Journal : Gr 5 Up--From the compelling cover illustration to the terrifying and plausible details, this survival adventure clearly demonstrates the author's love for and familiarity with the northern wilderness. Gabe, 15, formerly of San Antonio, enrolls in a boarding school in Canada's Northwest Territories to be closer to his father, an oil field worker. Gabe's likable but depressed roommate, Raymond, is an Athapascan Indian. A map helps readers follow along as circumstances involving a plane crash leave the teens and Johnny Raven, an elder from Raymond's village, stranded with minimal supplies as winter hardens. The plotting is fast paced and action filled as the teens' cultures clash, and as they struggle against the cold, blizzards, isolation, starvation, injury, a wolverine, grizzly bear, and Johnny's death before finally reaching safety. The weakest elements of the book may be the sermonlike "testament" the boys find in Johnny's pocket after his death, and the thread of mythic raven lore that is mentioned, then given up before becoming a major element again. Quibbles aside, with echoes as old as Jean Craighead George's classic My Side of the Mountain (Dutton, 1988) and reverberations from Paulsen and Phleger, this satisfying tale will engage YAs' hearts and minds.
Joel Shoemaker, Southeast Jr. High School, Iowa City, IA Distributed by Syndetic Solutions Inc. Terms