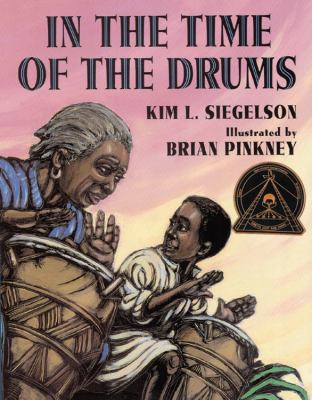 In the Time of the Drums
by Kim L. Siegelson and Brian Pinkney

Publishers Weekly : Siegelsons (The Terrible, Wonderful Tellin at Hog Hammock) lyrical retelling of a Gullah legend seems to pulse in time to the goatskin drums of the Sea Islands, the setting for this haunting tale. Young Mentu lives with his African-born grandmother Twi, an Ibo conjure woman. Though Mentu exhibits a strength beyond his years, Twi cautions him to save his energy: Soon it will be your time to be strong-strong, she says. As the two watch the workers in the fields, Twi tells her grandson how slavery has broken them.... The old ways had slowly slipped away and been left behind like sweat drops in a newly plowed row. One day, a ship arrives, its cargo an entire village of Ibo people; from the hold of the ship, they hear the sound of Twi beating her goatskin drums, and think they have returned home. When they see the foreign shores, however, the Ibos sing words familiar to Twi: Say the water brought em cross the passage and it can take em back, fe true, she translates for Mentu. Working her magic, Twi leads the Ibo people into the water, where, legend has it, they walked all the way back to Africa on the bottom of the ocean. Siegelson subtly lays the groundwork for Twis double meaning, as the grandmother builds a sense of history (it takes a mighty strength not to forget). The parting scene shows Mentu teaching his daughter the songs that Twi taught him. Pinkneys (The Faithful Friend) finely etched art dramatically captures the storys simultaneous sadness and hope, contrasting such images as the ships shadowy hold with a narrow opening of sun-filled sky where Twis drumbeats fill the air, and Twi leading the Ibo people into a swirling, yet smooth sea filled with a spectrum of sherbet-colored hues as their chains melt away. At once magical yet chillingly real, this is a thought-provoking and memorable work. Ages 6-9.
Copyright 1999 Cahners Business Information, Inc. Distributed by Syndetic Solutions Inc. Terms

School Library Journal : Gr 2-5-A Gullah story brought into beautiful focus by Pinkney's trademark scratchboard-on-oil drawings. Mentu and his grandmother, Twi, are plantation slaves who live on an island off the coast of Georgia. Twi knows some "powerful root magic" and still yearns for her African home. She remembers the stories and the rhythms of the drums, and shares them with Mentu. One day, a ship bearing new slaves arrives in Teakettle Creek, and the island people beat ``ancient rhythms" on their drums announcing the ship's arrival. At first the Ibos think they are back in Africa; when they realize they are not, they refuse to leave the ship. Suddenly, Twi hangs her charm bag on Mentu's neck and begins to run toward the water. Magically, the years slip off her as she beckons to the newcomers. Together, they break away from the slave catchers and disappear under the water. Mentu believes that they are walking home to freedom. This well-told story is unusual and powerful. It raises some interesting questions about the meaning and value of freedom, and of literal interpretation of text. The rhythms hint at Gullah language, but the narrative is clear, accessible, and at the same time poetic. Pinkney's illustrations enhance the power of the tale by being at once realistic and mystical. This thought-provoking story would be a splendid addition to any collection.-Linda Greengrass, Bank Street College Library, New York City
Copyright 1999 Cahners Business Information, Inc. Distributed by Syndetic Solutions Inc. Terms