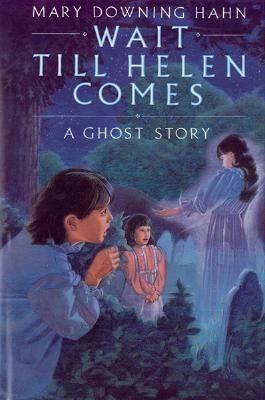 Wait Till Helen Comes Home
by Mary Downing Hahn

School Library Journal : Gr 4-7 Ghost story fans have a spooky treat in store with Hahn's eerie new novel. Molly, the 12-year-old narrator, and her brother Michael dislike their bratty 5-year-old stepsister Heather and resent the family move to an isolated converted church in the country. The adjourning graveyard frightens Molly, but Heather seems drawn to it. Molly discovers that the ghost of a child (Helen) who died in a fire a century ago wants to lure Heather to her doom. Molly determines to save her stepsister. In so doing, she learns that Heather's strange behavior stems from her feelings of guilt at having accidentally caused her mother's death by playing near a stove and starting a fire. Eventually, Molly wrests Heather from Helen's arms as the ghost attempts to drown them. The girls discover the skeletons of Helen's parents, and their burial finally puts to rest Helen's spirit. This is a powerful, convincing, and frightening tale. The details of everyday life quickly give way to terror. The pace never slackens. Characterization is strong, and descriptive passages set a mood of suspense. There should be a heavy demand from readers who are not ``faint at heart.'' Judy Greenfield, Rye Free Reading Room, N.Y.
Copyright 1986 Cahners Business Information, Inc. Distributed by Syndetic Solutions Inc. Terms