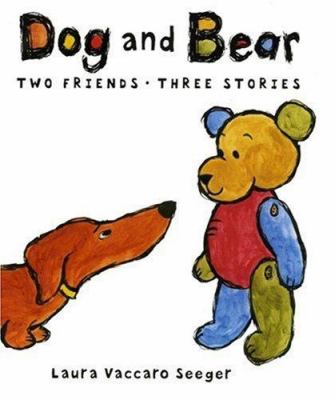 Dog and Bear: Two Friends, Three Stories
by Laura Vaccaro Seeger

Publishers Weekly: Starred Review. As inventive and fresh as Seeger's Hidden Alphabet, the three gentle stories in this inspired collection are utterly charming. Emerging readers will take to the rambunctious dachshund and winsome stuffed bear, and will find the bold font of the economical text easy to follow. Each story's conflict is satisfyingly resolved with a surprise ending that reflects these unique individuals. When Dog rattles off his inappropriate suggestions for changing his boring name, Bear suggests that Dog change his name to "My Best Friend Dog." Dog is delighted, but then blithely suggests that Bear call him "Dog for short." The uncluttered illustrations, in thick black line and swirling bright watercolor wash, work seamlessly with stories that rely on humor both child-centered and unexpected. When Dog coaches the timid bear off of a high chair ("Take one step. One little, tiny step"), their faces deftly mirror their emotions. Seeger comically combines Bear's narration of a story he is trying to read with Dog's rambunctious pleas ("Play with me! Play with me!"). When Bear finally puts his book down and asks what they should play, dog answers, "Read to me! Read to me!" After turning the last page, young readers will beg the same for this enchanting trio of tales. Ages 4-8.
Copyright © Reed Business Information, a division of Reed Elsevier Inc. All rights reserved. Distributed by Syndetic Solutions Inc. Terms

School Library Journal : Starred Review. PreS-Gr 2—In this endearing picture book, a tail-wagging dachshund and a multicolored stuffed bear star in three tales about friendship. In the first, Dog wants to go outside, but Bear is perched atop a tall chair and can't get down. It takes encouragement and ingenuity, but the pooch eventually helps his pal descend; unfortunately, Bear's scarf has been left behind. Next, Dog wants to play and brings out numerous toys, but Bear is busy reading. At last, he closes his book and asks, "What shall we do?," and the pup appears with a stack of volumes ("Read to me!"). Finally, Dog decides to change his name. Bear points out that none of the traditional canine choices is suitable, imagining what his friend would be like if he were called Spot (speckled with colorful dots), Fluffy (pink, with a cotton-candy body), or Prince (dressed in royal regalia). They reach a consensus when Bear suggests "My Best Friend Dog" (Dog for short). The characters and a few highlighted objects are drawn with thick black lines, colored with bright variegated hues, and set against white backdrops. The eye-catching artwork shines with humor and warmth. Told with simplicity and charm, this story is appropriate for sharing aloud or for newly confident readers.—Joy Fleishhacker, School Library Journal
Copyright © Reed Business Information, a division of Reed Elsevier Inc. All rights reserved. Distributed by Syndetic Solutions Inc. Terms