by Bernardine Evaristo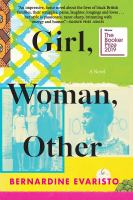 Kirkus
Copyright © Kirkus Reviews, used with permission.

A magnificent chorus of black British voices and a winner of the 2019 Booker Prize."Amma / is walking along the promenade of the waterway that bisects her city, a few early morning barges cruise slowly by." These are the opening lines of Evaristo's eighth novel. The unexpected line breaks, the paucity of punctuation and capitalization: These stylistic choices are, at first, disorientingand that makes perfect thematic sense. Amma is a black woman, a lesbian, and a fiercely feminist playwright who is gaining mainstream attention after decades of working on the margins. Each of the 12 characters Evaristo conjures here have had to work hard to make a place for themselves in a culture that regards them as outsiders even if they've lived in the United Kingdom their entire lives. Instead of forcing her creations to code-switch to make their lives comfortable for general consumption, Evaristo compels the reader to accommodate and adjust. The rewards for this tiny bit of mental labor are extraordinary. There is no overarching story, but the lives of these women and one "gender-free" character intersect in revelatory ways. For example, Shirley is both one of Amma's oldest friends and the teacher who helps Carole work her way out of a council flat and into Oxford. For Amma, Shirley grew from being "the only other brown girl" on the playground to being the straight-laced friend who always supported her unconventional careerand loaned her money when necessary. For Carole, Shirley is "Mrs King," the no-nonsense taskmaster who only cared about her when her grades were perfect. When she takes center stage herself, we discover that Shirley is both of these people and much more. As she creates a space for immigrants and the children of immigrants to tell their stories, Evaristo explores a range of topics both contemporary and timeless. There is room for everyone to find a home in this extraordinary novel.Beautiful and necessary. Copyright Kirkus Reviews, used with permission.