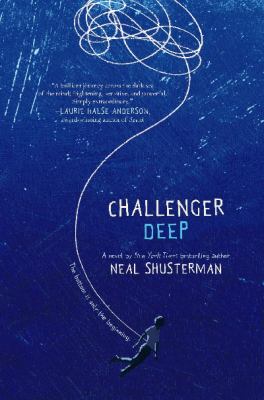 Challenger Deep
by Neal Shusterman


Publishers Weekly With lyricism and potent insight, Shusterman (Unwind) traces the schizophrenic descent and return of Caden Bosch, an intelligent 15-year-old and a gifted artist. His internal narratives are sometimes dreams, sometimes hallucinations, and sometimes undefinable, dominated by a galleon and its captain, sailing with an enormous, sullen crew to the deepest point of the Marianas Trench, Challenger Deep. The metaphor's not exactly subtle, but Shusterman finds unexpected resonance in its details-the tarry seams in the wood, the human ballast. External reality still registers: people around Caden run the gamut of humor, scolding, threats, and avoidance to pressure him into changing behavior he no longer controls. Shusterman has mined personal experience of mental illness with his son Brendan, whose line drawings mirror Caden's fragmentation in swirling lines eerily reminiscent of Van Gogh. It's a powerful collaboration, and crucial to the novel's credibility. As Caden says, "There is no such thing as a 'correct' diagnosis," and though his story doesn't necessarily represent a "typical" experience of mental illness, it turns symptoms into lived reality in ways readers won't easily forget. Ages 14-up. Agent: Andrea Brown, Andrea Brown Literary Agency. (Apr.) © Copyright PWxyz, LLC. All rights reserved.
(c) Copyright PWxyz, LLC. All rights reserved
School Library Journal Gr 9 Up-Caden Bosch lives in two worlds. One is his real life with his family, his friends, and high school. There he is paranoid for no reason, thinks people are trying to kill him, and demonstrates obsessive compulsive behaviors. In his other world, he's part of the crew for a pirate captain on a voyage to the Challenger Deep, the ocean's deepest trench. There he's paranoid, wary of the mercurial captain and his mutinous parrot, and tries hard to interpret the mutterings of his fellow shipmates as they sail uncharted waters toward unknown dangers. Slowly, Caden's fantasy and paranoia begin to take over, until his parents have only one choice left. Shusterman's latest novel gives readers a look at teen mental illness from inside the mind of Caden Bosch. He is a credible and sympathetic character, and his retreat into his own flawed mind is fascinating, full of riddles and surrealism. Shusterman based the novel on his son's mental illness, and Brendan's input regarding his diagnosis of schizoaffective disorder and psychiatric care makes the novel ring true. Teens, especially fans of the author's other novels, will enjoy this book. VERDICT This affecting deep dive into the mind of a schizophrenic will captivate readers, engender empathy for those with mental illnesses, and offer much fodder for discussion.-Heather Miller Cover, Homewood Public Library, AL (c) Copyright 2015. Library Journals LLC, a wholly owned subsidiary of Media Source, Inc. No redistribution permitted.
(c) Copyright Library Journals LLC, a wholly owned subsidiary of Media Source, Inc. No redistribution permitted.
Book list *Starred Review* Award-winning author Shusterman returns to realistic fiction with a breathtaking exploration of one teen's experience with schizophrenia. Caden Bosch thinks there is somebody at his high school who wants to kill him. But that's not all. There are things happening outside of the typical space and time constraints that he can't understand. He feels at once all-powerful and frighteningly powerless. Caden slowly drifts away from friends and family and deeper into his mind, until his parents admit him to a mental hospital for further evaluation and treatment. Shusterman beautifully deploys dual narratives that become increasingly intertwined in this remarkable story. In addition to the grounded-in-reality narrative, he introduces another world, where Caden is out at sea with the Captain, a girl named Calliope, a parrot, and more. All of these characters eventually match real-world counterparts in the hospital and beyond. In confessional back matter, Shusterman explains his inspiration for this powerful story: his own son Brendan's experience in the depths of mental illness. Brendan Shusterman's illustrations, interspersed throughout, contribute significantly to the reading experience. With the increasing demand for understanding mental illness, this is a must-purchase for library collections. Haunting, unforgettable, and life affirming all at once. HIGH-DEMAND BACKSTORY: An author tour and powerhouse promotional plan will mean lots of attention for best-selling Shusterman's latest endeavor.--Barnes, Jennifer Copyright 2015 Booklist
From Booklist, Copyright © American Library Association. Used with permission.