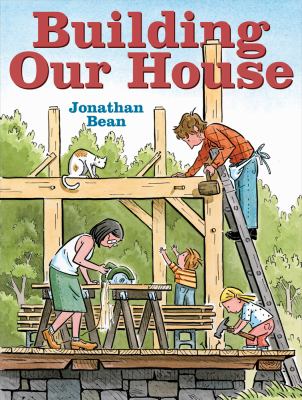 Building Our House
by Jonathan Bean


School Library Journal PreS-Gr 2-A year-and-a-half-long adventure of building a cozy home in the countryside involves an entire family of four. The oldest child describes the construction of the house, expertly shown in appealing soft-colored illustrations that vary in size from full spreads to small vignettes. Water and electricity are shown being connected to a temporary home in a trailer so the family can live on the property while the work is being done. Friends and family help out from time to time during the creation of the small timber-frame home, but the girl's parents perform the majority of work on their own (a third child arrives in the course of the story). Engaging pictures are reminiscent of Lisa Campbell Ernst's charming illustrations and are based on the building of the author/illustrator's childhood home. An author's note includes Bean's family photographs. Lovingly told, this captivating tale will help satisfy a child's curiosity of what it takes to create a building from scratch.-Maryann H. Owen, Racine Public Library, WI (c) Copyright 2013. Library Journals LLC, a wholly owned subsidiary of Media Source, Inc. No redistribution permitted.
(c) Copyright 2010. Library Journals LLC, a wholly owned subsidiary of Media Source, Inc. No redistribution permitted.
Publishers Weekly Not unlike Dan Yaccarino did in All the Way to America, Bean (At Night) turns family history into something larger, in this case a romantic portrait of the rewards of diligence, teamwork, and a DIY mentality. In a concluding note accompanied by family photos, Bean explains that the story is based on his family's experience of building a farmhouse when he was a toddler. A sense of familial dedication and cohesiveness fills the pages, with narration coming from a character modeled after Bean's older sister. The pale, matte illustrations are a flurry of activity (and filled with the sort of construction details that children adore), as the family equips a trailer to serve as temporary digs, buys lumber, builds a foundation, hosts a frame-raising party, and eventually turns to interior work. Bean's pictures provide a supplementary visual narrative (Mom becomes pregnant, an infant appears), and the father offers suitably dadlike truisms like "The right tool for the right job" throughout. A warm look at the nuts and bolts of building a house and turning it into a home. Ages 3-6. Agent: Anna Webman, Curtis Brown. (Jan.) (c) Copyright PWxyz, LLC. All rights reserved.
(c) Copyright PWxyz, LLC. All rights reserved
Book list An author's note reveals that this picture book is based on personal experience, as Bean's parents built their own house when he was a young child. Here we follow a mother, father, two children (and, eventually, a new baby) over the course of a year and a half through a harsh winter and plenty of lumber pickups all the way to move-in day at their new abode. Told from the point of view of the oldest child, a girl, the challenges and rewards involved in constructing from scratch become clear. The kids are not exempt from the do-it-yourself action, and they happily help fill the loud mixing machine. Bean (At Night, 2007) makes use of every inch of the tall trim size here, filling his pages to the brim with heavily lined illustrations of bustling people and activity often as a series of four vignettes across a spread. What's heartwarming throughout is the depiction of a tight-knit family ( My family makes up a strong crew of four ). The author's concluding personal photos add to the loving feel.--Kelley, Ann Copyright 2010 Booklist
From Booklist, Copyright © American Library Association. Used with permission.