Kids' Catalog
Never Go Back
by Lee Child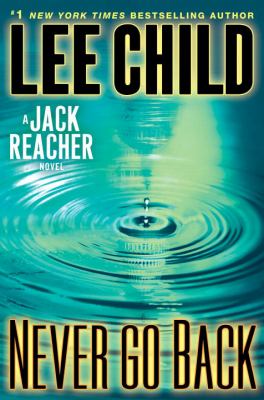 Book list
From Booklist, Copyright © American Library Association. Used with permission.
9780385344340
*Starred Review* Jack Reacher, the loner thumbing his way through life, despises entanglements. So what could he possibly be doing going back to his old barracks in Washington, D.C., to take a woman to dinner? Yes, the woman, Major Susan Turner, is now the C.O. of Reacher's former unit, and, yes, he liked her voice when he talked to her on the phone in 61 Hours (2010), but, really, Reacher, what were you thinking? Naturally, when Reacher arrives on the base to ask Turner out, he discovers a whopping mess and lands in the middle of it. Turner is in the brig, and the army promptly arrests Reacher on what seems to be a trumped-up charge involving a case from decades ago. And what's this about Reacher having a daughter, of all things, whose mother is suing for child support? None of it makes sense, except that somehow it must all tie together. Nothing to do but break out of the brig, with Turner in tow, and set things right, which requires a cross-country road trip, more than a little rough stuff, and a whole lot of fretting about entanglements. Child never, ever slips. He keeps the action cranking better than anyone, but, best of all, he keeps us guessing about Reacher. Will he, of all people (Ninety-nine of us grow up to fear the howling wolf, and one grows up to envy it. I'm that guy.), really hang up his toothbrush (his only traveling accoutrement) this time? Child has spent 17 novels committing his hero to the call of the wild, and now he dangles a dinner date and a possible daughter in front of the howling wolf? Brilliant. HIGH-DEMAND BACKSTORY: Published in nearly 40 countries and more than 70 languages with more than 70 million copies in print, the Jack Reacher series is a publishing phenomenon and won't go away anytime soon.--Ott, Bill Copyright 2010 Booklist
Library Journal
(c) Copyright Library Journals LLC, a wholly owned subsidiary of Media Source, Inc. No redistribution permitted.
9780385344340
After trekking back from the savage snowstorms of South Dakota, Jack Reacher finally returns to his old military police unit, eager to meet Maj. Susan Turner, the new commanding officer who helped him save the trapped victims in 61 Hours. However, Reacher finds out that Turner is under investigation for corruption and is awaiting trial for conspiracy. And that's not all. The army drafts him back into service to face two trumped-up legal cases-homicide charges for assaulting an L.A. gangbanger for selling black-market weapons and a paternity suit from a former girlfriend alleging that Reacher fathered her 14-year-old daughter. Both parties are simply after his money. Harnessing his anger and brute strength, Reacher cunningly defends himself, promising to "never go back." VERDICT As they snatch up Reacher's 18th adventure, avid fans in more than 95 countries will again marvel at Child's terse, hard-boiled style. [See Prepub Alert, 3/11/13.]-Jerry P. Miller. Cambridge, MA (c) Copyright 2013. Library Journals LLC, a wholly owned subsidiary of Media Source, Inc. No redistribution permitted.
Publishers Weekly
(c) Copyright PWxyz, LLC. All rights reserved
9780385344340
Since talking to Maj. Susan Turner on the telephone from South Dakota in 2010's 61 Hours (bestseller Childs's 14th Jack Reacher novel), the former military cop has been heading to the Virginia headquarters of his old unit, the 110th MP, in hopes of meeting her. In this 18th outing, Reacher finally arrives in Virginia, where his plan to meet Turner is initially thwarted by thugs who want to keep them apart. An arrest for a crime Reacher doesn't remember committing 16 years earlier and the dangled bait that he might be a father provoke him to run, kicking off a cross-country odyssey. As usual, head-busting physicality and analytical problem solving play key roles in Reacher's fight to prove his innocence and expose his enemies. Manhunts on both coasts, a link to corruption in Afghanistan in the wake of the U.S. military drawdown, and the possibility for romance between Reacher and Turner make this entry one of the best in the series. Agent: Darley Anderson, Darley Anderson Literary. (Sept.) (c) Copyright PWxyz, LLC. All rights reserved.