Kids' Catalog
President Taft is stuck in the bath
by Mac Barnett ; illustrated by Chris Van Dusen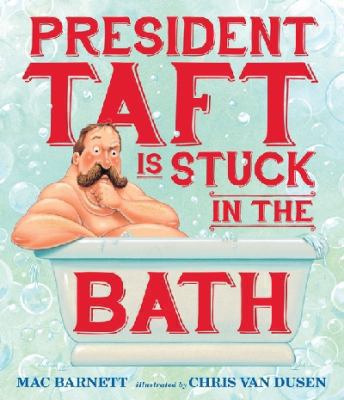 Book list
From Booklist, Copyright © American Library Association. Used with permission.
9780763663179
No amount of squeezing and shimmying or hefting and stretching will do: President Taft is stuck in the bath. Even if the entire event may not be true, Barnett turns the nonetheless legendary story into a hilarious cabinet-level fiasco as the president calls in one secretary after another to help, with the secretary of agriculture ready to grease the sides with butter, and the secretary of war even offering to blow up the tub. Only the level-headed First Lady suggests all the assembled men pull Taft out of the bath at once. The combination of Barnett's repetitive assonance (Double blast!' said Taft. Blast and drat!') and Van Dusen's gouache caricature illustrations (with strategically placed water and bubbles) sets the hilarious tone. A concluding author's note reveals an archival photo of four men sitting in Taft's custom-built bathtub for the White House and presents the actual facts pertaining to the president and his numerous commissioned bathtubs. Studying the presidency need never be dull again.--Leeper, Angela Copyright 2014 Booklist
School Library Journal
(c) Copyright Library Journals LLC, a wholly owned subsidiary of Media Source, Inc. No redistribution permitted.
9780763663179
PreS-Gr 2-As the author's note points out, there is not conclusive evidence that the 27th president actually got stuck in his bathtub; relevant facts are loosely cited. But seeing adults without their clothes on is the stuff of childhood humor, so this larger-than-life example will provoke much laughter. When Taft's concerned wife, Nellie, pops her head into the bathroom to see what is taking so long, the president must swallow his pride and seek help. He requests the vice president, a character painted as an opportunist seeing his chance to step into bigger shoes. The commander-in-chief continues to demand the presence of others, from the secretary of state, who proposes a diet and calisthenics, to the secretary of defense, who envisions blasting his boss out with TNT. When all seems lost, Nellie asserts herself, suggesting a team approach. Just right for reading aloud, Barnett's text is propelled with a pleasing rhythm, alliteration, and occasional rhymes: "But then came a squeak, and a slap, and a snap, and just like that. /President Taft flew from the bath." Van Dusen's spread of cascading water pitching Taft's posterior into the air and out the window will surely please the intended audience. The energy in the gouache compositions, dominated by a presidential blue, comes from the motion lines around the frustrated, fleshy, quadruple-chinned head of state, as well as the preposterous solutions proposed. As with most humor, there will be some for whom this is not funny, so sensitivity to one's audience is encouraged.-Wendy Lukehart, District of Columbia Public Library (c) Copyright 2014. Library Journals LLC, a wholly owned subsidiary of Media Source, Inc. No redistribution permitted.
Publishers Weekly
(c) Copyright PWxyz, LLC. All rights reserved
9780763663179
As presidential legend has it, the generously proportioned William Howard Taft once became lodged in his tub. In this pictorial re-enactment, Barnett (Extra Yarn) and Van Dusen (King Hugo's Huge Ego) imagine the undignified predicament: " 'Blast!' said Taft. 'This could be bad.' " First Lady Nellie Taft discovers the awkward situation and, at Taft's command, summons the vice president and cabinet secretaries for help. Van Dusen depicts the mustached, apoplectic president scrunched with knees to chest; in gouache caricatures, he emphasizes Taft's ample flesh and visualizes the staffers' dubious solutions (such as greasing the tub with fresh-churned butter or blowing it "into smithereens"). Splashes and bubbles protect Taft's modesty, just barely. (Readers may be reminded of Audrey and Don Wood's cheeky King Bidgood's in the Bathtub, though Bidgood didn't want to leave his porcelain throne.) Barnett's afterword questions whether this embarrassing event happened ("Maybe. Maybe not") and describes the president's multiple custom-made fixtures: "President Taft denied ever commissioning a special Taft-sized tub.... He was lying." Although there's considerably more naked flesh on display then in the average picture book, there's no denying the riveting spectacle of Taft's struggle. Ages 4-8. Agent: Steven Malk, Writers House. (Mar.) (c) Copyright PWxyz, LLC. All rights reserved.