Kids' Catalog
Lots of Candles, Plenty of Cake
by Anna Quindlen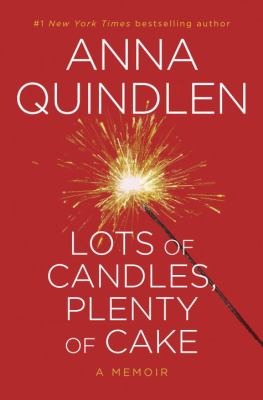 Book list
From Booklist, Copyright © American Library Association. Used with permission.
9781400069347
Suddenly sixty, Quindlen, a Pulitzer Prize-winning columnist and best-selling novelist (Every Last One, 2010), finds herself looking back on her life. She's not so much wondering how she got where she is but, rather, considering how the choices she made and the chances she took along the way have prepared her for the road ahead. What even to call this next stage in a woman's life? Not elderly, certainly, yet definitely no longer young, this middle-aged morass can be hard to navigate. Friendships fade, fashions flummox, the body wimps out, and the mind has a mind of its own. One can either fight it or face it. In her own unmistakably reasonable way, Quindlen manages to do both, with grace and agility, wisdom and wit, sending out comforting affirmations while ardently confronting preconceived stereotypes and societal demands. Having endeared herself to generations of women, beginning with her eminently distinctive and intuitively perceptive Life in the 30s column, Quindlen now brings her considered and accepted voice of reflection and evaluation to the challenges and opportunities that await. HIGH-DEMAND BACKSTORY: After writing a string of immensely popular novels, trusted, high-profile Quindlen will delight her steadfast readers with this pithy, get-real memoir slated for an energetic, all-fronts promotion campaign.--Haggas, Carol Copyright 2010 Booklist
Publishers Weekly
(c) Copyright PWxyz, LLC. All rights reserved
9781400069347
Weary, battle-hardened reflections on growing older infuse this latest collection of essays by novelist and former New York Times columnist Quindlen (Every Last One). Having chimed in copiously in previous memoirs on now familiar talking points such as raising children, finding life's balance as a working mother, achieving marital harmony and doling out feminist lessons to three grown children, Quindlen has found one nut to polish in a gratifying sense of survival on her own terms. Now in her late 50s, having lived much longer than her mother, who died when Quindlen was 19, the author finds herself shocked to hear herself referred to as elderly, and no longer troubled by the realization that her sense of control over events is illusory. In essays such as "Generations" and "Expectations," she is careful to pay homage to the women like her mother who grew up before the women's movement and thus had fewer choices. Yet Quindlen sees much work still to be done, especially in breaking glass ceilings and in assumptions about women's looks-including her own. Cocooned in her comfortable lifestyle between a New York City apartment and her country house, surrounded by accumulated "stuff" that is beginning to feel stifling, certain of her marriage-until-death and support of her BFFs, Quindlen holds for the most part a blithe, benign view of growing older. Yet in moments when she dares to peer deeper, such as at her Catholic faith or within the chasm of solitude left by children having left home, she bats away her platitudinous reassurances and approaches a near-searing honesty. (May) (c) Copyright PWxyz, LLC. All rights reserved.