Taste
by Stanley Tucci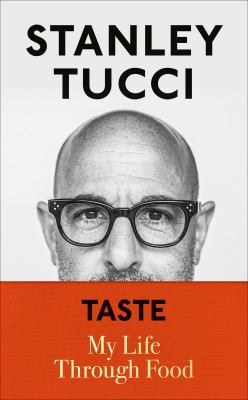 Book list
From Booklist, Copyright © American Library Association. Used with permission.
9781982168018
Prolific actor for stage, screen, and television; director and star of the classic foodie film Big Night; cookbook author and now memoirist Tucci (The Tucci Table, 2014) does exactly what this book's subtitle says he will. From his childhood in the suburbs of Westchester, New York to his present in pandemic-altered London, Tucci reenvisions his life in a parade of meals: those cooked by his Calabrese Italian family, his mother in particular; memorable restaurant experiences while on location for work; the food he lovingly prepares for his family, and more. While his non-food-related life happens in the background—being young and broke in Manhattan, finding acting success, losing his first wife to devastating cancer, falling in love and expanding his family anew—food takes center stage. Lest readers drown in Tucci's mouthwatering food descriptions (minus that one, ill-advised French sausage), plenty of recipes appear for reproducing everything from his family's Sunday ragł to his English wife's crispy roasted potatoes and a cocktail or three. Easily flipping from tongue-in-cheek supercilious to self-deprecation, Tucci is the formal-yet-unpretentious, companionable narrator fans will expect. A late, heartfelt chapter lets readers into Tucci's until-now private battle with tongue cancer in recent years, and the physically and emotionally challenging recovery that confirmed, as he was hardly able to eat, the important role food plays in his life, happiness, and love for others.HIGH-DEMAND BACKSTORY: Especially considering the recent success of Tucci's Searching Italy series on CNN, expect avid requests.
Library Journal
(c) Copyright Library Journals LLC, a wholly owned subsidiary of Media Source, Inc. No redistribution permitted.
9781982168018
Since he's the winner of two Golden Globes and two Emmys, plus claimant to Academy Award and Tony nominations, you would think Tucci would tell his life through film. But no, he's chosen food—not so surprising as he's the author of two cookbooks and learned his love of eating early from his Italian American family. With a 150,000-copy first printing.