Peril
by Bob Woodward and Robert Costa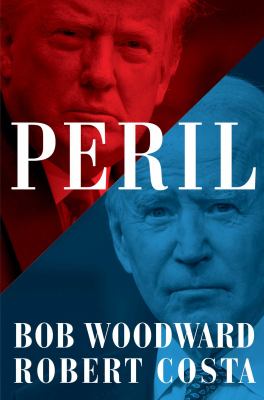 Kirkus
Copyright © Kirkus Reviews, used with permission.
9781982182915
An account of the last gasps of the Trump administration, completing a trilogy begun with Fear (2018) and Rage (2020). One of Woodward and fellow Washington Post reporter Costa's most memorable revelations comes right away: Gen. Mark Milley, chairman of the Joint Chiefs of Staff, calling his counterpart in Beijing to assure him that even after Jan. 6 and what Milley saw as an unmistakable attempt at a coup d'état, he would keep Trump from picking a war with China. This depiction has earned much attention on the talking-heads news channels, but more significant is its follow-up: Milley did so because he was concerned that Trump "might still be looking for what Milley called a 'Reichstag moment.' " Milley emerges as a stalwart protector of the Constitution who constantly courted Trump's ire and yet somehow survived without being fired. No less concerned about Trump's erratic behavior was Paul Ryan, the former Speaker of the House, who studied the psychiatric literature for a big takeaway: "Do not humiliate Trump in public. Humiliating a narcissist risked real danger, a frantic lashing out if he felt threatened or criticized." Losing the 2020 election was one such humiliation, and Woodward and Costa closely track the trajectory of Trump's reaction, from depression to howling rage to the stubborn belief that the election was rigged. There are a few other modest revelations in the book, including the fact that Trump loyalist William Barr warned him that the electorate didn't like him. "They just think you're a fucking asshole," Barr told his boss. That was true enough, and the civil war that the authors recount among various offices in the White House and government reveals that Trump's people were only ever tentatively his. All the same, the authors note, having drawn on scores of "deep background" interviews, Trump still has his base, still intends vengeance by way of a comeback, and still constitutes the peril of their title. A solid work of investigation that, while treading well-covered ground, offers plenty of surprises. Copyright © Kirkus Reviews, used with permission.
Book list
From Booklist, Copyright © American Library Association. Used with permission.
9781982182915
There's a line that gets kicked around a lot: shocking but not surprising. And that sums up many of the revelations that Washington Post journalists Woodward and Costa deliver in this dive into the 2020 presidential campaign, election, and aftermath. The portrait of a furious Donald Trump in denial about his election loss surprises no one. However, that General Mark Milley, chairman of the Joint Chiefs of Staff, felt he had to reassure his counterpart in China that the U.S. was stable and convince Speaker of the House Nancy Pelosi (after she called Trump crazy several times in a phone call) that there would be no nuclear war does provide a certain frisson. More shocking (and, in this case, perhaps surprising, too) is the fact that one of Trump's lawyers presented a six-point plan to the former president on how to "legally" overthrow the election on January 6. What hasn't been touched on much in the early media coverage of this book is that it spends a fair amount of pages on Joe Biden, his campaign, and his actions after the election, a welcome, if sometimes bland, counterpoint to the postelection frenzy. Although the authors interviewed hundreds of people for the book, several voices stand out: General Milley, former attorney general Bill Barr, and Biden's White House Chief of Staff Ron Klain. Whether their testimony is designed to set the record straight or rehabilitate their reputations is up to readers to decide. In the continuing flood of books about Trump and the election, this stands out as not just another political tell-all.
Publishers Weekly
(c) Copyright PWxyz, LLC. All rights reserved
9781982182915
In his third book about the Trump presidency (following Fear and Rage), Woodward joins forces with his Washington Post colleague Costa to offer a harrowing if familiar chronicle of the lead-up to and fallout from the 2020 election. The authors open with the dramatic revelation that Gen. Mark A. Milley, the chairman of the Joint Chiefs of Staff, twice reassured his Chinese counterparts that President Trump wouldn't launch a surprise attack to improve his chances of staying in office, and that if Trump tried to do so, the Chinese would be warned. According to the authors, Milley also limited Trump's ability to launch nuclear weapons. Drawing on anonymous interviews with "more than 200 firsthand participants and witnesses," Woodward and Costa also document how Trump's remarks about the 2017 white supremacist rally in Charlottesville motivated Biden to run for president, and offer fly-on-the-wall accounts of Republican in-fighting over claims that the election was rigged, Vice President Mike Pence's waffling over whether he should overturn the electoral results, and negotiations over President Biden's $1.9 trillion coronavirus relief package. Unfortunately, none of these reveals match the drama of those pertaining to Milley, and readers hoping for new insights into the January 6 insurrection at the Capitol will be disappointed. This well-sourced recap feels more rote than revelatory. (Sept.)