by Sophie Blackall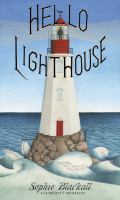 Kirkus
Copyright © Kirkus Reviews, used with permission.

This tribute to lighthouses of an earlier era focuses on one lighthouse and its dedicated keeper. Perched "on the highest rock of a tiny island / at the edge of the world," the lighthouse shines for seafaring ships. A new keeper arrives, continuing the endless routine of polishing the lens, refilling the oil, trimming the wick, winding the clockwork, painting the round rooms, fishing, making tea, sending letters to his wife (in bottles), and writing daily in his logbook. One day, a ship delivering supplies brings the keeper's wife! The keeper rings a warning bell in fog, rescues wrecked sailors, and logs his baby's birth. When he's ill, his stalwart wife tends the light and maintains the logbook. Eventually, a mechanical light replaces the keeper. While the spare, unemotional text resembles a keeper's log, the book's vertical orientation echoes a lighthouse tower. Rendered in Chinese ink and watercolor, precise, detailed illustrations present the lighthouse surrounded by patterned blue, green, or gray waves depending on the weather or season, reinforcing its solitary enterprise. A cutaway interior view exposes a compact, contained world. Close-ups of the keeper and his wife (both white) in porthole-shaped frames and from unusual aerial views emphasize their isolated, intimate, circular environment. An "About Lighthouses" section adds insightful detail. A fascinating, splendidly executed peek into both the mundane and the dramatic aspects of lighthouse life. (Picture book. 4-7) Copyright Kirkus Reviews, used with permission.
---
Book list
From Booklist, Copyright © American Library Association. Used with permission.

*Starred Review* When a new keeper arrives at a remote lighthouse, he sets out to make it a home, and in Blackall's rhythmic lines and gorgeous artwork, his adoration for the building, with its round rooms and windy ocean views, warmly comes through. Amid his responsibilities of lighting the beacon, clanging the bell in a fog, recording events in the logbooks, and helping ensure the safety of passing sailors, the lighthouse keeper makes a home with his wife, has a daughter, and feels remorse when he has to leave to make way for an automated light. All the while, Blackall's bright, crisp artwork depicts the changing skies and seas around the proud, solid lighthouse. Softly chopping waves give way to billowing white breakers that crash against the rocks. Clear blue skies transform into the black, inky clouds of a storm. It occasionally seems dangerous to live in a lighthouse, but the repeated refrain of Hello! . . . Hello! . . . Hello! is stalwart, friendly, and reassuring, just like a lighthouse should be, and the adoring expressions and gestures of the family living in it quietly demonstrate their affection for the building. Blackall's charmingly old-fashioned art style is beautifully matched to this nostalgia-rich story, which imbues an antiquated place with warmth and wonder.--Hunter, Sarah Copyright 2018 Booklist
---
School Library Journal
(c) Copyright Library Journals LLC, a wholly owned subsidiary of Media Source, Inc. No redistribution permitted.

PreS-Gr 3-On the highest rock of a tiny island at the edge of the world stands a lighthouse. Every day and every night, the lighthouse guides the way for passing ships, as its keeper tends to the light and writes in his guidebook. Over time, the lighthouse becomes a constant fixture in the middle of the sea as endless waves, ships, winds, whales, fish, storms, and keepers come and go. Here, Blackall tells the story of a lighthouse and its keeper, and how they both serve the sea. In the end, a machine is able to tend the light and the keeper must move on. But he will be forever connected to his lighthouse. The keeper's own light across the bay shines back at the lighthouse, saying "hello!" Gorgeous and appealing illustrations done in Chinese ink and watercolor make readers feel as though they are inside the lighthouse along with the keeper, surrounded by the beauty and drama of the ever-changing sea. A spread full of information about lighthouses for those who seek further knowledge is appended. VERDICT A lovely picture book, recommended for all libraries. A delightful bedtime read perfect for one on one sharing.-Elizabeth Blake, Brooklyn Public Library © Copyright 2018. Library Journals LLC, a wholly owned subsidiary of Media Source, Inc. No redistribution permitted.
---
Horn Book
(c) Copyright The Horn Book, Inc., a wholly owned subsidiary of Media Source, Inc. No redistribution permitted.

This tall, narrow picture book opens as a new keeper arrives to take up his duties at a remote lighthouse; it ends with his departure, automation having made his job obsolete. In between we are treated to a series of snapshots of lighthouse-keeper life--a mix of routine and excitement. Blackall's gorgeous illustrations provide both homey detail and spectacular scenery. An extensive and lively author's note is appended. (c) Copyright 2018. The Horn Book, Inc., a wholly owned subsidiary of Media Source, Inc. No redistribution permitted.
---
Publishers Weekly
(c) Copyright PWxyz, LLC. All rights reserved

Painted with the featherlight touch that distinguishes Caldecott Medalist Blackall's work, this graceful account of a lighthouse keeper's life celebrates a lost era. While it was lonely and sometimes dangerous, watching the lighthouse was monastic in its simplicity: "He tends the light and writes in the logbook." The lighthouse keeper readies his home for the arrival of his wife, who nurses him when he falls ill; then he helps her as she gives birth to their first child. Soon the family receives word that the lighthouse is to be fitted with a mechanical light, and their idyll comes to a serene end. Many spreads, delicate as painted porcelain, depict the lighthouse amid the breaking waves and changing life of the ocean. Seals bask, whales pass, and the aurora borealis flickers overhead. Repeated images of circles echo the lighthouse's circular rooms, from vignettes framed with nautical rope to a breathtaking sequence of the lighthouse-keeper's wife walking through her labor, each moment like the hand on the face of a clock. It's a jewel of a creation and a gift to those who dream of retreat. Ages 4-8. Agent: Nancy Gallt, Gallt + Zacker Literary. (Apr.) © Copyright PWxyz, LLC. All rights reserved.