by Adam Johnson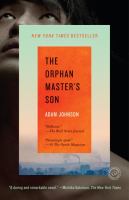 Kirkus
Copyright © Kirkus Reviews, used with permission.

Parasites Like Us, 2003, etc.) darkly satisfying if somewhat self-indulgent novel is Pak Jun Do, the conflicted son of a singer. He knows no more, for "That was all Jun Do's father, the Orphan Master, would say about her." The Orphan Master runs an orphanage, but David Copperfield this ain't: Jun Do may have been the only non-orphan in the place, but that doesn't keep his father, a man of influence, from mistreating him as merrily as if he weren't one of his own flesh and blood. For this is the land of Kim Jong Il, the unhappy Potemkin Village land of North Korea, where even Josef Stalin would have looked around and thought the whole business excessive. Johnson's tale hits the ground running, and fast: Jun Do is recruited into a unit that specializes in kidnapping Koreans, and even non-Koreans, living outside the magic kingdom: doctors, film directors, even the Dear Leader's personal sushi chef. "There was a Japanese man. He took his dog for a walk. And then he was nowhere. For the people who knew him, he'd forever be nowhere." So ponders Jun Do, who, specializing in crossing the waters to Japan, sneaking out of tunnels and otherwise working his ghostlike wonders, rises up quickly in the state apparatus, only to fall after a bungled diplomatic trip to the United States. Johnson sets off in the land of John le Carr, but by the time Jun Do lands in Texas we're in a Pynchonesque territory of impossibilities, and by the time he's in the pokey we're in a subplot worthy of Akutagawa. Suffice it to say that Jun Do switches identities, at which point thriller becomes picaresque satire and rifles through a few other genres, shifting narrators, losing and regaining focus and point of view. The reader will have to grant the author room to accommodate the show-offishness, which seems to say, with the rest of the book, that in a world run by a Munchkin overlord like Kim, nothing can be too surreal. Indeed, once Fearless Leader speaks, he's a model of weird clarity: "But let's speak of our shared status as nuclear nations another time. Now let's have some blues." Ambitious and very well written, despite the occasional overreach. When it's made into a film, bet that Kim Jong Il will want to score an early bootleg.]] Copyright Kirkus Reviews, used with permission.
---
Book list
From Booklist, Copyright © American Library Association. Used with permission.

*Starred Review* Pak Jun Do lives with his father at a North Korean work camp for orphans. In a nation in which every citizen serves the state, orphans routinely get the most dangerous jobs. So it is for Jun Do, who becomes a tunnel soldier, trained to fight in complete darkness in the tunnels beneath the DMZ. But he is reassigned as a kidnapper, snatching Japanese citizens with special skills, such as a particular opera singer or sushi chef. Failure as a kidnapper could lead directly to the prison mines. But in Johnson's fantastical, careening tale, Jun Do manages to impersonate Commander Ga, the country's greatest military hero, rival of Dear Leader Kim Jong Il and husband of Sun Moon, North Korea's only movie star. Informed by extensive research and travel to perhaps the most secretive nation on earth, Johnson has created a remarkable novel that encourages the willing suspension of disbelief. As Jun Do, speaking as Ga, puts it, people have been trained to accept any reality presented to them. Johnson winningly employs different voices, with the propagandizing national radio station serving as a mad Greek chorus. Descriptions of everyday privations and barbarities are matter of fact, and Jun Do's love for Sun Moon reads like a fairy tale. Part adventure, part coming-of-age tale, and part romance, The Orphan Master's Son is a triumph on every level.--Gaughan, Thomas Copyright 2010 Booklist
---
Library Journal
(c) Copyright Library Journals LLC, a wholly owned subsidiary of Media Source, Inc. No redistribution permitted.

Imagine a society in which the official political story tells only of happiness and prosperity, yet personal experience reveals the opposite. Imagine the resulting internal dissonance and the ways in which people might reconcile such opposing forces. This is the experience offered by Johnson (Parasites Like Us) in his novel of modern-day North Korea. Following the path of the hero's journey, young Pak Jun Do moves from an orphanage into a life of espionage, kidnapping, and torture, only to be given a new identity as the husband of the Dear Leader's favorite actress. With references to the classic American film Casablanca, Johnson's narrative portrays his hero as he makes his way through a minefield of corruption and violence, eventually giving his all so that his loved ones might have a better life. VERDICT Readers who enjoy a fast-paced political thriller will welcome this wild ride through the amazingly conflicted world that exists within the heavily guarded confines of North Korea. Highly recommended. [See Prepub Alert, 8/15/11.]-Susanne Wells, M.L.S., Indianapolis (c) Copyright 2011. Library Journals LLC, a wholly owned subsidiary of Media Source, Inc. No redistribution permitted.
---
Publishers Weekly
(c) Copyright PWxyz, LLC. All rights reserved

Johnson's novel accomplishes the seemingly impossible: an American writer has masterfully rendered the mysterious world of North Korea with the soul and savvy of a native, from its orphanages and its fishing boats to the kitchens of its high-ranking commanders. While oppressive propaganda echoes throughout, the tone never slides into caricature; if anything, the story unfolds with astounding empathy for those living in constant fear of imprisonment-or worse-but who manage to maintain their humanity against all odds. The book traces the journey of Jun Do, who for years lives according to the violent dictates of the state, as a tunnel expert who can fight in the dark, a kidnapper, radio operator, tenuous hero, and foreign dignitary before eventually taking his fate into his own hands. In one of the book's most poignant moments, a government interrogator, who tortures innocent citizens on a daily basis, remembers his own childhood and the way in which his father explained the inexplicable: "...we must act alone on the outside, while on the inside, we would be holding hands." In this moment and a thousand others like it, Johnson (Parasites Like Us) juxtaposes the vicious atrocities of the regime with the tenderness of beauty, love, and hope. (Jan.) (c) Copyright PWxyz, LLC. All rights reserved.