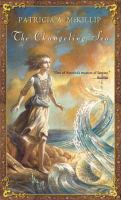 Kirkus
Copyright © Kirkus Reviews, used with permission.

A story of two enchanted half-brothers and the girl who restores them to their rightful realms. The King loved both his Queen and a woman of file sea. His Queen died, leaving him with a newborn son. The woman of the sea also bore a son, but she grew angry with the King and exchanged the two half-brothers--leaving the human one in the shape of a vast sea serpent, and her own son on shore with a relentless yearning for the sea. Meanwhile, Peri is an orphaned fisherman's daughter; she hates the sea for stealing her father, yet it is her magic that finally calls the serpent-prince to shore; and it is she to whom the dark sea-son turns for comfort. When the magician Lyo is lured by the promise of payment if he carl remove the gold chain from the neck of the serpent for the greedy townsmen, he also unravels the brothers' true identities; the King and his son are reunited, and the Queen takes her son to the sea. McKillip is a master storyteller; her tale rings as true as if it were being told from memory. Each character and action is essential; there is an inevitable feeling of rightness when it turns out that Peri is not going to fall in love with either prince but rather with Lyo. Lovely, warm writing, with a skillful admixture of symbols suggesting grief and death, love and coming-of-age. Copyright ŠKirkus Reviews, used with permission.
---
Publishers Weekly
(c) Copyright PWxyz, LLC. All rights reserved

The sea has taken everything away from Periwinkle; it has drowned her fisherman father and left her mother barely able to cope. So Periwinkle, a chambermaid at the inn of a small fishing village, decides to hex the sea. It works surprisingly well, disrupting the sea queen's magic. A chained sea monster appears from the depths, and the king's melancholy son, Kir, nearly drowns trying to get to the country under the sea. With the help of the magician Lyo, Periwinkle uncovers and reverses the sea queen's curse. Beautifully sustained metaphors and an even tone make this fantasy, like McKillip's The Forgotten Beasts of Eld , a pleasure to read. Further, McKillip's deft characterization and smooth, tender resolution result in a memorable, often poignant novel. Ages 10-up. (September) (c) Copyright PWxyz, LLC. All rights reserved
---
School Library Journal
(c) Copyright Library Journals LLC, a wholly owned subsidiary of Media Source, Inc. No redistribution permitted.

Gr 6 Up An enchanting fantasy that is tinged with realism and romance, set in an ordinary, pre-industrial fishing village, with a heroine seen by herself and everyone else as even less than ordinaryan unkempt and uncared for child turning woman in spite of herself. Peri's fifteenth year has been a difficult one. First her fisherman father was lost at sea, then her mother became so haunted by the loss that she stopped caring for and communicating with Peri, and finally even the old woman whom Peri relied on for comfort disappeared. Peri spends her days scrubbing floors at the local inn and trying to hex the sea for causing her losses. When the King and his retinue come to the island, unhappy Prince Kir comes to Peri's lonely beach and begs her help in delivering his message to the sea. Strange things begin happening in the sea, including the appearance of a huge sea dragon held captive by a golden chain, and the villagers ask a magician for help. With Peri's help, he unravels the tangle of events and results that began more than 17 years ago, when the king loved a sea-woman but married a human queen. Peri's coming of age and coming to terms with herself and her surroundings are an important part of the story. Lyo, the magician, is a human sort of magician, wise but skeptical, powerful but also vulnerable. What begins with isolated and occasionally jarring events and appearances gradually enfolds the village and the story in a fog of mystery and magic that clears only when the situation is resolved via Lyo's wisdom and Peri's love. Rewarding and engaging. Susan L. Rogers, Chestnut Hill Academy, Pa. (c) Copyright 2010. Library Journals LLC, a wholly owned subsidiary of Media Source, Inc. No redistribution permitted.
---
Book list
From Booklist, Copyright © American Library Association. Used with permission.

An evocative romantic story about a young scrubwoman who, hexing the sea in anger, starts a chain of events that eventually frees two princes exchanged at birth.
---
Book list
From Booklist, Copyright © American Library Association. Used with permission.

Gr. 7-9. Using stock character motifs out of the fairy tales-- a poor village chambermaid, two princes exchanged at birth, a magician, and an evil sea queen-- McKillip leisurely weaves together a romantic story with beautifully evoked metaphors. Periwinkle, an aloof, sad young girl, distraught over her father's drowning and her mother's subsequent withdrawal from life, hexes the sea in a fit of frustration. Though she isn't sure her simple, homemade magic will work, Periwinkle certainly doesn't expect a chained monster to rise from the sea. With the aid of Lyo, the young magician, she eventually reverses the queen's curse and also discovers that it's the quixotic conjurer who has captured her heart, not one of the princes. A somewhat slow beginning will deter the less dedicated, but those who persevere will find McKillip's eloquent writing unfolding into a highly pleasurable novel that they will enjoy lingering over. BE.