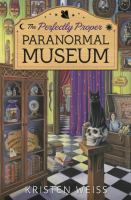 Publishers Weekly
(c) Copyright PWxyz, LLC. All rights reserved

Maddie Kosloski, the narrator of this diverting series debut from Weiss (The Hoodoo Detective), plans to spruce up the museum side of Chuck's Chicken Shack and Paranormal Museum in her hometown of San Benedetto, Calif., while her friend Adele Nakamoto transforms the chicken side into a tea house. When Maddie and Adele spot a dead woman sprawled in the passage connecting the museum and the shack, the body turns out to be that of the cheat-mate of Adele's former fiancé, and Adele is arrested for murder. Dieter Finkielkraut, Adele's contractor, has some explaining to do, as Maddie discovers, particularly about his constant flow of on-the-job visitors. Meanwhile, Maddie has to contend with the members of the ghost-hunters group who meet in the museum, as well as nasty Laurel Hammer, one of the detectives investigating the murder, who has bullied Maddie since their early school years. Humor, hints of romance, and twists and turns galore elevate this cozy about the average. (Mar.) © Copyright PWxyz, LLC. All rights reserved.
---
Kirkus
Copyright © Kirkus Reviews, used with permission.

The Paranormal Museum gets uncomfortably close to its avowed mission when it becomes the scene of a murder. The last thing Madelyn Kosloski's mother expects is that her dear daughter, born into a family of achievers, will come back home from Russia to live for cheap in her aunt Sadie's garage. But Maddie, who's had it with the corruption in Moscow, is sure she's more than qualified to get the right job when it comes her way. Until then, she's stuck managing San Benedetto's Paranormal Museum as a favor to her friend Adele Nakamoto. The problem with the museum isn't that it's tacky or that it may be haunted or even that the oddest people stop by with "contributions" they'd like exhibited; the real problem is that Christy Huntington's dead body has been found inside. Since Christy's body was discovered right before Maddie's tenure, she doesn't look too guilty; the same cannot be said of Adele. Adele broke her engagement to Michael St. James because he was cheating with Christyin a Buick, no less. If Maddie and Adele had their way, the police would see that neither one really has a motive for murder. Instead, the officer investigating the crime is a tall, dark hottie paired with (oh no!) Laurel Hammer, Maddie's high school nemesis. Since Officer Hammer isn't willing to put aside her grudge against Maddie, it's up to Maddie to clear her name and Adele's before either is sent to the slammer. A clever combination of characters you care about despite the silliness and absurd situations that hook you even though Weiss (The Hermetic Detective, 2015, etc.) clearly doesn't take them very seriously. Copyright Kirkus Reviews, used with permission.
---
Library Journal
(c) Copyright Library Journals LLC, a wholly owned subsidiary of Media Source, Inc. No redistribution permitted.

Madelyn Koslowski returns to San -Benedetto, CA, to lick her wounds after her career goes down the tubes. She is well and truly snared when she agrees to run temporarily the Paranormal Museum (for a few weeks) because her friend Adele -Nakamoto wants to open a tea room. Then the deceased body of Christy -Huntington turns up inside the museum and things begin to look really bad for the two women. It seems Christy was responsible for ruining Adele's life, and Maddie might have made a few threatening statements to Christy on Adele's behalf. Therefore, Maddie juggles her overly concerned family and her new job, and, oh yeah, there might be a haunting or two at the museum. VERDICT The author of the "Metaphysical Detective" books launches a delightful new series with this humorous cozy. Mystery buffs who like Rose Pressey or Victoria Laurie will be enchanted by the engaging Maddie. © Copyright 2016. Library Journals LLC, a wholly owned subsidiary of Media Source, Inc. No redistribution permitted.