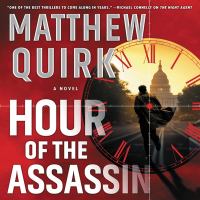 Library Journal
(c) Copyright Library Journals LLC, a wholly owned subsidiary of Media Source, Inc. No redistribution permitted.

Former Secret Service agent Nick Averose is a "red teamer," testing the security around high officials and sneaking in as if he were an assassin to pinpoint any weaknesses. But when he slips past the security surrounding a former CIA director, he finds the man unconscious and tries to save his life. Now he's contaminated the crime scene, and it looks as if he's the culprit. Is someone trying to frame him? From the New York Times best-selling author of The Night Agent.
---
Book list
From Booklist, Copyright © American Library Association. Used with permission.

See the photo shot in the Oval Room. Observe the old white guys standing around grinning. Know that you are in for a bad time. Quirk's hero, security expert Nick Averose, asks us to believe that these fellows hold the ""real, hidden, permanent power."" They regard us as sheep to be sheared, and we can't vote them out. They're capable of murdering any of us worms who get in their way. These modern Borgias appear when Nick stages a mock assassination of an ex-CIA chief to test the old man's home security. It goes wrong. The man is killed. Nick is set up to take the fall for this killing and any others deemed necessary, and his attempts to clear himself occasion a cracking-good suspenser carried by some fine writing a ""gun barrel jittered in the air like it was writing in cursive"" and leading up to a sweaty-palms finale that goes on for 100 quickly turned pages. The author displays uncommon knowledge of the effects of the undercover life: you're always looking over your shoulder, though you know nobody's there.--Don Crinklaw Copyright 2020 Booklist
---
Publishers Weekly
(c) Copyright PWxyz, LLC. All rights reserved

Nick Averose, the star of this nonstop whirlwind from Quirk (The Night Agent), works as a so-called red teamer, testing the security surrounding government VIPs. While on the job one night checking out the protection level at the home of former CIA director Malcolm Widener, Averose is shocked to discover Widener stabbed to death on the floor of his study. Quickly realizing he's likely been framed, Averose escapes into the Washington, D.C., night. So starts a mad scramble through the nation's capital and its suburbs with Averose dodging pursuers while trying to figure out why somebody would want to set him up. Though frantically on the move, Averose eventually connects enough dots to determine that what's going on somehow involves the presidential campaign of Sen. Sam MacDonough. Quirk again displays the infectious pacing he's known for, but Averose leaves little lasting impression. There's plenty of action, but readers will be disappointed in how closely this sticks to the contours of a typical chase story. Author tour. Agent: Dan Conaway, Writers House. (Mar.)
---
Kirkus
Copyright © Kirkus Reviews, used with permission.

Former Secret Service man Nick Averose becomes a pawn in a deadly political conspiracy in the nation's capital when he is framed for the murder of a former CIA director.Twenty-five years ago, a young woman was found dead at a summer gathering attended by future senator and current presidential hopeful Sam MacDonough. The wealthy power broker looking to plant him in the White House will do anything to keep secret what happened that night. A month before the killing of the CIA director, a one-time flame of Nick's who had been at that summer party came to him seeking protection and then disappeared with her secrets. Nick, who, as part of his two-person security business, stages mock home invasions for potential targets to identify potential security weaknesses, escapes the scene of the CIA director's killing but not the crosshairs of the killers. Nick holds them off with the help of his trusty female tech assistant and a one-time Marine buddy who is now a successful contractor in Washington. Quirk is good at describing fancy trappings. A rich man's suit boasts "Milanese stitches and a silk latch hidden behind the lapel." Another fat cat drinks Dujac premier cru, a French pinot noir. But the characters themselves are lacking in the details and dimensions that would make them interesting. And the plot, usually the strong point for the author of The Night Agent (2019), is predictable.A formulaic thriller that ranks with Quirk's lesser efforts. Copyright Kirkus Reviews, used with permission.