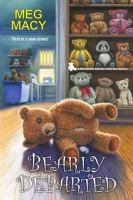 Kirkus
Copyright © Kirkus Reviews, used with permission.

A solid Michigan family business cracks when an employee is murdered.Thirty-one-year-old divorce Sasha Silverman and her younger sister, Maddie, manage the Silver Bear Shop and Factory for their retired parents with help from their Uncle Ross. The fly in the ointment is Will Taylor, their sales rep, who wants to move production to China. Sasha is shocked to hear that her parents are considering it. Uncle Ross is furious, and the employees are far from happy to think their jobs may be in danger. When the sisters find Taylor dead in the shop, stuffed like a teddy bear, their uncle is an obvious suspect. The sisters and Ross were not the only people unhappy with Taylor. His wife, Carolyn, who owns the Holly Jolly Christmas shop, recently learned her husband was cheating and was roaring drunk in a local tavern the night he died. Sasha is so distraught when she's unable to reach her parents that she resorts to calling her ex-husband, Flynn Hanson, who lives near them in Florida. She and Maddie finally learn that their father is in the hospital in New Jersey with double pneumonia after falling ill at a trade show. Small-town Silver Hollow doesn't have a big police force, so the county sends in homicide detective Mason, who warns Sasha not to play detective, a directive she proceeds to ignore. Sasha, whose many years in town have given her many contacts, is sure she can learn things Mason can't. She discovers that Taylor was even worse than she thought, involved in more than one dirty business deal. Now she just needs to figure out which of his many enemies did him in. The first in a new series features a complex plot awash in red herrings, a perky heroine whose many problems are certain to blossom in future installments, and everything you ever wanted to know about teddy bears. Copyright Kirkus Reviews, used with permission.
---
Book list
From Booklist, Copyright © American Library Association. Used with permission.

At a staff meeting, Will Taylor, the salesman and PR expert for the Silver Bear Shop and Factory, tells the staff that the company is going to move production overseas, eliminating multiple jobs. Sasha Silverman, daughter of the owners, immediately says her father would never agree to such a plan, but the damage is done. Two people are heard threatening Taylor's life, one of them Sasha's Uncle Ross, who runs the production line at the plant; he becomes the chief suspect when Taylor is found dead under the stuffing machine at the factory. Sasha investigates to clear her uncle, but matters become more complicated when a staff member is arrested on drug charges, two others quit due to the murder, and her parents are not responding to her calls and texts. Information on retail businesses and, in particular, on the manufacturing of teddy bears is woven throughout this satisfying cozy,--O'Brien, Sue Copyright 2010 Booklist
---
Library Journal
(c) Copyright Library Journals LLC, a wholly owned subsidiary of Media Source, Inc. No redistribution permitted.

Sasha Silverman manages her family's Silver Bear Shop and Factory in Silver Hollow, MI, while her organized sister, Maddie, handles the office work. But it is salesman and PR expert Will Taylor who seems to have their father's ear. The factory environment turns toxic after Will returns from a convention and announces that staff will be laid off and the work will be outsourced to China. When Sasha and Maddie find Will's body on the factory floor, stuffed with teddy bear fluff, they fear their hot-tempered Uncle Ross, who had threatened Will, will become a suspect. Gossip flies in a small town, though, and Sasha uncovers stories of infidelity, money problems, and drugs. It's obvious Ross Silverman isn't the only one who might have wanted Will dead. -VERDICT Macy, half of the D.E. Ireland team (Get Me to the Grave on Time), launches an engaging series filled with charming details about stuffed animals. The appealing, impulsive amateur sleuth, dedicated to the family business, will appeal to fans of character-driven cozies such as Lorna Barrett's "Booktown" mysteries.-LH © Copyright 2017. Library Journals LLC, a wholly owned subsidiary of Media Source, Inc. No redistribution permitted.
---
Publishers Weekly
(c) Copyright PWxyz, LLC. All rights reserved

Sasha Silverman, the narrator of Macy's entertaining first novel and series launch, runs her family's teddy bear business, the Silver Bear Shop and Factory, in Silver Hollow, Mich., an idyllic small town filled with excellent eateries and eccentric shops-and inhabited by quirky, fully developed characters and good dogs and cats. Everything is cuddly bears and cookies until Will Taylor, the company's salesman, breezes into town and announces to the assembled employees that Alex Silverman, Sasha's semiretired father, has agreed to close the factory and outsource their work to China. Unable to contact her father and verify Taylor's declaration, Sasha is left to placate her staff. But her Uncle Ross, the factory's manager, is livid and threatens Taylor. When Sasha subsequently finds Taylor lying dead on the factory floor, his mouth stuffed with white fiber, the police naturally suspect Uncle Ross and Sasha turns sleuth. The resolution of this well-plotted fair play mystery is there for those keen enough to follow the carefully laid clues. Agent: John Talbot, Talbot Fortune Agency. (June) © Copyright PWxyz, LLC. All rights reserved.