by Valeria Luiselli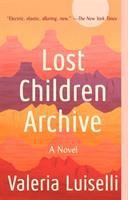 Publishers Weekly
(c) Copyright PWxyz, LLC. All rights reserved

Luiselli's powerful, eloquent novel begins with a family embarking on a road trip and culminates in an indictment of America's immigration system. An unnamed husband and wife drive, with their children in the backseat, from New York City to Arizona, he seeking to record remnants of Geronimo and the Chiricahua Apache, she hoping to locate two Mexican girls last seen awaiting deportation at a detention center. The husband recounts for the 10-year-old son and five-year-old daughter stories about a legendary band of Apache children. The wife explains how immigrant children become separated from parents, losing their way and sometimes their lives. Husband, wife, son, and daughter nickname themselves Cochise, Lucky Arrow, Swift Feather, and Memphis, respectively. When Swift Feather and Memphis go off alone, they become lost, then separated, then intermingled with the Apache and immigrant children, both imagined and all too real. As their parents frantically search, Memphis trades Swift Feather's map, compass, flashlight, binoculars, and Swiss Army knife for a bow and arrow, leaving them with only their father's stories about the area to guide them. Juxtaposing rich poetic prose with direct storytelling and brutal reality and alternating narratives with photos, documents, poems, maps, and music, Luiselli explores what holds a family and society together and what pulls them apart. Echoing themes from previous works (such as Tell Me How It Ends), Luiselli demonstrates how callousness toward other cultures erodes our own. Her superb novel makes a devastating case for compassion by documenting the tragic shortcomings of the immigration process. 31 photos. 75,000-copy announced first printing. (Feb.) c Copyright PWxyz, LLC. All rights reserved.
---
Book list
From Booklist, Copyright © American Library Association. Used with permission.

*Starred Review* No stranger to inventive storytelling and the Mexican-American borderlands, Luiselli (The Story of My Teeth, 2015) launches this ultimately harrowing novel with an innocuous enough premise. An unnamed couple and their children embark on a cross-country road trip from New York City to Arizona. Husband and wife both work as audio recording artists, dedicated to capturing the soundscapes of everyday life. Upon their arrival, he plans to investigate the native Apache people who used to populate the Southwest, and she has promised to find a friend's daughters who have been arrested at the border. When the family arrives at their destination, however, the overwhelming scale of the migrant crisis redirects their efforts, and the children eventually lose themselves in the strange, uncertain terrain. As husband and wife rush to recover their own offspring, stories of Latin American asylum seekers and the disappeared Apaches overlap and converge, creating a poignant portrait of current events. Intense and keenly timely, Luiselli's latest work is perhaps her most politically relevant, and themes of translation and migration resonate, making it one of few novels that fully and powerfully convey the urgency of this unsettling situation.--Diego BŠez Copyright 2019 Booklist
---
Kirkus
Copyright © Kirkus Reviews, used with permission.

A family treks south to the U.S.-Mexico border, bearing tales of broken migrant families all the way down.In her last nonfiction book, Tell Me How It Ends (2017), Luiselli wrote about her work as a translator for Latin American families attempting to enter the U.S. This remarkable, inventive fictional take on the theme captures the anguish of those families through a deliberate piling-up of stories; reading it, you feel yourself slowly coming face to face with a world where masses of children are separated, missing, or dead of exposure in the desert. Luiselli eases into the tale by introducing an unnamed New York couple, both audio documentarians, driving their children, ages 10 and 5, to the Arizona-Mexico border. The father wants to explore the remnants of Apache culture there; the mother, who narrates much of the book, is recording an audio essay on the border crisis and has promised a woman to look into the fates of her two daughters who've been detained. As they drive, they alternate listening to news reports about the border and an audiobook of Lord of the Flies, and the opening sections are thick with literary references and social critique; imagine On the Road rewritten by Maggie Nelson. But the story darkens as they witness the plight firsthand and, later, as the couple's children stumble into their own crisis. There's a slightly bloodless, formal aspect to the novel in the early going: It's structured around "archive boxes" that each character carries in the car's trunk, and a book of elegies the mother reads to the children is made up of variations on works by Ezra Pound, Joseph Conrad, Juan Rulfo, and more. In the current political moment, one might want a less abstruse approach. But as the novel rises to a ferocious climax in a 20-page-long single sentence, Luiselli thunderously, persuasively insists that reckoning with the border will make deep demands of both our intellectual and emotional reserves.A powerful border story, at once intellectual and heartfelt. Copyright Kirkus Reviews, used with permission.
---
Library Journal
(c) Copyright Library Journals LLC, a wholly owned subsidiary of Media Source, Inc. No redistribution permitted.

A woman with a daughter and a man with a son meet in New York while recording a sound archive of the city; eventually, they marry and become a family. After the project ends, the entire family drives across the country. The father has vague plans to document sounds in the area where the Apaches surrendered; the woman (of Mexican descent, like the author) wishes to research migrant children's experiences crossing the border. Meanwhile, it's evident that the marriage is falling apart. The first half of the story is told in the mother's voice, but this approach is abruptly abandoned for the ten-year-old son's perspective. Interspersed throughout are gripping excerpts from an imagined novel called Elegies of Lost Children, a grim, mythlike account of migrant children riding a freight train to an unnamed border. The novel also includes lists of books and articles, the contents of the family's archive in the trunk of the car, and photographs that document the family's travels, further blurring the border between fact and fiction. VERDICT The shifting sensibility from observer to child to child migrant gradually pulls readers inside the migrants' nightmare journey to create a story that, if fragmented, feels both timely and intelligent. [See Prepub Alert, 8/27/18.]-Reba Leiding, emerita, James Madison Univ. Lib., Harrisonburg, VA © Copyright 2019. Library Journals LLC, a wholly owned subsidiary of Media Source, Inc. No redistribution permitted.