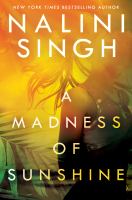 Library Journal
(c) Copyright Library Journals LLC, a wholly owned subsidiary of Media Source, Inc. No redistribution permitted.

Having authored numerous New York Times best-selling paranormal romance series (e.g., "Psy-Changeling," "Guild Hunter"), Singh here takes the thriller trail with the story of Anahera Rawiri, who has returned to the bumptious town of Golden Cove, New Zealand, after having fled the country eight years previously. There, after abandoning an upward-looking career in Christchurch, Det. Will Gallagher deals with petty theft and the occasional unruly drunk—until a resident fails to return from a standard morning run. Now Will must rely on insider Anahera to figure out what happened. New Zealand noir, I love it!
---
Book list
From Booklist, Copyright © American Library Association. Used with permission.

There are plenty of ghosts waiting for Anahera Spencer-Ashby when she returns to Golden Cove on the remote western coast of New Zealand, but there are good things, too: the comfortable familiarity of her best friend, Josie, and watching young Miriama Tutaia grow up into a promising photographer. But when Miriama goes missing, even Anahera's fond memories seem suspect. Will Garrison has been exiled to remote Golden Cove, but he's a good cop, and he respects the way the tight-knit community works. He relies on that in his investigation, especially as it seems increasingly likely that Miriama's disappearance is connected to a series of missing female hikers from when Anahera was a teenager. Two haunted people, whose ghosts make them sharp observers of others, connect as it becomes clear that Golden Cove is hiding secrets. Singh elevates the missing-girl trope with a compassionate cop and nuanced secondary characters. Readers are immersed in New Zealand, from the Maori language and culture to the rugged, dangerous beauty of the landscape. An immensely satisfying procedural, and, though the romance is secondary, it has the intensity that Singh's fans have come to expect.--Susan Maguire Copyright 2019 Booklist
---
Publishers Weekly
(c) Copyright PWxyz, LLC. All rights reserved

Paranormal romance bestseller Singh (the Guild Hunter series) ventures into noir territory with this atmospheric if flawed thriller. Classical pianist Anahera Rawiri flees London for Golden Cove, the remote New Zealand hometown she couldn't wait to leave eight years earlier, soon after her playwright husband suddenly dies—and his pregnant mistress subsequently surprises her. But before Anahera can even start to come to terms with the tragic past she tried to put in the rearview mirror, there's an emergency in Golden Cove: beautiful, universally beloved teen Miriama Hinewai Tutaia vanishes during her daily run, reminding those with long memories of three young female hikers who disappeared from the town during a single summer 15 years before. And in this largely Maori community with little trust of either outsiders or the law, it falls to cop Will Gallagher, a recent arrival with plenty of his own baggage, to lead the search. Though Will and the equally prickly Anahera initially butt heads, the crisis quickly promotes mutual respect—and maybe even warmer sentiments. Several members of the cast, particularly the men who become prime suspects in Miri's disappearance, come across as plot-propelled chameleons. But the one character that rings absolutely true is the untamed, sometimes treacherous, always breathtaking New Zealand landscape. Agent: Nephele Tempest, Knight Agency. (Dec.)
---
Kirkus
Copyright © Kirkus Reviews, used with permission.

Soon after a widowed pianist returns to her tiny hometown in coastal New Zealand, a woman disappears, echoing the events of a summer when she was a teenager and everything shifted for her and her friends.After burying her husband, Anahera Rawiri leaves London to return to Golden Cove, which sits next to the South Pacific Ocean and inside a "primal and untamed landscape." Anahera has been gone for years, married to a rich playwright, living in London, traveling the world as a classical pianist. She's remained close to her best friend, Josie, but only vaguely kept in touch with other Golden Cove friends; the teenage dissensions that began along social and economic lines in their group of friends grew into adult schisms exacerbated by betrayals and rivalries. Almost as soon as Anahera settles into the remote cabin her mother left her, beautiful young Miriama, who works at Josie's cafe, disappears. When the village comes together to search for her, Anahera acts as a bridge for the local policeman, Will, who is still considered an outsider, and she soon realizes that her friends and the town may harbor dark secrets: "Everyone has hidden corners of their life, even the people we think we know inside and out." As she and Will follow the clues and discover more about her friends, the townspeople, and each other, they connect in profound ways even as they begin to suspect the search for Miriama may be connected to the disappearance of three female hikers one summer when Ana was a teenager. Popular romance author Singh shifts to a new genre, New Zealand gothic, in which nearly every characterincluding the dense, ferocious landscapehas something to hide, and studying them is nearly as fascinating and compelling as solving the multifaceted mystery.Astute, insightful, and descriptive storytelling; a strong step in a new direction for Singh. Copyright Kirkus Reviews, used with permission.