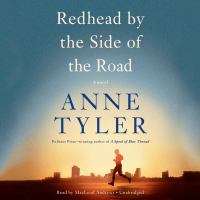 Kirkus
Copyright © Kirkus Reviews, used with permission.

A man straitjacketed in routine blinks when his emotional blinders are removed in Tyler's characteristically tender and rueful latest (Clock Dance, 2018, etc.).Micah's existence is entirely organized to his liking. Each morning he goes for a run at 7:15; starts his work as a freelance tech consultant around 10; and in the afternoons deals with tasks in the apartment building where he is the live-in super. He's the kind of person, brother-in-law Dave mockingly notes, who has an assigned chore for each day: "vacuuming daydusting day.Your kitchen has a day all its own" (Thursday). Dave's comments are uttered at a hilarious, chaotic family get-together that demonstrates the origins of Micah's persnickety behavior and offers a welcome note of comedy in what is otherwise quite a sad tale. Micah thinks of himself as a good guy with a good life. It's something of a shock when the son of his college girlfriend turns up wondering if Micah might be his father (not possible, it's quickly established), and it's really a shock when his casual agreement to let 18-year-old Brink crash in his apartment for a night leads Micah's "woman friend," Cass, to break up with him. "There I was, on the verge of losing my apartment," she says. "What did you do? Quickly invite the nearest stranger into your spare room." Indignant at first, Micah slowly begins to see the pattern that has kept him warily distant from other people, particularly the girlfriends who were only briefly good enough for him. (They were always the ones who left, once they figured it out.) The title flags a lovely metaphor for Micah's lifelong ability to delude himself about the nature of his relationships. Once he realizes it, agonizing examples of the human connections he has unconsciously avoided are everywhere visible, his loneliness palpable. These chapters are painfully poignantthank goodness Tyler is too warmhearted an artist not to give her sad-sack hero at least the possibility of a happy ending.Suffused with feeling and very moving. Copyright Kirkus Reviews, used with permission.
---
Library Journal
(c) Copyright Library Journals LLC, a wholly owned subsidiary of Media Source, Inc. No redistribution permitted.

A self-employed tech expert and superintendent of his Baltimore apartment building, Micah Mortimer never, ever looks for a change in routine. But when the woman in his life faces eviction and a teenager shows up on his doorstep claiming to be his son, Micah has got to adjust.
---
Publishers Weekly
(c) Copyright PWxyz, LLC. All rights reserved

A fastidious everyman weathers a spate of relationship stresses in this compassionate, perceptive novel from Tyler (Clock Dance). Micah Mortimer, 43, makes house calls for his Tech Hermit business and moonlights as the superintendent of his Baltimore apartment building, where the residents observe his regimented routine and wonder, through Tyler's gossip-inflected narration, "Does he ever stop to consider his life?" The disruptions begin with a call from his schoolteacher girlfriend, Cassia Slade, who is in a panic because she is facing eviction. Then college freshman Brink Adams shows up on his stoop and claims to be his son. Micah knows it isn't true, because he never slept with Brink's mother, Lorna, an old girlfriend, but he tolerates the languid, starry-eyed kid who claims to look up to him for living a working-class life and who fixated on a photo of Micah kept by Lorna. After Micah tries to put Brink in touch with Lorna, he disappears. When Cassia dumps him for not immediately offering to let her move in, Micah descends into a funk that just might push him to prove himself worthy of her companionship. While Micah's cool indifference occasionally feels like a symptom of Tyler's spare, detached style, his moments of growth bring satisfaction. This quotidian tale of a late bloomer goes down easy. Agent: Jesseca Salky, Salky Literary Management. (Apr.)