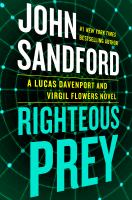 Book list
From Booklist, Copyright © American Library Association. Used with permission.

A vigilante group calling itself "The Five" is killing "people who need to be murdered"—at least that's what the group's press releases say. Who are these mysterious killers? Well, basically, they're the idle rich: people with too much money who are looking for something to spice up their lives. When one of the murders takes place in the Twin Cities, it falls to U.S. marshal Lucas Davenport and Virgil Flowers, an agent for the Minnesota Bureau of Criminal Apprehension, to bring the vigilantes to justice. Between them, Davenport and Flowers have starred in more than 40 novels, and fans have come to know both men quite well. Is there, in fact, anything left for Sandford to say about them? As it turns out, yes: Sandford's characters seem to have limitless unexplored nooks and crannies to their personalities. And for devotees of the series, it's always nice to spend time with people we really like. The story is well constructed, too, with some bad people we can't look away from. A solid entry from a writer who consistently gives his readers just what they want.
---
Publishers Weekly
(c) Copyright PWxyz, LLC. All rights reserved

Bestseller Sandford's enjoyable second novel to unite his two main series leads (after 2021's Ocean Prey) pits U.S. Marshal Lucas Davenport and Virgil Flowers, an agent of the Minnesota Bureau of Criminal Apprehension, against a highly organized group of mega-wealthy, thrill-seeking vigilantes, who meet on the dark web. The vigilantes keep their identities secret, issue a press release and donate to a charity after each kill, and urge others to follow their example. Their stated objective is "to murder people who need to be murdered." Each of the five core members has their own idea of what that statement means. The first victim is a homeless man who prowls the alleys of San Francisco, the second a U.S. representative from Texas, the third a Minnesota real estate developer. With the real estate developer's murder, Davenport and Flowers are drawn in to help with the FBI's investigation. The book's strength rests firmly on the rapport between Davenport and Flowers: their pithy dialogue is spiced with the kind of humor that enduring friendships engender. Sandford fans will hope they have a long run as a team. Agent: Esther Newberg, ICM Partners. (Oct.)
---
Library Journal
(c) Copyright Library Journals LLC, a wholly owned subsidiary of Media Source, Inc. No redistribution permitted.

Sandford standby Virgil Flowers joins Prey protagonist Lucas Davenport in the Twin Cities, where they must corner a group of presumably rich, bored vigilantes who target rapists, murderers, and others they say deserve death, then donate untraceable bitcoin to charities and victims.
---
Kirkus
Copyright © Kirkus Reviews, used with permission.

Lucas Davenport and Virgil Flowers join forces once more with each other and a host of other law enforcement officials to take down a cabal of white-collar vigilante killers. The Five, as they style themselves, are a group of Bitcoin billionaires oozing self-righteousness who've declared war on crooked politicians, heartless corporate leaders, slumlords, and right-wing radio bloviators. That's an awful lot of targets, and it's no wonder that even though The Five issue regular manifestos, progress reports, and teasing hints about where they'll strike next, the FBI has been helpless to identify and protect their victims. Not surprisingly, the two U.S. senators from Minnesota want Lucas, a U.S. Marshal, on the job, and Lucas wants to work with Virgil, his old protégé at Minnesota's Bureau of Criminal Apprehension. At first their progress is frustratingly slow, but things heat up abruptly when they identify a likely suspect who's promptly executed by Vivian Zhao, the scheming self-proclaimed economist who's the brains behind The Five. During a routine inquiry, Lucas and Virgil get an unexpected glimpse of Zhao, who flees the scene and issues an S.O.S. to the surviving members of The Five asking for funds to finance her flight. By now, of course, every one of the conspirators is afraid that Zhao, the only one who knows their identities, will flip on them, and Lucas and Virgil's race to find the ringleader is complicated by the vigilantes' race to cover themselves by killing anyone who might betray them, beginning, of course, with each other. Sandford manages the ensuing circular firing squad with brisk expertise, though it's hard to generate much suspense over the threats to such a despicable bunch. The most relaxing tale of double-digit murder you'll read this year. Copyright © Kirkus Reviews, used with permission.