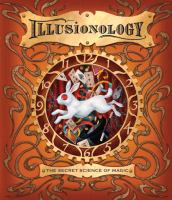 Publishers Weekly
(c) Copyright PWxyz, LLC. All rights reserved

Purportedly written by magician Albert D. Schafer, who vanished in 1915, this handsome addition to the Ologies series, which mimics the look of advertisements and periodicals of the era, explores the history and practice of magic. Readers are clued into the "experimental psychology" behind many tricks, including the use of storytelling, optical illusion, and misdirection. Illusionists like Johann Nepomuk Hofzinser and Harry Houdini are profiled, while tricks are re-enacted in dramatic illustrations and additional curiosities explored in booklets. Step-by-step directions and props let readers try simple tricks, while clues lead to the revelation of the author's fate. Ages 8-up. (Mar.) (c) Copyright PWxyz, LLC. All rights reserved.
---
Kirkus
Copyright © Kirkus Reviews, used with permission.

Leaving no square inch of page space unpurposed, the latest in the 'Ology series wraps directions for over two dozen simple sleight-of-hand tricks in thick skeins of history and mystery. This outing is intended both to give budding prestidigitators a starting kit and to fill them in on their avocation's basic principles and greatest early practitioners. Each heavily, atmospherically illustrated spread is packed with topically related disquisitions on subjects from optical illusions to how Hofzinser, Thurston, Robert-Houdin and other iconic figures of the 19th and early 20th centuries performed some of their most awesome, elaborately staged feats. Though properly warned away from trying sword swallowing, ox decapitation and like hazardous pursuits themselves, readers are encouraged to tackle the step directions for (reasonably) easy hidden coin and other small-scale tricks. These are offered in booklets or hidden beneath flaps and, often, accompanied by envelopes or folders that hold modified (but smaller than standard-size) playing cards, plastic widgets and other helpful--if easy to lose--items. The series' high-bandwidth website offers additional tricks and entertainments. Though most of professional magic's last 100 years pull a vanishing act, a beguiling mix of wonders and practical advice. (bibliography, many detachable or already detached pieces) (Novelty/nonfiction. 10 up)]] Copyright Kirkus Reviews, used with permission.
---
Horn Book
(c) Copyright The Horn Book, Inc., a wholly owned subsidiary of Media Source, Inc. No redistribution permitted.

Part history and fiction, part science and how-to, this latest addition to the series provides a generous amount of information for the magician-in-training. The scrapbook format in sepia tones includes pockets, pull-outs, and pop-ups with a well-balanced assembly of illustrations and text boxes. This appealing presentation will invite frequent browsing. No back matter is included. (c) Copyright 2012. The Horn Book, Inc., a wholly owned subsidiary of Media Source, Inc. No redistribution permitted.