by Tressie McMillan Cottom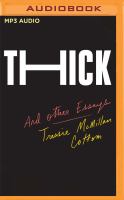 Library Journal
(c) Copyright Library Journals LLC, a wholly owned subsidiary of Media Source, Inc. No redistribution permitted.

Cottom, (sociology, Virginia Commonwealth Univ.; Lower Ed) presents her first collection of essays, chronicling her life as a black woman in America. In eight timely and direct pieces, Cottom discusses everything from the importance of seeing oneself reflected in literature and the meaning of beauty to the Trump administration, #MeToo, and other events of the modern day. Common threads involving the black experience, current events, and moments from Cottom's own life run through each essay. With such broad themes, the work sometimes feels disjointed, but Cottom writes with great clarity and familiarity, which makes her essays a pleasure to engage with despite their wide breadth. Highly accessible and to the point, this is a great sketchlike anthology for fans of authors such as Roxane Gay. VERDICT Cottom offers a skimming discussion on the challenges of being black and a woman in America while making excellent points. Readers interested in social justice will find a number of quotable passages, whether for casual or academic use.—Abby Hargreaves, Dist. of Columbia P.L. © Copyright 2019. Library Journals LLC, a wholly owned subsidiary of Media Source, Inc. No redistribution permitted.
---
Kirkus
Copyright © Kirkus Reviews, used with permission.

Sociology and personal experience blend in a concise collection of essays about contemporary black American women.These essays are distinguished by the fact that McMillan Cottom (Sociology/Virginia Commonwealth Univ.; Lower Ed: The Troubling Rise of For-Profit Colleges in the New Economy, 2017, etc.) is clearly dedicated to including the whole range of her being, from the detached academic who rigorously footnotes each of the essays to the emotional first-person narrator of the experiences of sexual abuse and societal exclusion. As a "black woman who thinks for a living," the author describes herself as caught in the middle of some invisible battle, accused by one editor of being "too readable to be academic, too deep to be popular, too country black to be literary, and too nave to show the rigor of my thinking in the complexity of my prose." From this positionuncomfortable for her but stimulating for readersMcMillan Cottom takes aim at a range of targets. "In the Name of Beauty" makes the controversial case that a black woman cannot by definition be beautiful, because "beauty isn't actually what you look like; beauty is the preferences that reproduce the existing social order. What is beautiful is whatever will keep weekend lake parties safe from strange darker people." In "Dying to Be Competent," the author takes the horrifying story of the death of her premature baby and extrapolates to discuss the consequences of assuming that even the most educated and wealthy black women are unable to manage their lives properly. "Black Is Over (Or, Special Black)" dissects with sardonic zeal the tendency of colleges to choose students from Africa or the Caribbean over black students from the United States. "When there is only room for a few blacks there is a competition for which black should prevail," she writes. Throughout, the meshing of the personal and political and the author's take-no-prisoners attitude make these essays sizzle.A provocative volume bound to stir argument and discussion. Copyright Kirkus Reviews, used with permission.
---
Publishers Weekly
(c) Copyright PWxyz, LLC. All rights reserved

In eight incisive, witty, and provocative essays, debut author Cottom (Lower Ed), a Virginia Commonwealth University assistant sociology professor, highlights structural inequalities and explores the black female experience in contemporary America. She lucidly reflects on her personal story, as the daughter of parents who moved north to Harlem, where she was born, then back to the South. To this, she adds data and research, showing, for instance, that regardless of education level, black women are commonly treated as "incompetent" in the health care system, where they are "243% more likely to die from pregnancy or childbirth-related causes than white women." Cottom goes on to observe that black women and girls fear speaking up about sexual abuse, due to the extra "burden of protecting the reputations of black boys and men" and that, despite "generations of earned and inherited moral philosophy that has sustained families, communities and institutions," aren't seen as authorities on much of anything. Other topics include LinkedIn as an emblem of neoliberalism's failure, tensions between African-Americans and black people from other countries, and how beauty and self-esteem are treated as commodities. The collection showcases Cottom's wisdom and originality and amply fulfills her aim of telling "powerful stories that become a problem for power." (Jan.) © Copyright PWxyz, LLC. All rights reserved.