Welcome to the West Plains Public Library
West Plains Public Library
·
Library Hours:
Monday - Friday 9 am - 6 pm
Saturday 9 am - 5 pm
Facebook
: Like us on Facebook for up to date news & events!
Missouri Digital Heritage
: Access to digital collections and exhibits created by the cultural and scientific heritage institutions of Missouri.
Learn-A-Test
: Interactive test preparation and practice including GED, ACT, and SAT practice exams.
Click here to access the following Databases
:
EBSCOhost databases
: Academic Search Elite ; Book Collection Nonfiction: Elementary School Edition ; Book Collection Nonfiction: High School Edition ; Book Collection Nonfiction: Middle School Edition ; Consumer Health Complete - EBSCOhost ; ERIC ; Funk & Wagnalls New World Encyclopedia ; MAS Ultra - School Edition ; MasterFILE Premier ; MEDLINE ; Middle Search Plus ; Newspaper Source ; Primary Search ; Professional Development Collection ; Science Reference Center ; eBook Collection (EBSCOhost)
---
Salem Health
:  Cancer:a four-volume set that covers more than 800 topics of crucial interest to students, patients, caregivers, and others who have received a diagnosis or are associated with those who have cancer. Psychology & Mental Health: a five-volume set that covers history of the field, diagnoses, disorders, treatments, tests, notable people and issues.
---
Salem History: The Decades
:  Explore the 40's, 50's, 60's, 70's, 80's and 90's in America with this Salem Press series.
---
Salem Forensic Science
:  A comprehensive reference source on the theory, techniques, and applications of the various forensic sciences.
---
WorldCat on FirstSearch
: The worlds largest network of library content and services.
Click here to access more databases.
Missouri Libraries 2 Go
: Now available a new service from the West Plains Public Library: audiobooks and eBooks available to download from the library's website. Library card holders can check out and download digital media anytime, anywhere by clicking the link above or the button on the left.
About the TumbleBookLibrary
: The TBL is a collection of TumbleBooks (animated, talking picture books) with fiction, non-fiction and foreign language titles, Read-Alongs (chapter books with sentence highlighting and narration but no animation), TumbleTV which consists of pre-set playlists of a sequence of books and Tumble Puzzles & Games.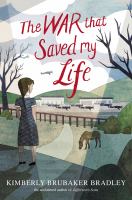 School Library Journal Gr 4-6-Bradley turns her keen historical eye from Monticello (Jefferson's Sons, Penguin, 2011) to the British home front during World War II. Ada isn't exactly sure how old she is; for as long as she can remember, she's been a virtual prisoner in her mother's third floor one-room apartment. She was born with a clubfoot and her mother uses her disability as an excuse to abuse her both emotionally and physically. Ada watches the world through the narrow confines of the apartment window, waves to neighbors in the street, and carefully gauges the danger of being beaten during each encounter with her hateful mother. She envies the freedom of her little brother, Jamie, who goes to school and generally roves the neighborhood at will. When her mother prepares to ship Jamie out to the countryside with other children being evacuated from London, Ada sneaks out with him. When the two fail to be chosen by any villagers, the woman in charge forces Susan Smith, a recluse, to take them in. Though Susan is reluctant and insists that she knows nothing about caring for children, she does so diligently and is baffled by the girl's fearful flinching anytime Ada makes a mistake. Though uneducated, Ada is intensely observant and quick to learn. Readers will ache for her as she misreads cues and pushes Susan away even though she yearns to be enfolded in a hug. There is much to like here-Ada's engaging voice, the vivid setting, the humor, the heartbreak, but most of all the tenacious will to survive exhibited by Ada and the villagers who grow to love and accept her.-Brenda Kahn, Tenakill Middle School, Closter, NJ (c) Copyright 2014. Library Journals LLC, a wholly owned subsidiary of Media Source, Inc. No redistribution permitted.
(c) Copyright Library Journals LLC, a wholly owned subsidiary of Media Source, Inc. No redistribution permitted.
...More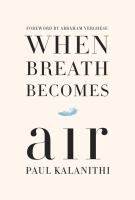 Book list Can life remain full and rewarding even while one is living under a death sentence? This is the question now-deceased neurosurgeon Kalanithi asked himself after receiving a late-stage lung cancer diagnosis. Newly married and almost ready to complete his residency, at 34 Kalanithi was faced with a momentous decision: Should he continue with a promising medical career, or fall back on his first love of writing while taking care of his health? Fortunately for the readers of this moving memoir, he decided to do both. Kalanithi describes his life-changing decision to set aside the pursuit of a doctorate in literature in favor of attending medical school and then recounts the discovery and progress of his illness, along with the inevitable upheaval in his personal life. A precious highlight here is the heartrending epilogue penned by his wife, Lucy, following Kalanithi's passing shortly after she became pregnant. This eloquent, heartfelt meditation on the choices that make life worth living, even as death looms, will prompt readers to contemplate their own values and mortality.--Hays, Carl Copyright 2015 Booklist
From Booklist, Copyright © American Library Association. Used with permission.
Publishers Weekly Author and physician Kalanithi had nearly completed his residency in neurosurgery at Stanford when he was diagnosed with Stage lV lung cancer at the age of 36. Despite the stubborn progression of his disease, Kalanithi was able to write, work, and delve into a number of profound issues before the end of his life, documented here (his wife provides the epilogue). As a youth in Arizona, Kalanithi was unsure whether he wanted to pursue medicine, as his father did, or if literature and writing were his calling. This inspiring memoir makes it clear that he excelled at both. Kalanithi shares his career struggles, bringing readers into his studies at Yale (including cadaver dissection), the relentless demands of neurosurgery, and the life-and-death decisions and medical puzzles that must be solved. After he begins cancer treatment, Kalanithi strives to define his dual role as physician and patient, and he weighs in on such topics as what makes life meaningful and how one determines what is most important when little time is left. He also shares the challenges of colleagues: an oncologist who walks a tightrope between hope and honest reality; a fellow doctor who commits suicide after losing a patient; Kalanithi's wife, also a doctor, bearing witness to her husband's decline even as she gives birth to their child. This deeply moving memoir reveals how much can be achieved through service and gratitude when a life is courageously and resiliently lived. (Jan.) © Copyright PWxyz, LLC. All rights reserved.
(c) Copyright PWxyz, LLC. All rights reserved
...More