On the calendar: Monday, 2/26/2018 10:30 AM
Coffee Club: Gather for Coffee with other Adults! Event for this month TBD Calendar
West Plains Public Library
·
Library Hours:
Monday - Friday 9 am - 6 pm
Saturday 9 am - 5 pm
Molib2go
: Audiobooks and eBooks available to download from the library's website. Library card holders can check out and download digital media anytime, anywhere.
Facebook
: Like us on Facebook for up to date news & events!
Missouri Digital Heritage
: Access to digital collections and exhibits created by the cultural and scientific heritage institutions of Missouri.
Heritage Quest
: HeritageQuest® Online is a comprehensive treasury of American genealogical sources—rich in unique primary sources, local and family histories, convenient research guides, interactive census maps, and more. Discover the amazing history of you with HeritageQuest Online. It delivers an essential collection of genealogical and historical sources—with coverage dating back to the 1700s—that can help people find their ancestors and discover a place's past.
EbscoHost
:
EBSCO is the leading provider of research databases, e-journals, magazine subscriptions, e-books and discovery service to libraries of all kinds. For over 70 years, we've partnered with libraries to improve research with quality content and technology.
---
Learning Express Library
: The LearningExpress suite of highly-acclaimed eLearning solutions provides interactive tutorials, practice tests, e-books, flashcards and articles for academic skill-building, standardized test preparation, career development and more. These award-winning learning tools are available through multiple online platforms designed to help students and professionals achieve their educational and career goals.
Salem Press
: Login to your Library's Collection to Start Searching Now! You must log in using your library password or library card in order to search your library's Salem Press collection.
WorldCat on FirstSearch
: Dedicated to offering you access to the widest possible range of resources. You are now able to search our collection and the collections of many other libraries worldwide using WorldCat, the world's largest network of library-based content and services.
Missouri Libraries 2 Go
: Now available a new service from the West Plains Public Library: audiobooks and eBooks available to download from the library's website. Library card holders can check out and download digital media anytime, anywhere by clicking the link above or the button on the left.
About the TumbleBookLibrary
: The TBL is a collection of TumbleBooks (animated, talking picture books) with fiction, non-fiction and foreign language titles, Read-Alongs (chapter books with sentence highlighting and narration but no animation), TumbleTV which consists of pre-set playlists of a sequence of books and Tumble Puzzles & Games.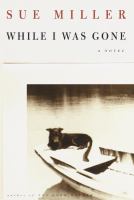 Library Journal Thirty years ago, Joey Becker's carefree bohemian life was shattered by the brutal, unsolved murder of her best friend, Dana. Joey coped with her loss while building a career, marrying, and raising a family. She thinks she is happy, but ever since her children have left home Joey has felt a vague sense of disappointment. She cannot share the depth of her feelings for Dana with anyone, even her husband. Then Eli, Joey and Dana's former housemate, arrives in town. Joey and Eli are first drawn to each other because they both loved Dana and still mourn her, but their mutual attraction grows until it threatens Joey's marriage and her relationship with her daughter. Miller (The Good Mother, LJ 5/15/86) presents a suspenseful, penetrating look at the tenuous bonds of love, the ease with which even a good marriage can be destroyed, and the need to forgive ourselves for the mistakes of the past. Highly recommended for all public libraries. [Previewed in Prepub Alert, LJ 10/1/98.]?Karen Anderson, Superior Court Law Lib., Phoenix
(c) Copyright 2010. Library Journals LLC, a wholly owned subsidiary of Media Source, Inc. No redistribution permitted.
Book list The domestic scene is Miller's terrain, a place where steadiness is hoped for by all parties involved but where earthquakes are bound to come along and disassemble the landscape. So it was in perhaps her most famous novel, The Good Mother (1986), about a child-custody battle, and so it is in her latest effort, about the incredibly unexpected results of a close encounter with marital infidelity. Joey Becker is 52, a successful veterinarian and married to a man she deeply loves. She has three children who present her with motherly concerns, but, overall, they are an asset to her life. Then one day a man she had lived with in a community of other young people, at a time when she had fled from her first husband, reappears. But something had happened to one of their housemates back then: she was brutally murdered. When this man from Joey's past reappears, Joey is attracted to him like a moth to a flame. But her attraction leads to his confession of the killing so many years ago. The horror of this knowledge traumatizes her, and the fact that she instigated a rendezvous with the man in the first place threatens to ruin her happy marriage. In her signature straightforward prose, Miller captures the thrill of the unknown and the draw of the known. --Brad Hooper
From Booklist, Copyright © American Library Association. Used with permission.
Library Journal Thirty years after she discovers her best friend murdered, Jo Becker finds her now-happy life unraveling.
(c) Copyright 2010. Library Journals LLC, a wholly owned subsidiary of Media Source, Inc. No redistribution permitted.
Publishers Weekly The shadowy and inexorable nemesis of past secrets to a reclaimed life, and the inability even of those who are intimates to really know one another, are poignant themes in Miller's resonant fifth novel. Narrator Jo Becker, now a veterinarian married to a minister in a small Massachusetts town, was once a runaway bride who assumed a false name and lived with other dissaffected '60s bohemians in a group house in Cambridge. Her special friend in the house was sweet-spirited and generous Dana Jablonski, whose shocking?and unsolved?murder broke up the group and left Jo with unresolved questions about her own identity. She manages to ignore the memories of that time until, almost three decades later, one of the former housemates, Eli Mayhew, moves to her town. Eli, now a distinguished research scientist, provides a revelation that acts as the catalyst provoking Jo to face her guilt about her past behavior?and to act impulsively once again. Her moral conundrum occasions a heartrending change in her heretofore strong marriage and undermines her relationship with her three grown daughters. As usual, Miller (The Good Mother; Family Pictures) renders the details of quotidian domesticity with bedrock veracity and a sensitivity to minute calibrations of family dynamics, especially the nuances of sibling rivalry. But while the pacing, tone and measured exposition are handled with masterly skill, the way in which Jo's decision to make amends for her past rebounds on her present life seems staged and convoluted, since her husband and children seem to think that retribution for a murder should take second place to their own emotional needs. That cavil aside, Miller's narrative is a beautifully textured picture of the psychological tug of war between finding integrity as an individual and satisfying the demands of spouse, children and community. 150,000 first printing; Random House audio; BOMC selection; author tour. (Feb.)
(c) Copyright PWxyz, LLC. All rights reserved
...More
School Library Journal Gr 6-10-Twins Josh and Jordan are junior high basketball stars, thanks in large part to the coaching of their dad, a former professional baller who was forced to quit playing for health reasons, and the firm, but loving support of their assistant-principal mom. Josh, better known as Filthy McNasty, earned his nickname for his enviable skills on the court: ".when Filthy gets hot/He has a SLAMMERIFIC SHOT." In this novel in verse, the brothers begin moving apart from each other for the first time. Jordan starts dating the "pulchritudinous" Miss Sweet Tea, and Josh has a tough time keeping his jealousy and feelings of abandonment in control. Alexander's poems vary from the pulsing, aggressive beats of a basketball game ("My shot is F L O W I N G, Flying, fluttering.. ringaling and SWINGALING/Swish. Game/over") to the more introspective musings of a child struggling into adolescence ("Sit beside JB at dinner. He moves./Tell him a joke. He doesn't even smile..Say I'm sorry/but he won't listen"). Despite his immaturity, Josh is a likable, funny, and authentic character. Underscoring the sports and the fraternal tension is a portrait of a family that truly loves and supports one another. Alexander has crafted a story that vibrates with energy and heart and begs to be read aloud. A slam dunk.-Kiera Parrott, School Library Journal. (c) Copyright 2014. Library Journals LLC, a wholly owned subsidiary of Media Source, Inc. No redistribution permitted.
(c) Copyright Library Journals LLC, a wholly owned subsidiary of Media Source, Inc. No redistribution permitted.
Book list The Bell twins are stars on the basketball court and comrades in life. While there are some differences Josh shaves his head and Jordan loves his locks both twins adhere to the Bell basketball rules: In this game of life, your family is the court, and the ball is your heart. With a former professional basketball player dad and an assistant principal mom, there is an intensely strong home front supporting sports and education in equal measures. When life intervenes in the form of a hot new girl, the balance shifts and growing apart proves painful. An accomplished author and poet, Alexander eloquently mashes up concrete poetry, hip-hop, a love of jazz, and a thriving family bond. The effect is poetry in motion. It is a rare verse novel that is fundamentally poetic rather than using this writing trend as a device. There is also a quirky vocabulary element that adds a fun intellectual note to the narrative. This may be just the right book for those hard-to-match youth who live for sports or music or both.--Bush, Gail Copyright 2014 Booklist
From Booklist, Copyright © American Library Association. Used with permission.
Publishers Weekly Josh Bell, known on and off the court by the nickname Filthy McNasty, doesn't lack self-confidence, but neither does he lack the skills to back up his own mental in-game commentary: "I rise like a Learjet-/ seventh-graders aren't supposed to dunk./ But guess what?/ I snatch the ball out of the air and/ SLAM!/ YAM! IN YOUR MUG!" Josh is sure that he and his twin brother, JB, are going pro, following in the footsteps of their father, who played professional ball in Europe. But Alexander (He Said, She Said) drops hints that Josh's trajectory may be headed back toward Earth: his relationship with JB is strained by a new girl at school, and the boys' father health is in increasingly shaky territory. The poems dodge and weave with the speed of a point guard driving for the basket, mixing basketball action with vocabulary-themed poems, newspaper clippings, and Josh's sincere first-person accounts that swing from moments of swagger-worthy triumph to profound pain. This verse novel delivers a real emotional punch before the final buzzer. Ages 9-12. Agent: East West Literary Agency. (Mar.) (c) Copyright PWxyz, LLC. All rights reserved.
(c) Copyright PWxyz, LLC. All rights reserved
...More