Welcome to the West Plains Public Library
West Plains Public Library
·
Library Hours:
Monday - Friday 9 am - 6 pm
Saturday 9 am - 5 pm
Facebook
: Like us on Facebook for up to date news & events!
Missouri Digital Heritage
: Access to digital collections and exhibits created by the cultural and scientific heritage institutions of Missouri.
Learn-A-Test
: Interactive test preparation and practice including GED, ACT, and SAT practice exams.
Click here to access the following Databases
:
EBSCOhost databases
: Academic Search Elite ; Book Collection Nonfiction: Elementary School Edition ; Book Collection Nonfiction: High School Edition ; Book Collection Nonfiction: Middle School Edition ; Consumer Health Complete - EBSCOhost ; ERIC ; Funk & Wagnalls New World Encyclopedia ; MAS Ultra - School Edition ; MasterFILE Premier ; MEDLINE ; Middle Search Plus ; Newspaper Source ; Primary Search ; Professional Development Collection ; Science Reference Center ; eBook Collection (EBSCOhost)
---
Salem Health
:  Cancer:a four-volume set that covers more than 800 topics of crucial interest to students, patients, caregivers, and others who have received a diagnosis or are associated with those who have cancer. Psychology & Mental Health: a five-volume set that covers history of the field, diagnoses, disorders, treatments, tests, notable people and issues.
---
Salem History: The Decades
:  Explore the 40's, 50's, 60's, 70's, 80's and 90's in America with this Salem Press series.
---
Salem Forensic Science
:  A comprehensive reference source on the theory, techniques, and applications of the various forensic sciences.
---
WorldCat on FirstSearch
: The worlds largest network of library content and services.
Click here to access more databases.
Missouri Libraries 2 Go
: Now available a new service from the West Plains Public Library: audiobooks and eBooks available to download from the library's website. Library card holders can check out and download digital media anytime, anywhere by clicking the link above or the button on the left.
About the TumbleBookLibrary
: The TBL is a collection of TumbleBooks (animated, talking picture books) with fiction, non-fiction and foreign language titles, Read-Alongs (chapter books with sentence highlighting and narration but no animation), TumbleTV which consists of pre-set playlists of a sequence of books and Tumble Puzzles & Games.
Book list To find out what really happened to her purportedly dead sister, sharpshooting 13-year-old Georgie Burkhardt and her sister's one-time suitor Billy McCabe follow the trail of pigeon hunters and discover far worse going on near Placid, Wisconsin, in 1871. Georgie tells her story in a first-person narrative that rings true to the time and place. She is smart, determined, and not a little blind to the machinations of adults around her, including Billy, who has been sent by Georgie's storekeeper grandfather to follow her and keep her safe. She does notice that Billy is well made, but this is no love story; it's a story of acceptance, by Georgie, her family, and her small town. Timberlake weaves in the largest passenger pigeon nesting ever seen in North America, drought and fatal fires along Lake Michigan that year, a currency crisis that spawned counterfeiters, and advice on prairie travel from an actual handbook from the times. Historical fiction and mystery combine to make this a compelling adventure, and an afterword helps disentangle facts from fiction.--Isaacs, Kathleen Copyright 2010 Booklist
From Booklist, Copyright © American Library Association. Used with permission.
School Library Journal Gr 5-8-Thirteen-year-old Georgie Burkhardt can shoot better than anyone in Placid, Wisconsin. She can handle accounts and serve customers in her family's general store. What she can't do is accept that the unrecognizable body wearing her older sister's blue-green gown is Agatha. Determined to discover what happened after Agatha abruptly left town with a group of pigeoners, Georgie sets out to follow her route. In return for the loan of a mule, she reluctantly allows Billy McCabe, one of Agatha's suitors, to accompany her. The journey includes a menacing cougar and ruthless counterfeiters, but Georgie's narration offers more than action-packed adventure. She unravels the tangle of events that led to Agatha's sudden departure and acknowledges her own role. By turns humorous and reflective, Georgie's unique and honest voice includes confusion about her feelings for Billy and doubts about her ability to kill even in desperate circumstances. Timberlake seamlessly integrates information about two significant events that occurred in Wisconsin in 1871: the largest recorded nesting of passenger pigeons in spring and devastating firestorms in fall. Georgie's physical and emotional odyssey that occurs between those two events will linger in readers' minds.-Kathy Piehl, Minnesota State University, Mankato (c) Copyright 2013. Library Journals LLC, a wholly owned subsidiary of Media Source, Inc. No redistribution permitted.
(c) Copyright 2010. Library Journals LLC, a wholly owned subsidiary of Media Source, Inc. No redistribution permitted.
...More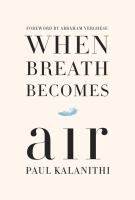 Book list Can life remain full and rewarding even while one is living under a death sentence? This is the question now-deceased neurosurgeon Kalanithi asked himself after receiving a late-stage lung cancer diagnosis. Newly married and almost ready to complete his residency, at 34 Kalanithi was faced with a momentous decision: Should he continue with a promising medical career, or fall back on his first love of writing while taking care of his health? Fortunately for the readers of this moving memoir, he decided to do both. Kalanithi describes his life-changing decision to set aside the pursuit of a doctorate in literature in favor of attending medical school and then recounts the discovery and progress of his illness, along with the inevitable upheaval in his personal life. A precious highlight here is the heartrending epilogue penned by his wife, Lucy, following Kalanithi's passing shortly after she became pregnant. This eloquent, heartfelt meditation on the choices that make life worth living, even as death looms, will prompt readers to contemplate their own values and mortality.--Hays, Carl Copyright 2015 Booklist
From Booklist, Copyright © American Library Association. Used with permission.
Publishers Weekly Author and physician Kalanithi had nearly completed his residency in neurosurgery at Stanford when he was diagnosed with Stage lV lung cancer at the age of 36. Despite the stubborn progression of his disease, Kalanithi was able to write, work, and delve into a number of profound issues before the end of his life, documented here (his wife provides the epilogue). As a youth in Arizona, Kalanithi was unsure whether he wanted to pursue medicine, as his father did, or if literature and writing were his calling. This inspiring memoir makes it clear that he excelled at both. Kalanithi shares his career struggles, bringing readers into his studies at Yale (including cadaver dissection), the relentless demands of neurosurgery, and the life-and-death decisions and medical puzzles that must be solved. After he begins cancer treatment, Kalanithi strives to define his dual role as physician and patient, and he weighs in on such topics as what makes life meaningful and how one determines what is most important when little time is left. He also shares the challenges of colleagues: an oncologist who walks a tightrope between hope and honest reality; a fellow doctor who commits suicide after losing a patient; Kalanithi's wife, also a doctor, bearing witness to her husband's decline even as she gives birth to their child. This deeply moving memoir reveals how much can be achieved through service and gratitude when a life is courageously and resiliently lived. (Jan.) © Copyright PWxyz, LLC. All rights reserved.
(c) Copyright PWxyz, LLC. All rights reserved
...More