Welcome to the West Plains Public Library
West Plains Public Library
·
Library Hours:
Monday - Friday 9 am - 6 pm
Saturday 9 am - 5 pm
Facebook
: Like us on Facebook for up to date news & events!
Missouri Digital Heritage
: Access to digital collections and exhibits created by the cultural and scientific heritage institutions of Missouri.
Learn-A-Test
: Interactive test preparation and practice including GED, ACT, and SAT practice exams.
Click here to access the following Databases
:
EBSCOhost databases
: Academic Search Elite ; Book Collection Nonfiction: Elementary School Edition ; Book Collection Nonfiction: High School Edition ; Book Collection Nonfiction: Middle School Edition ; Consumer Health Complete - EBSCOhost ; ERIC ; Funk & Wagnalls New World Encyclopedia ; MAS Ultra - School Edition ; MasterFILE Premier ; MEDLINE ; Middle Search Plus ; Newspaper Source ; Primary Search ; Professional Development Collection ; Science Reference Center ; eBook Collection (EBSCOhost)
---
Salem Health
:  Cancer:a four-volume set that covers more than 800 topics of crucial interest to students, patients, caregivers, and others who have received a diagnosis or are associated with those who have cancer. Psychology & Mental Health: a five-volume set that covers history of the field, diagnoses, disorders, treatments, tests, notable people and issues.
---
Salem History: The Decades
:  Explore the 40's, 50's, 60's, 70's, 80's and 90's in America with this Salem Press series.
---
Salem Forensic Science
:  A comprehensive reference source on the theory, techniques, and applications of the various forensic sciences.
---
WorldCat on FirstSearch
: The worlds largest network of library content and services.
Click here to access more databases.
Missouri Libraries 2 Go
: Now available a new service from the West Plains Public Library: audiobooks and eBooks available to download from the library's website. Library card holders can check out and download digital media anytime, anywhere by clicking the link above or the button on the left.
About the TumbleBookLibrary
: The TBL is a collection of TumbleBooks (animated, talking picture books) with fiction, non-fiction and foreign language titles, Read-Alongs (chapter books with sentence highlighting and narration but no animation), TumbleTV which consists of pre-set playlists of a sequence of books and Tumble Puzzles & Games.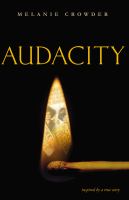 School Library Journal Gr 7 Up-Written in verse, this novel is loosely based on the life of Clara Lemlich Shavelson, the leader of New York shirtwaist strike of 1909. Clara and her family are Jewish Russians who flee the anti-Semitism of turn-of-the-century Russia to find a better life in America. However, Clara still experiences gender and religious oppression in New York. She is unable to gain the education she desires, because she is forced to work in a sweatshop, and she can't rise above her given status as an immigrant worker because foreign women are taught only rudimentary English. But "Inside I am anything/ but fresh off the boat./ I have been ready for this/ possibility/ all my life," Clara declares, and she proves that she has the audacity to do the impossible for a female and a Jew: organizing a woman's union and ultimately having her voice heard. The verse form of the narrative lends lightness to an otherwise bleak topic and moves the story along quickly, while artful formatting of the text creates and sustains mood. This book stands alone in its topic and time frame, with only Michelle Markel's picture book Brave Girl (HarperCollins, 2013) as a nonfiction companion. With historical notes, interviews with Clara's family members, and a glossary of Yiddish terms, Audacity is an impactful addition to any historical fiction collection.-Brittany Staszak, Glencoe Public Library, IL (c) Copyright 2014. Library Journals LLC, a wholly owned subsidiary of Media Source, Inc. No redistribution permitted.
(c) Copyright Library Journals LLC, a wholly owned subsidiary of Media Source, Inc. No redistribution permitted.
...More
Book list Looks like a bummer of a summer for 11-year-old Jack (with a same-name protagonist, it's tempting to assume that at least some of this novel comes from the author's life). After discharging his father's WWII-souvenir Japanese rifle and cutting down his mom's fledgling cornfield, he gets grounded for the rest of his life or the rest of the summer of 1962, whichever comes first. Jack gets brief reprieves to help an old neighbor write obituaries for the falling-like-flies original residents of Norvelt, a dwindling coal-mining town. Jack makes a tremendously entertaining tour guide and foil for the town's eccentric citizens, and his warmhearted but lightly antagonistic relationship with his folks makes for some memorable one-upmanship. Gantos, as always, deliver bushels of food for thought and plenty of outright guffaws, though the story gets stuck in neutral for much of the midsection. When things pick up again near the end of the summer, surprise twists and even a quick-dissolve murder mystery arrive to pay off patient readers. Those with a nose for history will be especially pleased.--Chipman, Ian Copyright 2010 Booklist
From Booklist, Copyright © American Library Association. Used with permission.
Publishers Weekly A bit of autobiography works its way into all of Gantos's work, but he one-ups himself in this wildly entertaining meld of truth and fiction by naming the main character... Jackie Gantos. Like the author, Jackie lives for a time in Norvelt, a real Pennsylvania town created during the Great Depression and based on the socialist idea of community farming. Presumably (hopefully?) the truth mostly ends there, because Jackie's summer of 1962 begins badly: plagued by frequent and explosive nosebleeds, Jackie is assigned to take dictation for the arthritic obituary writer, Miss Volker, and kept alarmingly busy by elderly residents dying in rapid succession. Then the Hells Angels roll in. Gore is a Gantos hallmark but the squeamish are forewarned that Jackie spends much of the book with blood pouring down his face and has a run-in with home cauterization. Gradually, Jackie learns to face death and his fears straight on while absorbing Miss Volker's theories about the importance of knowing history. "The reason you remind yourself of the stupid stuff you've done in the past is so you don't do it again." Memorable in every way. Ages 10-14. (Sept.) (c) Copyright PWxyz, LLC. All rights reserved.
(c) Copyright PWxyz, LLC. All rights reserved
School Library Journal Gr 5-8-In 1962, Jack accidentally discharges his father's war relic, a Japanese rifle, and is grounded for the summer. When a neighbor's arthritic hands get the best of her, his mother lifts the restriction and volunteers the 12-year-old to be the woman's scribe, writing obituaries for the local newspaper. Business is brisk for Miss Volker, who doubles as town coroner, and Norvelt's elderly females seem to be dropping like flies. Prone to nosebleeds at the least bit of excitement (until Miss Volker cauterizes his nose with old veterinarian equipment), Jack is a hapless and endearing narrator. It is a madcap romp, with the boy at the wheel of Miss Volker's car as they try to figure out if a Hell's Angel motorcyclist has put a curse on the town, or who might have laced Mertie-Jo's Girl Scout cookies with rat poison. The gutsy Miss Volker and her relentless but rebuffed suitor, Mr. Spizz, are comedic characters central to the zany, episodic plot, which contains unsubtle descriptions of mortuary science. Each quirky obituary is infused with a bit of Norvelt's history, providing insightful postwar facts focusing on Eleanor Roosevelt's role in founding the town on principles of sustainable farming and land ownership for the poor. Jack's absorption with history of any kind makes for refreshing asides about John F. Kennedy's rescue of PT-109 during World War II, King Richard II, Francisco Pizarro's conquest of Peru, and more. A fast-paced and witty read.-Vicki Reutter, Cazenovia High School, NY (c) Copyright 2011. Library Journals LLC, a wholly owned subsidiary of Media Source, Inc. No redistribution permitted.
(c) Copyright 2010. Library Journals LLC, a wholly owned subsidiary of Media Source, Inc. No redistribution permitted.
...More