by Maria Bamford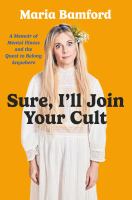 Kirkus
Copyright © Kirkus Reviews, used with permission.

The star of Netflix's Lady Dynamite examines her life in comedy, dealing with mental illness, and finding a way to belong. Beginning with an anecdote about attending an event in her 20s with a friend that shifts from friendly to an aggressive sales pitch for a self-help seminar, comedian Bamford notes, "I am very fond of suddenly adopting a new set of ideals in order to receive welcome from any rigid group of weirdos. If these people wanted a piece of me so badly, I must have been okay. (I am not ok)." Throughout, the author plays delightful tribute to the For Dummies book series, using a stop-sign image and the comic sans font for material she dubs "the creepy stuff." In a compelling, hilarious, sometimes-harrowing voice, Bamford chronicles her childhood, involvement with both recovery and self-improvement programs—including Suzuki violin lessons as a child and an introduction to Dale Carnegie's "How To Win Friends and Influence People" seminars at age 11—and struggles with mental illness. Although the book works quite well as a memoir, the author also includes helpful tips on how best to succeed with 12-step programs (while poking fun at them at the same time), a critique of the effectiveness of treatment for mental health problems in America, and an amusing anecdote about how she dealt with her sudden and unexpected fame as the star of a series of commercials for Target ("a great character for progressives who shop at Target, because it's darkly funny in a Portland-y kind of way"). Bamford creates an effective mix of introduction (or reintroduction) to a fascinating comedian, a guide to the self-help industry, and an encouragingly lighthearted, respectful assessment of mental health, reminding readers that they are not alone. Laugh-out-loud funny, weird, and touching—a great example of what a celebrity memoir can bring to readers. Copyright © Kirkus Reviews, used with permission.
---
Publishers Weekly
(c) Copyright PWxyz, LLC. All rights reserved

Stand-up comedian Bamford catalogs all the "cults" she's joined—from Debtors Anonymous to "Suzuki-method violin training"—in search of structure and community in her hilarious, eyebrow-raising debut memoir. "I'm not suicidal, but I'm not particularly psyched," Bamford begins, teeing up for an honest account of her childhood OCD, early-adult recklessness, and eventual diagnosis with bipolar disorder, all of which compelled her to seek the organizing comforts of various 12-step programs. But "this is not going to have a clear chronicle of trauma, healing, victory," Bamford writes. "It's going to be more like a series of sudoku puzzles that I grow tired of trying to solve and a third of the way through start a new one, hoping it's easier." The anecdotes run the gamut from lighthearted (visiting Yellowstone's Old Faithful with her father and sister as a child) to worrying (moving to New Zealand with an obviously gay clown she'd fallen for after a few dates), and chapters are punctuated with tongue-in-cheek recipes "that only take a minute of wavering focus" to prepare, such as "chip off the floor" and "peanut butter between pieces of cheese." It's all delivered with Bamford's trademark blend of disarming intimacy and dark whimsy. The result is a consistently funny and occasionally heartbreaking glimpse into a unique comedic mind. Agent: Josh Krauss, Ginsburg Daniels Kallis. (Sept.)
---
Library Journal
(c) Copyright Library Journals LLC, a wholly owned subsidiary of Media Source, Inc. No redistribution permitted.

The search for mental equilibrium and a sense of belonging has no roadmap, has an uncertain destination, and is frequently characterized by setbacks and painful discoveries. This memoir by comedian and actress Bamford (You Are (A Comedy) Special) describes her own journey. Bamford is a well-known presence on the comedy circuit, with her own Netflix series, Lady Dynamite. Her work, which has received a number of prestigious awards, frequently focuses on her own struggles with her mental health. This book describes Bamford's relationship with her family and her experiences with various self-help programs, some of which—Debtors Anonymous, for example—were beneficial. The author vividly and evocatively notes her various hospitalizations and problems with finding the correct balance of medications that enabled her to work. Despite the sometimes grim subject matter, the book shines with Bamford's brilliance, relentless humor, and insatiable instinct for survival. She obviously wants to help others survive too. VERDICT Raw and discomfiting, but completely compelling. This is an essential read for Bamford fans and will likely reassure those who are on their own journeys.—Penelope J.M. Klein
---
Book list
From Booklist, Copyright © American Library Association. Used with permission.

Stand-up comedian and star of the Netflix series Lady Dynamite, Bamford debuts with a memoir in the form of humorous essays detailing her mental health struggles. Starting at a young age, she dealt with OCD, specifically obsessive thoughts and anxiety about small things (obsessive worry that she would lose control and give her mother or sister a nipple squeeze) and significant things (physical self-harm). She found some respite in the rigidity and repetitiveness of Suzuki method violin lessons and Richard Simmons workouts, though the latter also fed into her growing eating disorder. She subsequently joined a number of different twelve step programs including Overeaters Anonymous and Debtors Anonymous, and Sex and Love Addicts Anonymous, attributing this bid at organized improvement to her need for attention and desire to be better. Bamford also spends time in a psychiatric ward, seriously contemplates suicide, and is diagnosed as bipolar. In her signature oddball style, she honestly and hilariously discusses all of this while offering some weighty (yet somehow still funny) analysis of mental health stigma, our broken health care system, and taking advantage of people in genuine need of help. Those who love Maria Bamford will love this, and those who don't might by the end.