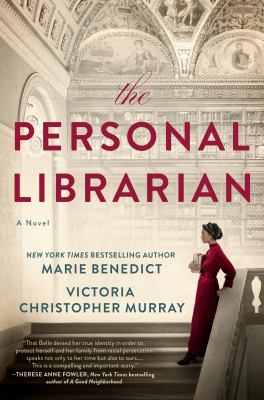 The Personal Librarian
by Marie Benedict and Victoria Christopher Murray


Kirkus The little-known story of the Black woman who supervised J. Pierpont Morgan's storied library. It's 1905, and financier J.P. Morgan is seeking a librarian for his burgeoning collection of rare books and classical and Renaissance artworks. Belle da Costa Greene, with her on-the-job training at Princeton University, seems the ideal candidate. But Belle has a secret: Born Belle Marion Greener, she is the daughter of Richard Greener, the first Black graduate of Harvard, and she's passing as White. Her mother, Genevieve, daughter of a prominent African American family in Washington, D.C., decided on moving to New York to live as White to expand her family's opportunities. Richard, an early civil rights advocate, was so dismayed by Genevieve's decision that he left the family. As Belle thrives in her new position, the main source of suspense is whether her secret will be discovered. But the stakes are low—history discloses that the career-ending exposure she feared never came. There are close calls. J.P. is incensed with her but not because of her race: She considered buying a Matisse. Anne Morgan, J.P.'s disgruntled daughter, insinuates that Belle has "tropical roots," but Belle is perfectly capable of leveraging Anne's own secrets against her. Leverage is a talent of Belle's, and her ruthless negotiating prowess—not to mention her fashion sense and flirtatious mien—wins her grudging admiration and a certain notoriety in the all-White and male world of curators and dealers. Though instructive about both the Morgan collection and racial injustice, the book is exposition-laden and its dialogue is stilted—the characters, particularly Belle, tend to declaim rather than discuss. The real Belle left scant records, so the authors must flesh out her personal life, particularly her affair with Renaissance expert Bernard Berenson and the sexual tension between Belle and Morgan. But Belle's mask of competence and confidence, so ably depicted, distances readers from her internal clashes, just as her veneer must have deterred close inquiry in real life. Strangely stuffy and muted. Copyright © Kirkus Reviews, used with permission.
Copyright © Kirkus Reviews, used with permission.
Library Journal New York Times best-selling author Benedict joins with Murray, a four-time NAACP Image Award Nominee for Outstanding Fiction, to reimagine the story of Belle da Costa Greene, hired by J.P. Morgan as his personal librarian to curate rare manuscripts, books, and artwork for the new Pierpont Morgan Library. But she has a secret: as the daughter of Harvard's first Black graduate, she is passing as white.
(c) Copyright Library Journals LLC, a wholly owned subsidiary of Media Source, Inc. No redistribution permitted.
Publishers Weekly Benedict (The Mystery of Mrs. Christie) and Murray (Wrath) deliver a powerful take on the accomplishments of J.P. Morgan's librarian. In 1906, Belle da Costa Greene is hired away from Princeton University to run the Pierpont Morgan Library. There, Belle adds notable works to the library's collection and successfully navigates a high-stakes auction. As Belle's position requires her to attend social events with New York's elite, she is ever cognizant of maintaining the secrecy of her Black heritage, asserting that her grandmother is Portuguese. Belle's father, Richard Greener, an equal rights advocate, was the first Black man to graduate from Harvard University, and left the family after Belle's mother insisted on raising her as white. Though Belle enjoys her personal success as J.P. Morgan's personal librarian, which brings her significant influence in the city's art world and rare books market, her public role increases her risk of exposure for passing as white, which she fears would cost her the job and bring an end to her family's financial support. Benedict and Murray do a great job capturing Belle's passion and tenacity as she carves a place for herself in a racist male-dominated society. This does fine justice to a remarkable historical figure. (June)
(c) Copyright PWxyz, LLC. All rights reserved
Book list Every element of this blockbuster historical novel is compelling and revelatory, beginning with the bedazzling protagonist based with awestruck care on Belle da Costa Greene. Hired in 1905 when she is her twenties, over the years Belle boldly oversees J. P. Morgan's world-class collection of rare books and illuminated manuscripts, strategically acquires treasures with witty charm and ruthless bargaining, and becomes the feared financier's most trusted confidante. She attains international renown while secretly navigating the severe risks involved in presenting herself as an olive-skinned white woman of Portuguese descent when she is, in fact, African American. To fully explore the reasons for and anguish of Belle's precarious double life, Benedict, who is white and the author of best-selling biographical novels featuring remarkable, overlooked women, and best-selling and remarkably versatile fiction-writer Murray, who is Black, joined forces to create a novel of enthralling drama, humor, sensuality, and insight. Belle's abiding belief in the radiance of books and art; her passionate and tragic relationship with renowned art historian Bernard Berenson, who is also hiding his true identity; and her longing for her father, Richard Greener, the first Black man to graduate from Harvard, deepen this resounding tale of a brilliant and resilient woman defying sexism, classism, and racism during the brutality of Jim Crow. Benedict and Murray do splendidly right by Belle in this captivating and profoundly enlightening portrayal.
From Booklist, Copyright © American Library Association. Used with permission.
Library Journal Novelists Benedict (The Mystery of Mrs. Christie), who is white, and Murray (Stand Your Ground), who is Black, collaborate on an excellent book about Belle da Costa Greene, a powerful real-life figure in early 20th-century New York City. In 1905, J.P. Morgan hired Greene as the librarian to his private collection of art and rare books and manuscripts; she worked tirelessly (selling and acquiring millions of dollars of works) to turn it into the major public collection now known as the Pierpont Morgan Library. Greene became the first director of the Morgan Library when it was opened to the public. In Benedict and Murray's novel, Belle enters a society dominated by men, where she makes her mark with her incredible knowledge of books, art, and people. But she fears that someone will learn her secret: that she is a Black woman in a white social circle. When Belle's father left the family, Belle's mother had moved them from Washington, DC, to New York, where, with their light skin, the family could "pass" for white. Belle doesn't want to live a lie, but she knows that many doors would close to her if she revealed her origins. VERDICT This fictional account of Greene's life feels authentic; the authors bring to life not only Belle but all those around her. An excellent piece of historical fiction that many readers will find hard to put down.—Pamela O'Sullivan, Coll. at Brockport Lib., SUNY
(c) Copyright Library Journals LLC, a wholly owned subsidiary of Media Source, Inc. No redistribution permitted.