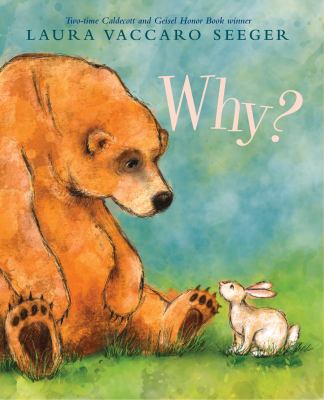 Why?
by Laura Vaccaro Seeger


Kirkus A patient bear deftly answers most of a childlike rabbit's many "whys."As the two friends perch with a telescope beneath a starry sky, the rabbit's "Why?" garners a contextual answer: "Because they are very far away." When the bear guzzles honey from three large jars, the inevitable query is met with "Because it tastes so good." The turn of the page reveals a reclining, lethargic bear. "Why?" "Because I ate too much." Seeger's patterned text invites readers to tease out what the friends' spare conversation leaves unsaid, scanning for clues among the pictures. Comic moments derive from the bear's succinct responses: The rabbit, buffeted while hanging from a branch ("Wind"), falls into the bear's arms ("Gravity"). Seeger's watercolors capture seasonal changes as nature's greens yield to falling leaves and flurrying snow. When the rabbit contemplates a dead cardinal, vivid red against the snow, the bear, eyes conveying emotion, says, "I don't know why. Sometimes I just don't know why!" As the bear moves toward a beckoning cave, the rabbit begs the bear to stayand it's the bear's turn to ask "Why?" A final scene shows the slumbering bear, the rabbit gazing from above, as snow falls. There are poignant echoes of Margaret Wise Brown's The Dead Bird and Raymond Briggs' The Snowman here.Not all questions can be answered, but the communion of friendship lights much of life's path. (Picture book. 4-8) Copyright Kirkus Reviews, used with permission.
Copyright © Kirkus Reviews, used with permission.
Book list One of Seeger's great talents is distilling a child's concerns to their essence. Here the stand-in for the child is a sweet white rabbit who can be frisky and contemplative by turns, but what she does most consistently is ask the one-word question of the title. A shaggy brown bear with a remarkably expressive face is helpfully there to answer. What Rabbit is questioning never needs to be spelled out, because it is so simply depicted in the lovely, focused watercolor illustrations. As he waters flowers, Bear responds to the ""why?"" by saying, ""Because flowers need water to grow."" As Bear guzzles pots of honey, the reason is because it tastes good. And when he's lying against a rock, holding his stomach, it's because he ""ate too much."" But for some things, there are no answers. Rabbit spies a robin dead in the snow, and a sad Bear can only say, ""Sometimes I don't know why."" This celebration of friendship, which Seeger moves seamlessly through the seasons, gives children the opportunity to intuit that, while things change, there is also stability in love and relationships. A poignant ending reiterates that bond, which will be touching for children who like to ask plenty of questions and for the adults on whose laps they sit.--Ilene Cooper Copyright 2019 Booklist
From Booklist, Copyright © American Library Association. Used with permission.
Publishers Weekly A little white rabbit is always asking, "Why?"-to which his kind, even-tempered bear friend usually has a simple but satisfying response. "Why?" the rabbit asks, watching the bear water a patch of blooms. "Because flowers need water to grow," the bear replies. Seasonal watercolor spreads by Seeger (Blue) are idyllic; the bear, painted in radiant, translucent oranges and browns, is patient but not paternal, which grants the small wiry rabbit a modicum of independence. But when winter arrives and the latter finds a dead cardinal in the snow-a startling but beautiful image-the refrain suddenly becomes too big for even the massive bear: "I don't know why. Sometimes I just don't know why," it says, trudging away to hibernate. Coming full circle, the rabbit asks its friend to stay ("Why?" the bear asks. "Because then I would miss my friend.... That's why") and patiently keeps watch while the bear sleeps. But the ending feels more flat than uplifting, and readers may not be able to get past rabbit's toddlerlike querying habit to appreciate its fondness for its friend. Ages 4-8. Agent: Steven Malk, Writers House. (Aug.) © Copyright PWxyz, LLC. All rights reserved.
(c) Copyright PWxyz, LLC. All rights reserved
School Library Journal PreS-Gr 1—"'Why?' asked the rabbit," as a honey colored bear placidly waters the flowers, "'Because flowers need water to grow.'" And so the story progresses; Bear acts, Rabbit wonders, and Bear provides straightforward explanations. The text and illustrations must be interpreted together for readers to understand the context of the question—sometimes to humorous effect, such as the spread that shows Rabbit poking out of a hole while Bear explains, "Because I am way too big to fit." The larger font used for Rabbit's "Why?" conveys the inescapable intensity of the little creature's persistent questioning. Seasons change, and the questions come faster and faster, outpacing Bear's answers until a dead bird in the snow prompts the gentle giant to answer, "I don't know why. Sometimes I just don't know why!" Bear turns to leave,Rabbit chases after. '"Don't go,' said the rabbit.'" And the tables are turned as Bear is the one asking why while Rabbit explains, "Because then I would miss my friend." Readers see through the illustrations that it's time for Bear to hibernate, but are reassured that the friendship will last as Rabbit watches over Bear's wintery cave. Seeger's slightly anthropomorphized characters eloquently convey their feelings through body language. VERDICT Illustrations and text meld to provide a rich one-on-one reading experience that will be particularly resonate for any adult who has cared for a child in the 'why' phase.—Anna Haase Krueger, Ramsey County Library, MN
(c) Copyright Library Journals LLC, a wholly owned subsidiary of Media Source, Inc. No redistribution permitted.