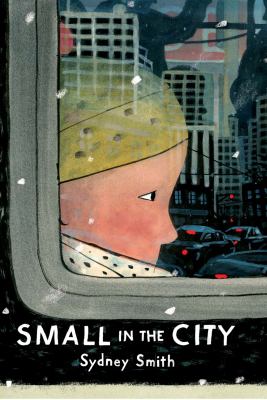 Small in the City
by Sydney Smith


Book list A boy feels small in a big city. He gets off a train, and the simple first-person narrative explains that People don't see you and loud sounds can scare you. As he makes his way through the town, he offers advice, which at first seems directed to the reader: alleys can be good shortcuts, if they're not too dark; vents can spew warming air; the church radiates music. But some of the comments seem odd: the fishmongers down the street . . . would probably give you a fish if you asked. Near the book's conclusion, the boy puts up a flyer about his lost cat. He hopes it will remember how nice home is, but also realizes that no matter what, I know you will be all right. The straightforward text is juxtaposed against stirring artwork whose drama is heightened by the swirling snowstorm that permeates the pages. The ink, watercolor, and gouache pictures have a unique, sometimes startling look as they divide into strips or fill the pages. They capture both the city's pace and its stark beauty, even on a raw winter's day. Smith's art has been award winning, but here he becomes author as well as illustrator. He does both titles proud in this stirring piece.--Ilene Cooper Copyright 2010 Booklist
From Booklist, Copyright © American Library Association. Used with permission.
Kirkus A child navigates the city's relentless sights and sounds.The child, light-skinned but with race and gender ambiguous under layers of winter outerwear, pulls the stop-request string inside the bus and trundles into the midtown maw. A savvy kid, but so small within the double-page spread of skyscrapers, commuters, stoplights, and construction. Text appears in the white space between buildings, "I know what it's like to be small in the city." Young readers will feel their hearts constrict, as they all know what it's like to confront a towering, intimidating world. Hand-drawn frames, presented in quadrants, contain both powerful close-ups and wider scenes (taxi taillights, crosswalks, chain fencing, the child's bobbing pom-pom) that mark time and distance. A page turn delivers full-page pictures of the looming city, with dizzying linework and detail. Cinematic scenes feel at once atmospheric and photorealistic. With snow accumulating and light dwindling, the narrator gives voice to the reader's concern: "People don't see you and loud sounds can scare you, and knowing what to do is hard sometimes." This incisive language distills the hardest part of childhood: the precarious hold small people have on their own agency. A brilliant narrative twist reveals itself at the end of this tender picture book, which stretches readers' concern painfully as the voice begins warning of dark alleys and dogs, and points to warm churches and free food.Extraordinary, emotional, and beautifully rendered. (Picture book. 6-10) Copyright Kirkus Reviews, used with permission.
Copyright © Kirkus Reviews, used with permission.
Horn Book An intrepid child on the move in the big city speaks directly to an unknown someone, dispensing advice and encouragement. With full-bleed spreads juxtaposed with ones featuring small vignettes, Smith expertly communicates the city's chaos and bustle with line, color, and scale. This emotionally resonant ode to the resilience of small creatures in a big, loud world is tender and timeless--and a masterful merging of art and text. (c) Copyright 2021. The Horn Book, Inc., a wholly owned subsidiary of Media Source, Inc. No redistribution permitted.
(c) Copyright The Horn Book, Inc., a wholly owned subsidiary of Media Source, Inc. No redistribution permitted.
Publishers Weekly In his solo debut, Smith (Town Is by the Sea) follows a bundled-up child walking in winter amid tall buildings, traffic, and telephone poles. "I know what it's like to be small in the city," the narration begins. As it continues, readers slowly realize that the child is addressing someone in particular. Snow starts to swirl, and the child begins to offer advice: watch out for big dogs; a dryer vent might be a good place for a nap ("you could curl up below it"). The winter wind whips, and snow swirls faster. The child bends over a knapsack for a pink sheet of paper; "LOST," it reads, over a picture of a cat. (A look back reveals the posters affixed all over town.) "If you want," the child says, in words readers now understand are directed at the lost feline, "you could just come back." Smith's understated portrait of longing for the return of a beloved family member takes readers on a quiet but powerful emotional journey, one whose intensity Smith tracks visually as the winter storm becomes a blizzard and the driving wind makes it nearly impossible to see—until, just as suddenly, it lifts. The story's spotlight is not on the loss of the pet, or on its return, but on the state of suspension in between—a mixture of grief, resignation, and patient waiting—and the independent child narrator's loving regard for the animal as an autonomous being. Ages 4–8. (Oct.)
(c) Copyright PWxyz, LLC. All rights reserved
School Library Journal PreS-Gr 1—Wordless panels show someone's silhouette looking out of a foggy window. The page turns and perspective shifts to show a child riding the bus dressed for winter. The child disembarks and the next few pages are presented like snapshots, with snippets of city life—buildings, lights, crowds, and sidewalks—painted with dark ink lines that underscore the narrator's message about how overwhelming urban life can be. The child recommends avoiding a dark alley and a yard full of dogs, and points out some good hiding and climbing spots. Casual readers may be alarmed when the child recommends taking a nap beneath a snowy dryer vent, but there are clues about who the child is actually addressing. As the snow intensifies, the child trudges along putting up lost cat posters, seeming smaller and lonelier as the book progresses. The story culminates in a desolate scene where the child, alone in a gray blizzard, plaintively calls, "If you want, you could just come back," followed by images of footsteps in the snow, a city skyline, and a woman waiting in the snow. They embrace, and readers know that the child is safe and loved. "But I know you." The child comforts, "You will be all right." The final page shows a line of fresh cat prints in the snow, reassuring readers that all is well. VERDICT The use of line, reflection, and perspective masterfully evoke a bustling gray city, making this thoughtful book an artful choice for large collections.—Anna Haase Krueger, Ramsey County Library, MN
(c) Copyright Library Journals LLC, a wholly owned subsidiary of Media Source, Inc. No redistribution permitted.