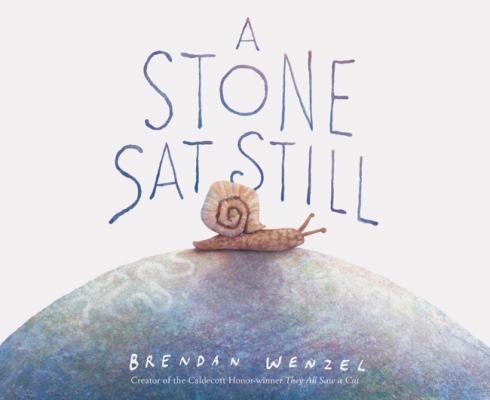 A Stone Sat Still
by Brendan Wenzel


School Library Journal K-Gr 4—Wenzel scores another hit with this engaging and though-provoking companion to They All Saw a Cat. "A stone sat still/with the water, grass, and dirt/and it was as it was/where it was in the world." Lyrical text, stunning mixed-media artwork, and cleverly shifting perspectives reveal how this object is at once static and ever-changing, predictable yet filled with possibility, seemingly eternal yet somehow vulnerable. The stone is "dark" when swathed in shadow, and "bright" when bathed in moonlight. It's "loud" when a seagull uses it to break apart a clam, and "quiet" when a snake sits curled atop; "rough" (compared to a slug) and "smooth" (compared to a porcupine); a "pebble" to a moose, and a "hill" to a tiny insect. As various animals discover, the stone is "a danger," "a haven,' "a story," "a stage," and so much more. Detail-packed illustrations work closely with the text to eloquently convey this sedentary stone's role in its surrounding biome. Observant readers will notice that the water levels surrounding the stone are rising, which becomes first "an island," then "a wave," then "a memory" as it disappears beneath the surface, continuing to sit "still in the world" surrounded by seaweed and sea creatures. VERDICT Showcasing at-a-glimpse activities of an array of animals, this book offers small stories to pore over as well as bigger ideas to ponder, including the influence of viewpoint, the relationship between wildlife and habitat, the impact of environmental issues, and the vagaries of time.—Joy Fleishhacker, Pikes Peak Library District, Colorado Springs
(c) Copyright Library Journals LLC, a wholly owned subsidiary of Media Source, Inc. No redistribution permitted.
Book list What at first may seem like a retread of 2016's Caldecott Honor Book They All Saw a Cat takes the beautifully proven concept and elevates it to awe-inspiring heights as, by broadening the scope yet still focusing on the little moments it contemplates infinity. Wenzel's text sets a steady beat: A stone sat still / with the water, grass, and dirt / and it was as it was / where it was in the world. Each spread observes the same small boulder, impressionistically depicted through a specific animal's perspective. Wenzel's familiar mixed-media style is sometimes placid and picturesque; other times, it's active and intense; but it always holds to the purposes of poetry, tone, and science. Every image offers interaction, whether through interpretation of the animal's relationship to the stone or through revelation of the secrets hidden within the layered artwork. Periodically, a visual refrain returns us to a snail that makes its way, bit by bit, over the stone. For it, the stone was an age, and as the book progresses, the passage of time brings steadily rising waters. In the end, the stone becomes an island and then a wave, and finally, to an owl soaring over the sea-flooded world, the stone was a memory. Yet on the ocean floor, where the stone still sits, another snail begins its journey.--Ronny Khuri Copyright 2019 Booklist
From Booklist, Copyright © American Library Association. Used with permission.
Publishers Weekly As in They All Saw a Cat, Wenzel's poem focuses on how point of view affects experience. This time, his subject is a humble stone: "A stone sat still/ with the water, grass, and dirt,/ and it was as it was/ where it was in the world." In each spread or vignette, a different wild creature encounters the round rock. A wide-eyed chipmunk perches on it as the sun casts it in shadow ("and the stone was dark"); at night, an owl peers at it lit by the moon ("and the stone was bright"). After a gull breaks a clam on its surface ("and the stone was loud"), a snake sunbathes there ("and the stone was quiet"). Animals witness it turning different seasonal hues and encounter it variably as smooth and rough, large and small, "a blink" and "an age." Alert readers will notice that the water beneath the stone rises as the pages turn-eventually, great waves overtake it in spreads that reveal a vast expanse of silvery water. But the stone isn't gone: under the waves, it "sits still in the world," a small snail upon it. "Have you ever seen such a place?" Wenzel asks. Look closely, his words say: even the most seemingly insignificant bits of Earth offer splendor. The wonderful mixed-media creatures and their encounters entertain, while bigger ideas suggest all kinds of conversations about perception and perspective, wildlife and habitat, local and global change, and eternity and evanescence. Ages 3-5. Agent: Steven Malk, Writers House. (Aug.) © Copyright PWxyz, LLC. All rights reserved.
(c) Copyright PWxyz, LLC. All rights reserved
Kirkus As with Wenzel's Caldecott Honor-winning They All Saw a Cat (2016), this picture book plays with perspective to examine characteristics of one objecta stoneas it is experienced by a multitude of creatures.When a sea gull perches atop the stone to crack open a clam, it is "loud." When a snake curls upon it to rest in the sun, it is "quiet." But no matter what, the stone "was as it was / where it was in the world." Wenzel's mixed-media illustrations use a muted color palette well suited to this presentation of the natural world. Readers experience the stone's sensory qualities through the text and its relationship with slightly anthropomorphized animals. In the dark, the stone is "a feel," as curious-looking raccoons know it through their paws, while it's "a smell," lit up in vibrant colors, to a hunting coyote, who sniffs the scents of the creatures who have previously passed. The book's only misstep is the addition of three unnecessary spreads at the end that directly ask readers if they've "ever known such a place?" Coming as they do after text that reads, "and the stone was always," these spreads cannot help but feel anticlimactic. A gentle celebration of sameness and change. (Picture book. 4-8) Copyright Kirkus Reviews, used with permission.
Copyright © Kirkus Reviews, used with permission.