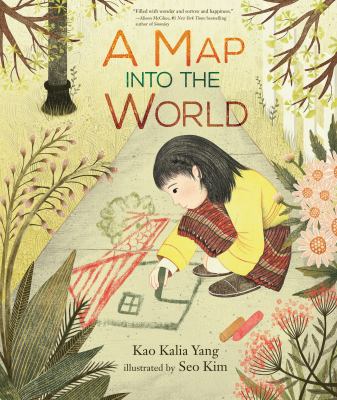 A Map into the World
by Kao Kalia Yang


School Library Journal Gr 2–5—The world can be a lonely and confusing place, but with the right companionship, it can be more easily navigated. Paj Ntaub and her Hmong family move into a new house with a swing and a garden, just in time to welcome her new baby twin brothers into their home. Her family befriends the elderly couple across the street, often waving back and forth, especially when things are overwhelming inside the houses. Over the winter, the man's wife dies, and when the weather again turns warm, Paj Ntaub executes a brave and insightful plan to reach out to her grieving neighbor. Written in a simple style with lyrical phrases peppered throughout, the heartfelt narrative allows readers to appreciate the depth the child's musings. The endpapers showcase a story cloth depicting how the Hmong people came to America. Beautiful, detailed illustrations are rich in color, texture, and emotion, lifting the story off the page; an emotional ending will leave tears in the eyes of some readers. VERDICT This is an excellent addition to elementary school libraries, especially as an enhancement to selections about intergenerational love and acceptance, and immigration stories about bridging cultures.—Mary Lanni, formerly at Denver Public Library
(c) Copyright Library Journals LLC, a wholly owned subsidiary of Media Source, Inc. No redistribution permitted.
Horn Book A Hmong American family--mother, father, Tais Tais (grandmother), and little girl--moves into a cozy house across the street from a loving elderly couple, Bob and Ruth. The girl's twin baby brothers are born; the seasons pass; the outdoor landscape changes; and in wintertime Ruth dies. When spring comes, Bob takes his seat on the "special bench" that he and Ruth had shared; it's clear that he is grieving, and the little girl uses her skill with sidewalk chalk--and her great compassion--to brighten up his outlook and their neighborhood. Yang's story is an understated (if somewhat sentimental) snapshot of family life over the course of a quietly transformative year. The text is straightforward and spare, with touches of lyricism ("The house across the street looked empty. The gingko trees reached for the sky with their thin fingers"). Culturally specific details are naturally incorporated into the text and into the textured, delicate-lined, digitally created illustrations. A brief glossary on the copyright page explains that the protagonist's name, Paj Ntaub, is both a girl's name and the word for the traditional needlework often used to create story cloths like the one hanging on the family's wall (also shown in close-up detail on the endpapers), "which visually represent and document the experiences of the Hmong people across time, including families' journeys as refugees. (c) Copyright 2021. The Horn Book, Inc., a wholly owned subsidiary of Media Source, Inc. No redistribution permitted.
(c) Copyright The Horn Book, Inc., a wholly owned subsidiary of Media Source, Inc. No redistribution permitted.
Kirkus A young Hmong American girl shares the small things of wonder that make up her world.When Paj Ntaub moves into a new green house with big windows with her family, the garden grows with "tomatoes, green beans, and a watermelon as round as my mother's belly." Soon, the green house becomes their house. Paj Ntaub helps "Tais Tais hang the special story cloth about how the Hmong got to America." She exchanges waves with her neighbors Bob and Ruth, an elderly white couple even older than Tais Tais. And changing seasons usher in life and death. In gentle prose, Yang's picture-book debut explores nature, community, and connection. Twin brothers are born amid the summer bounty in the garden. On a snowy, cold morning, loss arrives, and bare gingko trees "[reach] for the sky with their thin fingers" against the new emptiness of the house across the street. When the world becomes green again, Paj Ntaub draws together these connections in a neighborly gesture of comfort. Using digital graphite, pastels, watercolor, and scanned handmade textures, Kim brings detailed dimension to the green house and the world around it. Alternating perspectives capture the expansiveness of the outside as well as the intimacy of Paj Ntaub's observations.Contemplative, curious, and kind. (Picture book. 5-9) Copyright Kirkus Reviews, used with permission.
Copyright © Kirkus Reviews, used with permission.
Publishers Weekly Yang (The Song Poet for adults), a Hmong writer making her picture book debut, offers a story about a girl who notices things. Young Paj Ntaub (both a girl's name and a term that nods to needlework tellings of Hmong experiences) moves with her family to a green house and helps to hang their story cloth "about how the Hmong got to America" on the wall. When her twin baby brothers cry too loudly, her father takes her outside, where they wave to their elderly neighbors, Bob and Ruth. In lovingly detailed spreads, Kim, making her U.S. debut, draws all the things that Paj Ntaub sees: gingko leaves ("yellow like apricots"), winter snow, a worm. When Ruth dies in the winter, and Paj Ntaub notices Bob grieving come spring, she chalks a wealth of previously regarded details on his driveway—"a map into the world," she explains. Though age separates them, Paj Ntaub's accounting of everyday details reaches Bob—and gives voice to the child's experience, too. A distinctive story that weaves together threads of family life, community and culture, the natural world, and the power of stories. Ages 7–8. (Oct.)
(c) Copyright PWxyz, LLC. All rights reserved
Book list A year brings many changes to a Hmong girl's world. Paj Ntaub and her family move to their house in the summer, when her mother's belly is round with twins and the garden is flourishing. Across the street live Ruth and Bob, an elderly couple with whom they exchange friendly waves. The seasons change, twins are born, and Ruth dies. To comfort Bob, Paj Ntaub makes a chalk drawing on his driveway that features elements from her year and nods to the story cloth her family keeps that commemorates their journey to America. Although readers see the story cloth on the wall and at the end, what it details is never really explained, though a brief note on the copyright page describes what it is and who the Hmong people are. This is more of a relationship story, showing how Paj Ntaub engages with her brothers and grandmother and how neighboring families come together when sadness strikes. Kim's digital artwork using pastels, graphite, watercolors, and hand-scanned textures captures the warmth of family, the charm of changing seasons, and the depth of friendships.--Ilene Cooper Copyright 2010 Booklist
From Booklist, Copyright © American Library Association. Used with permission.