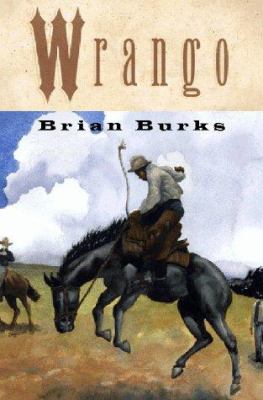 Wrango
by Brian Burks


Book list Gr. 5^-8. Basing his story on the early years of African American cowboy George McJunkin, Burks spins a historical tale about a young man who yearns to ride the range. After he inadvertently squares off against the Klan to protect his father, George leaves town to save his own life. It isn't long before he lucks into a three-month stint as a horse wrangler on a cattle drive. By the time the cattle are in the boxcars, he has survived a rattlesnake bite, rescued an enemy from drowning, and helped catch a murderous thief. Supporting characters are not developed, and the events sound cliched. But Burks capably handles the goings on with honest dialogue and a wagonload of action--particularly in the scene describing the crossing of the treacherous Red River. An epilogue sketches in the real George's later years, but unfortunately, Burks never tells how much of the novel is actually fact. A glossary of cowboy slang is appended. --Randy Meyer
From Booklist, Copyright © American Library Association. Used with permission.
Library Journal Gr 4-8-A fictionalized biography of black cowboy George McJunkin's first cattle drive at age 16, Wrango is an affecting history lesson. Wrangling being the closest thing to an equal-opportunity vocation following the Civil War, it attracts George, who joins his mentor, Senor Valarde, on the Chisholm Trail herding cattle from Comanche, TX, to the rail yards in Abilene, KS. Racism surfaces-an ironically fortuitous run-in with the Klan in his south Texas hometown provides the catalyst George needs to cut the apron strings and begin his career as a cowboy; a jealous cowpuncher questions his place on the trail-but the rigors of the cattle drive generally supersede, or at least postpone, individual confrontations. Burks hints at McJunkin's intellectual potential through his desire to learn to read combined with an archaeological curiosity that would lead many years later to his discovery of the skeleton of "Folsom Man" in New Mexico. Indians, horse thieves, cholera, harsh weather, erratic terrain, and even herds of buffalo provide unifying adversaries for this mix of cowboys and vaqueros. Addenda include a frontispiece portrait of McJunkin on his horse taken when he was about 60-years-old, a map of the Chisholm Trail, and a brief glossary of cowboy/vaquero lingo. Fans of Denise Lewis Patrick's The Adventures of Midnight Son (Holt, 1995) will want to read this absorbing chronicle of a slightly older, equally introspective, although perhaps a bit cooler-headed, former slave who is determined to be his own man, proud and free.-John Sigwald, Unger Memorial Library, Plainview, TX Copyright 1999 Cahners Business Information.
Copyright © Reed Business Information, a division of Reed Elsevier Inc. All rights reserved.