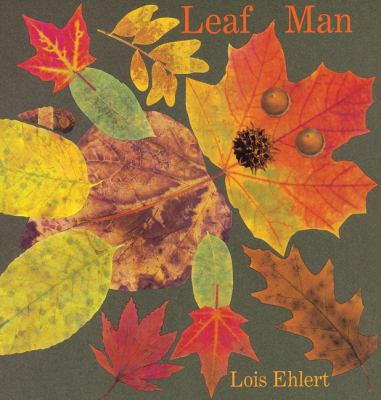 Leaf Man
by Lois Ehlert


School Library Journal PreS-Gr 3-Ehlert combines vivid collage artwork, effulgent colors, and an inventive design to create an eye-catching picture book. With a body made of fallen leaves and acorns for eyes, Leaf Man takes off from a backyard and flutters away on the breeze, meandering past animals, over fields of fall vegetables, above waterways, and across prairie meadows. The text suggests a range of possible destinations, along with the refrain, "Well, a Leaf Man's got to go where the wind blows." Finally, readers are encouraged to listen for "a rustle in the leaves" and maybe find a Leaf Man of their own to take home. From ducks to pumpkins to fish, all of the objects described are fashioned out of life-size leaves of various shapes, sizes, and hues and set against backgrounds of textured paper. The die-cut pages curve and bend across the top edge, suggesting undulating mountains set against a sky-blue backdrop. The various leaves and seeds are identified on the endpapers. While the story is simple, the artwork is dazzling, and the book's concept will inspire nature walks, art projects, and curiosity about the changing seasons.-Joy Fleishhacker, School Library Journal Copyright 2005 Reed Business Information.
Copyright © Reed Business Information, a division of Reed Elsevier Inc. All rights reserved.
Book list PreS-Gr. 2. Ehlert's imaginative way with picture books in general and those of the natural world in particular continues with this eye-popping book that follows one bold maple leaf with acorn eyes as the wind blows it here and there. In a brief author's note, Ehlert describes how she picks up leaves wherever she goes. She uses them--gathered from oaks, hawthorns, elms, beeches, and more--to great affect here, cleverly shaping them into the many animals and objects the leaf flies over: chickens, fruits and vegetables and lakes, fish, and rivers. Hints of whimsy are cleverly incorporated in the figures (the tips of a maple leaf form a cow's udder), and scalloped edgings on the tops of the pages, cut at varying heights, artfully give the effect of setting the action against a three-dimensional landscape. There is no real story here, but the book can easily translate into a guessing game, as young eyes pick out the slightly camouflaged shapes. The bright colors and distinctive shapes will make it a pleasure for children to do just that. --Ilene Cooper Copyright 2005 Booklist
From Booklist, Copyright © American Library Association. Used with permission.
Publishers Weekly Ehlert (Red Leaf, Yellow Leaf) returns to one of her favorite themes-the rainbow beauty of autumn leaves-for this refreshing riff on leaf peeping and collecting. A narrator recalls the Leaf Man that used to live nearby but recently blew away with the wind. "He left no travel plans." From that breezy beginning, the narrator imagines the different flight patterns the Leaf Man may have followed "past the chickens, toward the marsh,... over the prairie meadows,... past the spotted cows," and punctuates the lyrical text with an occasional refrain ( "a Leaf Man's got to go where the wind blows"). All the while, Ehlert sparks her foliage flight of fancy with her snazzy leaf collages. Fiery maple, brown mottled catalpa and bright yellow ginko leaves take the shape of various animals and objects on each spread. The boldly colored background papers, of varying texture, make the leaves pop. And, in the type of clever book design for which Ehlert is known, the pages are die-cut and/or patchworked at the top to create a rolling, flowing effect throughout. Endpapers serve as a labeled field guide to leaf varieties and an author's note expresses Ehlert's passion for her subject, and describes her art technique. After this visual feast, young nature lovers are sure to look with fresh eyes as they walk through the woods. Ages 4-8. (Sept.) Copyright 2005 Reed Business Information.
Copyright © Reed Business Information, a division of Reed Elsevier Inc. All rights reserved.