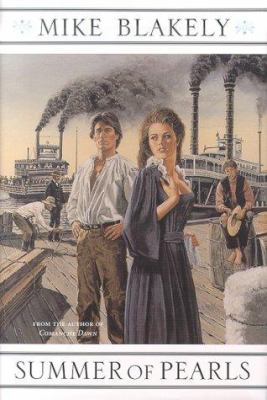 Summer of Pearls
by Mike Blakley


Publishers Weekly Homespun western charm flavors Blakely's slim historical fiction about one of the many "pearl rushes" that occurred between 1850 and 1910. Ben Crowell is 14 when his riverboat town of Port Caddo, Tex., erupts with pearl fever the summer of 1874, a season that also experiences a mysterious murder and the town's inevitable decline. Ben's tale begins when a riverboat explodes and a heroic stranger named Billy Treat saves Ben's life. Billy then settles into town, as does Judd Kelso, the cruel captain of the steamship whose engine blew. Suave Billy and vulgar Judd join young Ben in being infatuated with lovely Carol Anne "Pearl" Cobb, so nick-named because she trades sexual favors for the irregular and discolored pearls found in local freshwater mussels. No one guesses they are worth anything until Billy, a one-time pearl trader, introduces Pearl to Captain Trevor Brigginshaw, a burly international gem buyer who sets off a rush when he purchases her collection for $3,000. Treasure hunters barrage Caddo Lake, bringing business to an old-fashioned town and attracting the notice of a Pinkerton detective. Accused of skimming off the top, Brigginshaw goes to prison, only to be freed by a flood that literally sweeps him and Billy out of town. Pearl, heartbroken for Billy, now needs protection from Judd, and Ben is just the lovesick boy for the job. When Judd ends up with a knife in his chest, Port Caddo is left to ponder who killed him. Seven decades later, the nostalgic Ben, now an old man, treats readers to the romantic but perfectly pat answerÄa less suspenseful but dependable denouement. Blakely (Too Long at the Dance; Comanche Dawn) offers an easy, sentimental read, though some of his ambitious 19th-century gem seekers lack the luster of their best finds. (Sept.) Copyright 2000 Cahners Business Information.
Copyright © Reed Business Information, a division of Reed Elsevier Inc. All rights reserved.
School Library Journal Adult/High School-Ben Crowell, now in his 80s, looks back on what was the most wonderful and meaningful time of his life-the summer of 1874-his 14th year. Port Caddo, TX, a once-thriving riverboat community, is struggling for survival in the face of the threat of coming railroads. A series of events, starting with the suspicious explosion of the steamboat Glory of Lake Caddo, on which Ben was a passenger, and his heroic rescue by the steamboat's cook, Billy Treat, resurrect the dying community. Billy Treat decides to remain there, and his discovery of a perfect pearl sets off the "Great Caddo Pearl Rush" of 1874, which at least for that summer brings prosperity to the town. Readers meet "Pearl" Cobb, Ben's first love; his friends; and Judd Kelso, the villain of the story whose murder remains a mystery for 40 years. The well-developed and carefully defined characters, the detailed setting, and the humor and adventure make this spare novel totally satisfying.- Pamela B. Rearden, Centreville Regional Library, Fairfax County, VA Copyright 2001 Cahners Business Information.
Copyright © Reed Business Information, a division of Reed Elsevier Inc. All rights reserved.