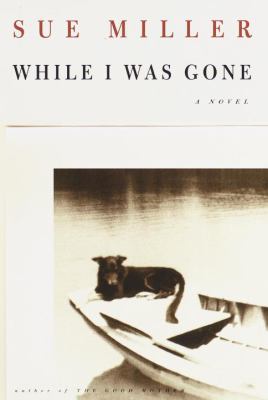 While I Was Gone
by Sue Miller


Library Journal Thirty years ago, Joey Becker's carefree bohemian life was shattered by the brutal, unsolved murder of her best friend, Dana. Joey coped with her loss while building a career, marrying, and raising a family. She thinks she is happy, but ever since her children have left home Joey has felt a vague sense of disappointment. She cannot share the depth of her feelings for Dana with anyone, even her husband. Then Eli, Joey and Dana's former housemate, arrives in town. Joey and Eli are first drawn to each other because they both loved Dana and still mourn her, but their mutual attraction grows until it threatens Joey's marriage and her relationship with her daughter. Miller (The Good Mother, LJ 5/15/86) presents a suspenseful, penetrating look at the tenuous bonds of love, the ease with which even a good marriage can be destroyed, and the need to forgive ourselves for the mistakes of the past. Highly recommended for all public libraries. [Previewed in Prepub Alert, LJ 10/1/98.]?Karen Anderson, Superior Court Law Lib., Phoenix
Copyright © Reed Business Information, a division of Reed Elsevier Inc. All rights reserved.
Book list The domestic scene is Miller's terrain, a place where steadiness is hoped for by all parties involved but where earthquakes are bound to come along and disassemble the landscape. So it was in perhaps her most famous novel, The Good Mother (1986), about a child-custody battle, and so it is in her latest effort, about the incredibly unexpected results of a close encounter with marital infidelity. Joey Becker is 52, a successful veterinarian and married to a man she deeply loves. She has three children who present her with motherly concerns, but, overall, they are an asset to her life. Then one day a man she had lived with in a community of other young people, at a time when she had fled from her first husband, reappears. But something had happened to one of their housemates back then: she was brutally murdered. When this man from Joey's past reappears, Joey is attracted to him like a moth to a flame. But her attraction leads to his confession of the killing so many years ago. The horror of this knowledge traumatizes her, and the fact that she instigated a rendezvous with the man in the first place threatens to ruin her happy marriage. In her signature straightforward prose, Miller captures the thrill of the unknown and the draw of the known. --Brad Hooper
From Booklist, Copyright © American Library Association. Used with permission.
Library Journal Thirty years after she discovers her best friend murdered, Jo Becker finds her now-happy life unraveling.
Copyright © Reed Business Information, a division of Reed Elsevier Inc. All rights reserved.
Publishers Weekly The shadowy and inexorable nemesis of past secrets to a reclaimed life, and the inability even of those who are intimates to really know one another, are poignant themes in Miller's resonant fifth novel. Narrator Jo Becker, now a veterinarian married to a minister in a small Massachusetts town, was once a runaway bride who assumed a false name and lived with other dissaffected '60s bohemians in a group house in Cambridge. Her special friend in the house was sweet-spirited and generous Dana Jablonski, whose shocking?and unsolved?murder broke up the group and left Jo with unresolved questions about her own identity. She manages to ignore the memories of that time until, almost three decades later, one of the former housemates, Eli Mayhew, moves to her town. Eli, now a distinguished research scientist, provides a revelation that acts as the catalyst provoking Jo to face her guilt about her past behavior?and to act impulsively once again. Her moral conundrum occasions a heartrending change in her heretofore strong marriage and undermines her relationship with her three grown daughters. As usual, Miller (The Good Mother; Family Pictures) renders the details of quotidian domesticity with bedrock veracity and a sensitivity to minute calibrations of family dynamics, especially the nuances of sibling rivalry. But while the pacing, tone and measured exposition are handled with masterly skill, the way in which Jo's decision to make amends for her past rebounds on her present life seems staged and convoluted, since her husband and children seem to think that retribution for a murder should take second place to their own emotional needs. That cavil aside, Miller's narrative is a beautifully textured picture of the psychological tug of war between finding integrity as an individual and satisfying the demands of spouse, children and community. 150,000 first printing; Random House audio; BOMC selection; author tour. (Feb.)
Copyright © Reed Business Information, a division of Reed Elsevier Inc. All rights reserved.