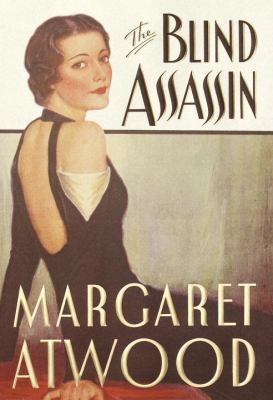 The Blind Assassin
by Margaret Atwood


Book list Stories spin within stories in this spellbinding novel of avarice, love, and revenge. It begins in Toronto in 1945 when Laura Chase, 25 years old, drives a car off a bridge. Iris Chase Griffen, her older sister and wife of a wealthy and conniving businessman, seems more concerned with the proper attire for her trip to the reporter-ringed morgue than with her sister's fate, but readers should never underestimate an Atwood heroine's capacity for self-discipline and subterfuge. Iris has had to perfect the art of self-abnegation ever since her mother's death, when her father, a compassionate manufacturer, asked her to look after Laura. Sheltered and naive, the girls were ripe pickings for Richard, to whom their father handed over his business and family property, including 18-year-old Iris, and Alex Thomas, a labor activist implicated in arson and murder, who may or may not be Laura's lover. Atwood, whose wit, metaphorical descriptions, and elegant characterizations are breathtaking in their beauty and resonance, weaves an intriguing trifurcate narrative. Newspaper articles document Canada's Red scare, the political and industrial jockeying for war profits, and high-society goings-on. Iris' wry memoir, which she is writing in the present at the end of her difficult life, reveals at long last the wrenching truth about herself and Laura amid hilariously acerbic commentary on the inanities of contemporary life. And then there are the most mysterious sections, chapters from Laura's posthumously published novel, The Blind Assassin, an erotic and poignant story of illicit love between a socialite and a radical fugitive, who charms his lover with fantastic stories about the planet Zycron, where a blind assassin falls in love with a mute sacrificial virgin. Aptly enough, figurative forms of blindness and silence are both bane and antidote in the thwarted lives Atwood conjures so masterfully. --Donna Seaman
From Booklist, Copyright © American Library Association. Used with permission.
Publishers Weekly Family secrets, sibling rivalry, political chicanery and social unrest, promises and betrayals, "loss and regret and memory and yearning" are the themes of Atwood's brilliant new novel, whose subtitle might read: The Fall of the House of Chase. Justly praised for her ability to suggest the complexity of individual lives against the backdrop of Canadian history, Atwood here plays out a spellbinding family saga intimately affected by WWI, the Depression and Communist witch-hunts, but the final tragedy is equally the result of human frailty, greed and passion. Octogenarian narrator Iris Chase Griffen is moribund from a heart ailment as she reflects on the events following the suicide in 1945 of her fey, unworldly 25-year-old sister, Laura, and of the posthumous publication of Laura's novel, called "The Blind Assassin." Iris's voiceDacerbic, irreverent, witty and cynicalDis mesmerizingly immediate. When her narration gives way to conversations between two people collaborating on a science fiction novel, we assume that we are reading the genesis of Laura's tale. The voices are those of an unidentified young woman from a wealthy family and her lover, a hack writer and socialist agitator on the run from the law; the lurid fantasy they concoct between bouts of lovemaking constitutes a novel-within-a-novel. Issues of sexual obsession, political tyranny, social justice and class disparity are addressed within the potboiler SF, which features gruesome sacrifices, mutilated body parts and corrupt, barbaric leaders. Despite subtle clues, the reader is more than halfway through Atwood's tour de force before it becomes clear that things are not what they seem. Meanwhile, flashbacks illuminate the Chase family history. In addition to being psychically burdened at age nine by her mother's deathbed adjuration to take care of her younger sibling, nave Iris at age 18 is literally sold into marriage to a ruthless 35-year-old industrialist by her father, a woolly-minded idealist who thinks more about saving the family name and protecting the workers in his button factories than his daughter's happiness. Atwood's pungent social commentary rings chords on the ways women are used by men, and how the power that wealth confers can be used as a deadly weapon. Her microscopic observation transforms details into arresting metaphors, often infused with wry, pithy humor. As she adroitly juggles three plot lines, Atwood's inventiveness achieves a tensile energy. The alternating stories never slacken the pace; on the contrary, one reads each segment breathlessly, eager to get back to the other. In sheer storytelling bravado, Atwood here surpasses even The Handmaid's Tale and Alias Grace. BOMC main selection; author tour. (Sept.) Copyright 2000 Cahners Business Information.
Copyright © Reed Business Information, a division of Reed Elsevier Inc. All rights reserved.
Library Journal Atwood does not mess around in her riveting new tale: by the end of the first sentence, we know that the narrator's sister is dead, and after just 18 pages we learn that the narrator's husband died on a boat, that her daughter died in a fall, and that her dead husband's sister raised her granddaughter. Dying octogenarian Iris Chasen's narration of the past carefully unravels a haunting story of tragedy, corruption, and cruel manipulation. Iris and her younger sister, Laura, are born into the privileged Canadian world of Port Ticonderoga in the early part of the 20th century. At 18, Iris is the marital pawn in a business deal between her financially desperate father and the ruthless, much-older industrialist Richard Griffen. When the father dies, the rebellious Laura is forced to move into Richard's controlling household, accelerating the tangled mess of relentless tragedy. At this point, Atwood brilliantly overlays a second story, an sf novel-within-a-novel, credited to Laura Chasen, that features nameless lovers trysting in squalor. Some readers may figure out Atwood's wrap-up before book's end. Worry notDnothing will dampen the pleasure of getting there. Highly recommended. [Previewed in Prepub Alert, LJ 5/1/00.]DBeth E. Andersen, Ann Arbor Dist. Lib., MI Copyright 2000 Cahners Business Information.
Copyright © Reed Business Information, a division of Reed Elsevier Inc. All rights reserved.