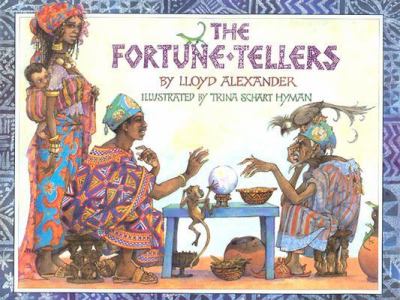 The Fortune Tellers
by Lloyd Alexander


Publishers Weekly The hands of fate deftly propel this original folktale. A seedy fortune-teller profits from gullible and sometimes desperate villagers who seek predictions for a rosier future. One unhappy carpenter takes to heart the seer's hardly helpful advice--``Rich you will surely be, on one condition: that you earn large sums of money''--and looks forward to a prosperous life. Most surprising to the craftsman, he ends up in the right place at the right time and the prediction comes true. Alexander's chipper text has a jaunty and infectious ``just so'' tone. Amazing coincidences fuse the plot elements, but the story's logic remains intact, successfully suspending the reader's disbelief. Hyman's acrylic, ink and crayon illustrations capture the landscape and people of West Africa in vivid detail. Indigenous plants and animals--including comically placed lizards--dot each scene, and the villagers' lushly textured apparel is spectacular. Especially opulent are spreads featuring the fortune-teller's cluttered quarters and the market stalls with their baskets and pottery. Ages 5-8. (Sept.)
Copyright © Reed Business Information, a division of Reed Elsevier Inc. All rights reserved.
School Library Journal Gr 1-4?A master storyteller and an art maven join forces to create some marvelous, magical images. The texture of life and the colors of Cameroon are interwoven into this telling tale about a young man who wants to see what his future holds. (Sept. 1992)
Copyright © Reed Business Information, a division of Reed Elsevier Inc. All rights reserved.
Book list Ages 4-8. Alexander's rags-to-riches story combines universal elements of the trickster character and the cumulative disaster tale. Hyman's pictures set it all in a vibrant community in Cameroon, West Africa. An old fortune-teller assures a young carpenter he'll be rich (if he earns large sums of money), he'll be famous (once he becomes well known), etc. Then the old man disappears; the people think he's been transformed into the carpenter, who quickly takes on the fortune-teller's role, learns the portentous babble, and becomes rich, famous, and happy. Meanwhile, we discover what really happened to the old man: he fell out of the window, had a series of accidents, and disappeared without a trace. The energetic, brilliantly colored paintings are packed with people and objects that swirl around the main characters. Bathed in golden light, the carpenter's dreams of wealth, power, and romance look pale beside the magical daily life of the community. You can look and look at these pictures and see ever more detail of patterns and textures in foods, creatures, carvings, basketware, and, above all, the woven patterned cloths worn by everyone in gorgeous combinations. For the last part of the story--the bad fortune that happens as easily as the good--the packed pictures empty out to a view of wide savanna and the old man falling from the sky like Icarus, lost without a trace. With its ups and downs, this is a funny, playful story that evokes the irony of the human condition. ~--Hazel Rochman
From Booklist, Copyright © American Library Association. Used with permission.
School Library Journal Gr 1-4-- A young carpenter, tired of hammering and sawing, seeks out a fortune-teller to see what his future holds. The cagey old prophet promises him a rosy future--well, maybe. `` `Rich you will surely be,' '' says the fortune-teller, if `` `you earn large sums of money.' '' Moreover, `` `You shall wed your true love . . . if you find her and she agrees. And you shall be happy as any in the world if you can avoid being miserable.' '' Pleased with these promising, if ambiguous, predictions, the carpenter leaves, only to get halfway home and decide he has more questions to ask. But the fortune-teller has mysteriously vanished, leaving the carpenter in the quirky hand of fate where, in typical Alexander fashion, his life takes a surprising and humorous turn. The story's warm and witty tone is reinforced by Hyman's masterful illustrations. Expressive figures are dynamically placed against a West African landscape, in colors so rich and clear that they invite readers to touch the fabrics and breathe the air. Visual details--carved wooden stools, traditional cloth patterns, signs in French--add an authenticity to the story (which is actually set in Cameroon), while touches of humor in postures and expressions underscore Alexander's gentle wit. These illustrations are obviously a labor of love. Vibrant with life and good humor, this is a supremely satisfying creation. --Linda Boyles, Alachua County Library District, Gainesville, FL
Copyright © Reed Business Information, a division of Reed Elsevier Inc. All rights reserved.