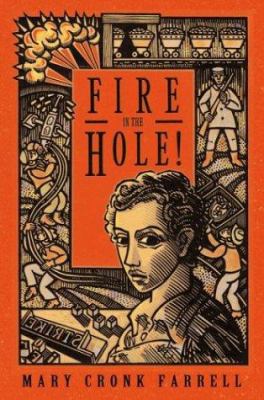 Fire in the Hole
by Mary Cronk Farrell


Book list Gr. 5-8. Bookish Mick O'Shea dreams of college and a career in journalism; he has no desire to follow Da into the mines in turn-of-the-century Idaho. Then Da is imprisoned for his union activities; Mam dies in childbirth; and the rent collector demands full payment, forcing Mick to swallow his pride and sign on as scab labor mining silver. Based on actual events, Farrell's first novel fairly brims with details and mining history. Although the O'Sheas seem to suffer every tragedy short of potato famine, and the stereotype of the short-tempered, abusive Irish male is a bit overdrawn, Farrell's characters and their motivations ring true, and the ending leaves hope that things will improve not only for Mick but for everyone. A good choice for historical fiction buffs and readers studying the mining industry and labor unions. --Kay Weisman Copyright 2004 Booklist
From Booklist, Copyright © American Library Association. Used with permission.
School Library Journal Gr 4-8-An adventure based on an incident that took place in Idaho in 1899. Mick is adamant that he won't work in the mines like his father. At first, he simply tries to keep his chances going for further education, but then the friction between the workers and the mine owners becomes more urgent and the escalating violence in the community leaves Mick more and more critical to the survival of his family. Characters seem somewhat stock at first with the domineering dad; the loving but ineffectual mother; the evil foreman; and the kindly newspaper editor. The realities of the labor dispute include the power of the government support of the mine owner juxtaposed with the cocky stridence of the workers and their mistakes along the way. Not quite up to the standard of Kristine L. Franklin's Grape Thief (Candlewick, 2003) in terms of historical richness and character detail, this novel is still a gripping tale of survival that uses its historical background to add depth and drama.-Carol A. Edwards, Douglas County Libraries, Castle Rock, CO Copyright 2004 Reed Business Information.
Copyright © Reed Business Information, a division of Reed Elsevier Inc. All rights reserved.